The clock on a Donaldson decision has started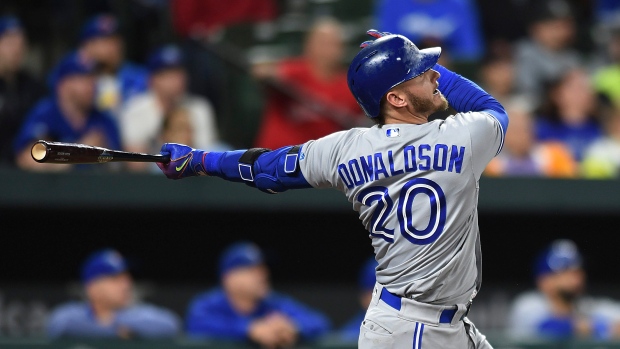 There's a Josh Donaldson decision coming.
It won't be today, tomorrow, and maybe not even before the calendar flips to 2018.
But make no mistake, the Toronto Blue Jays front office is on the clock when it comes to their star third baseman, one who will be heading into the final year of team control next season.
As Donaldson is reminding us all exactly what he is capable of when his health is right and he's swinging the bat well, general manager Ross Atkins and president Mark Shapiro have to be asking themselves, "What's this guy worth to us?"
It's a question they have likely lost a little bit of sleep over already.
It goes far beyond the 21 home runs he's hit in his past 43 games — tied for first in all of baseball — and the enormous surplus production he has provided over the course of his three seasons in Toronto.
The Donaldson decision has many layers to it, including optics, competitive windows, budgets, sunk costs down the road, and how they see the soon-to-be 32-year-old aging into the meat of what will have to be a lengthy investment.
This one contract or, potentially, one transaction will have a major impact on this franchise.
So what's Josh Donaldson worth to you?
It's a question the majority of the fan base would answer with: Whatever it takes.
That may not be the same answer the Jays' decision-makers eventually settle on.
Let's take a look at the four paths they could take:

SIGN HIM LONG-TERM THIS WINTER
When the Jays have invested big over the last decade, they have had a tendency to do it on the wrong players.
Alex Rios and Vernon Wells immediately come to mind, with the trade for Troy Tulowitzki looking like it may not be far behind.
They even dodged a bullet with Jose Bautista by not giving into the long-time star's contract demands, just before he fell off a cliff.
That can't deter the Blue Jays from making a huge investment in Donaldson, dollars-wise at least.
If you set a reasonable floor at five years and $150 million, ears will likely perk up on both sides of the table.
This is where Donaldson's desires come into play, which may make this whole exercise moot.
If he wants a chance to get to free agency in November of 2018, that's what he'll do. It's his decision.
He may look at it as his one chance to break the bank, choose a destination, and settle into the latter half of his career where he wants. Or where the money is.
If he's open to staying, the term may be the sticking point.
Five years is likely something the Blue Jays would be interested in, taking Donaldson through his age-37 season in 2023.
But it's hard to envision Donaldson's agents at MVP Sports Group not asking for six or seven years, which changes the conversation entirely since paying a player $30 million per year in his late 30s isn't good for business.

TRADE HIM THIS WINTER
This is where his red-hot second half will be fresh in the minds of 29 other teams around baseball.
OK, maybe not 29 since you can rule out a handful of non-contenders and teams with third base cornerstones already in place, but there will be a market and the mid-season health and performance concerns will be in the rear view.
The Blue Jays can sell his 1.010 second-half OPS.
Shapiro has already stated he doesn't see a way you trade a player of Donaldson's calibre and get better as a team, which is the stated goal in 2018.
That would be correct.
But what if you find that deal?
The Blue Jays will have to re-think their keep-Donaldson stance if that happens, because from the minute the first pitch of the 2018 season is thrown next March, Donaldson's trade value starts decreasing.

TRADE HIM AT THE DEADLINE NEXT JULY
By the trade deadline next summer, the Jays will know if their plan to contend worked out or not.
If they fancy themselves a legit playoff contender, Donaldson stays and the next scenario will be set in motion.
If they're not in the race, he's the hottest commodity on the market, and Atkins will have suitors lining up, albeit with less-than-exciting packages for a star-level player thanks to his expiring contract.
The problem with doing that is the Blue Jays will likely be in some sort of faux contention next July — with the second wild-card, who isn't at that point in the season?
That will make a tough decision even more confusing.

LET IT PLAY OUT
After making $17 million in 2017, Donaldson will get another raise in his final arbitration year this off-season, and even at around $20 million, he'll still be considered a huge bargain.
If Donaldson plays his contract out, the Blue Jays would then extend him a qualifying offer, he would decline, and any team signing him in free agency would have to forfeit a second-round pick to Toronto under the rules of the new CBA agreed upon last winter.
While it's something, it's not nearly enough to feel good about letting one of the best players in franchise history walk away in his prime.
What makes this scenario worth it?
A post-season berth? Maybe.
A deep playoff run? Probably.
A World Series ring? Yes.
If Donaldson hasn't signed an extension to stay in Toronto by next summer, there's little chance he would be interested in talking when he's only weeks away from testing the open market.
That means the Donaldson clock has started, and there's about 10 months of time on it.