Caps, Hawks dominate annual coaches' poll
The NHL-leading Capitals and defending Stanley Cup-champion Blackhawks won every category but one in Bob McKenzie's annual All-Star Break survey of NHL coaches.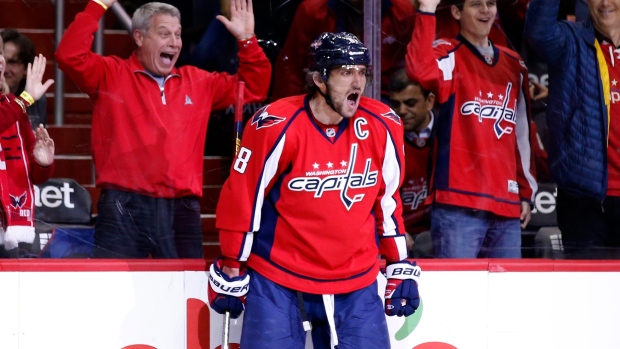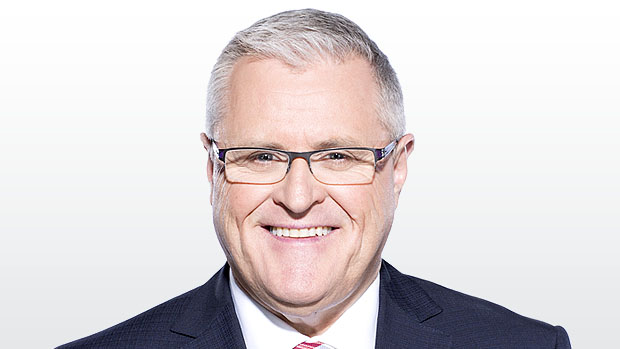 The Washington Capitals and Chicago Blackhawks, with a side dish of Los Angeles Kings, dominated TSN's annual All-Star Break NHL Head Coaches' Poll.

Twenty seven of 30 head coaches participated in the poll, voting on a series of questions ranging from who will advance to the Stanley Cup final to who will win the Cup to who deserves mid-season honours for best player, goalie, defenceman, rookie and top coach. The poll was conducted over a three-day period (Jan. 23-25) and the only restriction was that coaches could not vote for their own team or players.

The NHL-leading Capitals and defending Stanley Cup-champion Blackhawks – whose recent hot streak has them atop the Western Conference – won every category but one, which went to a King.

Here are the results of the poll:

Projected Stanley Cup Finalists

EAST: Washington 25 votes; Tampa Bay 2 votes
The Capitals were the decisive choice, and it wasn't close, not unlike the Eastern Conference standings, which Washington leads by a longshot with a stellar record of 35-8-3 for 73 points. It was interesting, though, that the defending East-champion Lightning, who on the strength of a recent winning streak finally moved into a wild-card playoff spot, was the only other team to get consideration.

WEST: Chicago 15 votes; Los Angeles 11 votes; Dallas 1 vote
It's obvious the Western Conference race is perceived as much more competitive than the Eastern Conference, at least in the sense of it being a two-horse race. The 33-16-4 first-place Blackhawks received the majority of votes, but the Kings, runaway leaders (30-15-3) in the Pacific Division, weren't far off the mark. Dallas, which has cooled off a bit after a strong start, was the only other team to get a vote to emerge from the Western Conference.

Projected Stanley Cup winner
Washington 16; Chicago 9; Los Angeles 1, Tampa Bay 1

Four teams received consideration, but the Capitals (16) were the decisive choice over the Blackhawks, Kings and Lightning.
Fourteen coaches chose a Washington-Chicago Cup final, but those 14 were split right down the middle on the winner. Seven took Washington; seven took Chicago. The next most popular Cup pairing (10 votes) was Washington-Los Angeles, but nine of those 10 coaches chose the Caps to beat the Kings in the final. The Kings' lone vote as Cup champion came from a coach who envisioned a Los Angeles-Washington final with the Kings prevailing. One coach had Tampa beating Los Angeles in the Cup final; another had Washington beating Dallas for the Cup.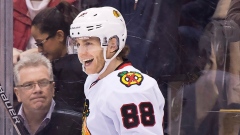 Best player
Patrick Kane (Chi) 22; Jamie Benn (Dal) 3; Alex Ovechkin (Was) 1; Jonathan Toews (Chi) 1

No contest. Chicago winger Kane, runaway leader in the NHL scoring race (30-43-73), received all but five votes as the NHL's best player. One of those five non-Kane votes went to Kane's teammate, Blackhawk captain Toews. Three coaches did opt for the more physical approach of Dallas winger Benn, who trails Kane with 58 points. Washington's brute force scoring winger Ovechkin, who is chasing Kane for the goal-scoring lead, picked up the only other vote.

Best goalie
Braden Holtby (Was) 20; Cory Schneider (NJ) 5; Roberto Luongo (Fla) 1; Jonathan Quick (LA) 1

With Montreal's Carey Price sidelined much of this season by injury, the title for greatest goalie was up for grabs. Washington's Holtby's domination of the field wasn't as emphatic as Kane's in the best player vote, but it was close, with Holtby getting 20 of the 27 votes. Holtby leads all NHL goalies with 30 wins, his goals-against average (2.01) is best among goalies with at least 25 games and his save percentage (.930) ranks third. Schneider, who has backstopped the Devils to a surprising 25-20-5 record and potential playoff season, received five votes, the only other goalie to get more than one vote.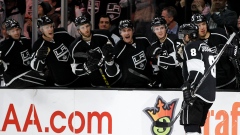 Best defenceman
Drew Doughty (LA) 12; Erik Karlsson (Ott) 5; Duncan Keith (Chi) 3; Oliver Ekman-Larsson (Ari) 2; Brent Burns (SJ) 1; Roman Josi (Nas) 1; Kris Letang (Pit) 1; Ryan Suter (Min) 1; Shea Weber (Nas) 1.

Finally, someone other than the Capitals or Blackhawks came out on top as Los Angeles blueliner Doughty earns top honours. With nine defencemen getting at least one vote, this category was easily the most competitive, although Doughty still cruised to the top spot, getting seven more mentions (12-5) than Ottawa's dynamic Karlsson. Chicago's Keith (three) and Arizona's Ekman-Larsson (two) were the only other blueliners to get multiple votes.

Best rookie
Artemi Panarin (Chi) 12; Dylan Larkin (Det) 10; Max Domi (Ari) 2; Jack Eichel (Buf) 1; Shayne Gostisbehere (Phi) 1.
* One coach didn't choose a best rookie.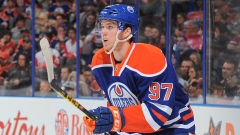 Multiple NHL coaches wanted to vote for Edmonton superstar Connor McDavid, but a broken collarbone that has limited him to 13 games (albeit with five goals and 12 points), effectively took him out of the running. That left Chicago's Panarin and Detroit's Larkin to compete for the lion's share of the votes. Panarin, the rookie goal and point leader with 17 goals and 46 points, received 12 votes to Larkin's nine. Arizona's Max Domi was the only other player getting more than one vote (two). Hard-charging Buffalo centre Jack Eichel – who has seven points in his last three games – received one vote.
Top coach
Barry Trotz (Was) 15; Gerard Gallant (Fla) 5; Joel Quenneville (Chi) 4; John Hynes (NJ) 1; Bill Peters (Car) 1 ; Dave Tippett (Ari) 1

Washington's Trotz was the prohibitive choice of his peers in top coach balloting, picking up more than half the votes (15). Only two other bench bosses – Florida's Gallant (five), who has led the surprising 29-15-5 Panthers to first place in the Atlantic Division, and Chicago's Quenneville (four) – received multiple votes.
Bob McKenzie is the 2015 recipient of the Elmer Ferguson Memorial Award for excellence in hockey writing.