The Mitchell Report: Happ silences Ohtani and company, Jays end skid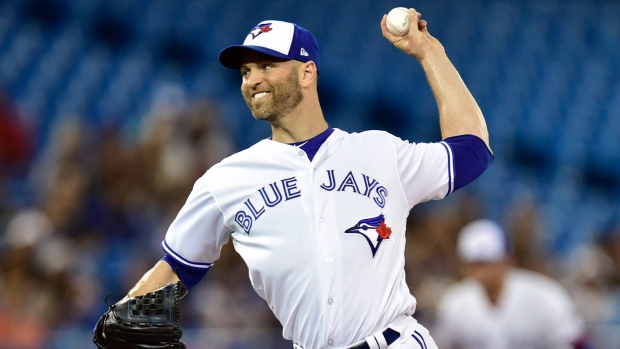 J.A. Happ allows just three hits in seven innings of work to carry the Blue Jays to a 5-3 win over the Los Angeles Angels, snapping the team's four-game losing skid, in the opener of their three-game series at Rogers Centre Tuesday night. TSN Baseball Reporter Scott Mitchell provides his key takeaways from the game:
GAME 48, MAY 22: ANGELS AT JAYS
RESULT: 5-3 win
RECORD: 23-25
STREAK: W1
1—Ohtani makes quiet Toronto debut
It wasn't the same type of buzz Aaron Judge and Giancarlo Stanton brought on opening day, but the Shohei Ohtani show drew a large crowd to batting practice Tuesday evening.
Even before he entered the cage, Mike Trout was hyping up his teammate, saying he thought he was going to hit one off the scoreboard.
It wasn't hyperbole, either.
Blessed with 70-grade raw power from the left side, Ohtani has been hitting tape measure BP shots where ever he's been so far this season.
While it wasn't the scoreboard, Ohtani did pepper the flight deck in centre a couple times, and then sent one screaming into the 500 level in right field.
With at least 10 Japanese journalists following the 23-year-old, two-way sensation around, the 6-foot-4, 203-pounder wasn't hard to find.
The Ohtani show ended when the cage was rolled off the field, however, as he struggled to an 0-for-3 night, walking, grounding out, striking out and popping out in his debut on Canadian soil.
Slashing .310/.362/.598 with six home runs at the plate this season, Ohtani is expected to DH at least once more in the series, but his next start on the mound isn't lined up until Sunday, so Toronto baseball fans will have to wait to see him throw.
2—Happ excellent once again
J.A. Happ continues to erase memories of his worst start of the season two outings ago, holding the Angels to just three hits and two earned runs over seven innings.
Happ was in control from the get-go, and a loaded lineup featuring Trout, Ohtani, and Justin Upton couldn't get anything going against the lefty, who was, as usual, relying on his four-seamer, while also mixing in his two-seamer, changeup and slider regularly.
After allowing seven earned runs in 3.1 innings on May 10 against Seattle, Happ has now gone seven innings in two straight starts to lower his ERA to 3.97, the only full-time Jays starter with a mark under 4.00.
Happ's next start is lined up for Sunday in Philadelphia, giving him another chance to duplicate his two-hit effort from the last time he picked up a bat last week in New York.
3—Travis returns after stint in Triple-A
Happy to be back in Toronto and happy to be out of the minor leagues, Devon Travis didn't exactly get the results he was hoping for in his return.
Installed as the No. 9 hitter, Travis flailed at breaking balls, striking out twice, and finished the night 0-for-3 to drop his average to .141.
Travis finished his 14-game stint in Triple-A with a .210/.234/.274 slash line, but Buffalo Bisons hitting coach Corey Hart said there was a lot of hard contact that didn't show up in the stat line.
After starting the season on a strict two games on, one game off plan, manager John Gibbons said Travis won't be locked into that schedule anymore, but that doesn't mean they won't keep an eye on their oft-injured second baseman.
Without a true shortstop on the roster now, Gibbons will have to play matchups with Gio Urshela, who got the start there Tuesday, and Yangervis Solarte.
"We'll run with this, see what happens," Gibbons said when asked if another move could be coming.
4—Morales starting to heat up
Don't look now, but Kendrys Morales, right-handed reliever, is the hottest hitter the Blue Jays have.
After collecting a pair of base hits in Sunday's loss, Morales went right back to work Tuesday night, hitting a two-run home run in the first inning, his fourth of the season, and adding a single in his next at-bat.
Saying he's had a rough go of it this season would be an understatement, but four hits in two games has helped start the process of pushing his slash line back towards respectability at .178/.258/.318.
5—Clippard still the man at back end of bullpen
There haven't been many games where you can get a true sense of the way Gibbons plans to manage his bullpen with Roberto Osuna gone, but Tuesday night was another good indication that Tyler Clippard is the closer, rather than any sort of committee situation.
With Happ going seven strong, Ryan Tepera came in for the eighth and allowed a run, leaving Clippard with a two-run lead to protect in the ninth.
Clippard, who gave up a grand slam in his last outing on Saturday, made quick work of the heart of the Angels' order, getting Ohtani to pop out to end it.
UP NEXT: LHP Tyler Skaggs (3-3, 2.88) vs. RHP Aaron Sanchez (2-4, 4.47) on Wednesday, 7:07 p.m.
VLAD JR. WATCH: Another day, another multi-hit game for Vladimir Guerrero Jr., who pushed his average to .423 with a pair of singles in the New Hampshire Fisher Cats' 7-2 win over the Reading Fightin Phils on Tuesday night.​