The Mitchell Report: Jays blow late lead, Angels steal win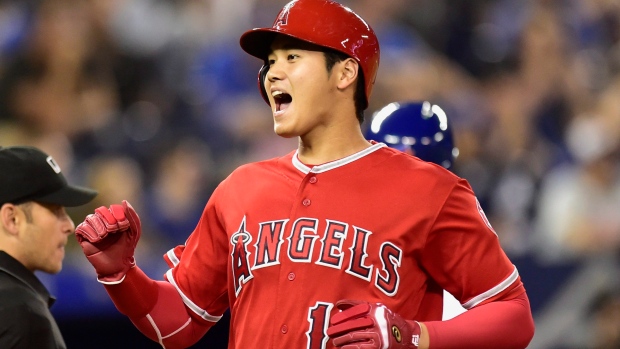 Tyler Clippard was charged with four earned runs over just one-third of an inning of work as Shohei Ohtani and the Los Angeles Angels rallied in the ninth inning after starter Aaron Sanchez pitched five shutout innings to edge the Toronto Blue Jays 5-4 at Rogers Centre Wednesday night. TSN Baseball Reporter Scott Mitchell provides his key takeaways from the game:
GAME 49, MAY 23: ANGELS AT JAYS
RESULT: 5-4 loss
RECORD: 23-26
STREAK: L1
1—Clippard blows it in the ninth
After allowing a grand slam on Saturday, Tyler Clippard had another tough night as he tried to lock down the save with a 3-1 lead.
Clippard walked the bases loaded, and then watched as Shohei Ohtani dropped a single into centre field, scoring a pair to tie the game.
Andrelton Simmons, the very next batter, then bounced one up the middle to score two more and quickly turn what was a ninth-inning lead into a 5-3 deficit.
When you combine that with the three hits and zero outs registered by John Axford in the sixth inning — he escaped with just one run allowed — the bullpen, after being so good to start the year, is starting to spring some leaks.
2—Sanchez shuts out Angels over five innings
It was a typical outing for Aaron Sanchez, who has really struggled with efficiency over his last few starts, but is still showing excellent stuff.
When he's not having trouble with his command, Sanchez has been hard to hit, and he held the Angels to just two hits over five innings.
The problem was he couldn't find the zone enough, as only 53 of his 97 pitches went for strikes, and he ended up tying a season high with five walks.
After the game, Sanchez said he was fine with the walks and thought a few of them could've gone either way.
Over 10 starts this season, Sanchez has walked multiple batters in every outing and he's now issued 34 free passes in 55.1 innings.
Sanchez will take a 4.07 ERA to the mound with him in his next start Monday on the road against the Boston Red Sox.
3—Slump buster for Travis?
One night after Kendrys Morales hit his first home run in 18 games, Devon Travis sliced an opposite field homer into the visiting bullpen in his second game back from a three-week stint in Triple-A.
While it was Travis' only hit of the night, no one needed a big fly more than the 27-year-old second baseman, who's proven to like the month of May with a .283 career average coming into the night.
It gets even better in June, as Travis' career mark in that month is .298.
4—Solarte on track to set new career highs
Working a half day as the DH on Wednesday, Yangervis Solarte continues to surprise with his pop, hitting a solo home run in the fourth inning, and then adding an RBI single in the fifth.
The homer was Solarte's 11th of the season, leaving him just seven away from the career high of 18 that he set last year in San Diego.
He's also now at 31 RBI less than a third of the way through the season, putting him on pace to surpass the career high of 71 he drove in back in 2016.
5—Granderson has interesting night
The Jays somehow escaped the sixth inning with a 3-1 lead and they have Curtis Granderson to thank.
After dropping a Kole Calhoun looper while sliding, Granderson promptly got to his feet and forced a confused Zack Cozart out at third for the first out of the inning.
A couple batters later, Trout thought he had an RBI single, but Granderson cut down Calhoun at third before the run crossed the plate, ending the inning.
Then in the bottom of the ninth, Calhoun returned the favour, gunning down Granderson at the plate as he tried to score the tying run on a sac fly.
UP NEXT: RHP Nick Tropeano (1-3, 4.45) vs. RHP Marco Estrada (2-4, 5.15) on Thursday, 12:37 p.m.
VLAD JR. WATCH: Vladimir Guerrero Jr. has specialized in 2-for-4 nights, and he authored another one Wednesday, singling and swatting a double to push his average to .425 on the season.​