The Mitchell Report: Pannone's strong run continues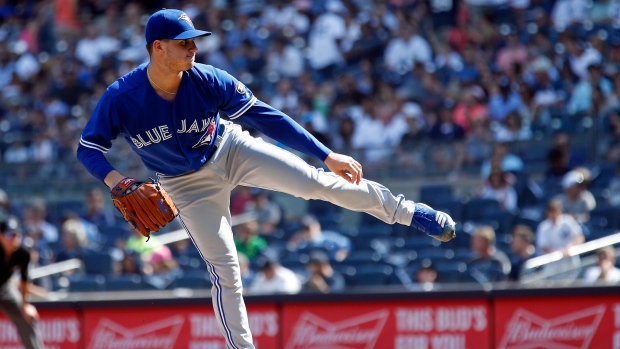 The Toronto Blue Jays came back to beat the New York Yankees on Sunday to take two of three from the Bronx Bombers as Thomas Pannone impressed again as a starter.
---
Jays could land first top 10 pick since 2014
With 13 games to go in the season, the Blue Jays find themselves sitting 15 games under .500 and 35.5 games back in the AL East race.
Last year, a 76-86 record earned them the 12th overall pick in the June MLB draft and they're currently on track to land in that range once again.
If the season ended today, the Jays, with the ninth-worst winning percentage in baseball, would draft 10th.
The reason it's not ninth is the fact the Atlanta Braves will be handed that pick after failing to come to terms with 2018 first rounder Carter Stewart, another example of general manager Alex Anthopoulos not giving in to prep pitchers' bonus demands.
Coincidentally, the last time the Blue Jays had a top-10 pick was back in 2014 when they held the No. 9 selection, but also had No. 11 after not being able to sign high-school right-hander Phil Bickford from the 2013 draft.
Anthopoulos went on to nab Jeff Hoffman, the key piece in the Troy Tulowitzki trade, with the ninth pick, and then catcher Max Pentecost, who's still toiling in Double-A as a 25-year-old, at the 11th spot.
There's still a little bit of wiggle room on both ends of the spectrum over the final two weeks.
Currently, the top 12 consists of the Baltimore Orioles (.289), Kansas City Royals (.349), Miami Marlins (.389), Chicago White Sox (.396), San Diego Padres (.400), Detroit Tigers (.409), Cincinnati Reds (.427), Texas Rangers (.430), Blue Jays (.450), Minnesota Twins (.456), New York Mets (.463) and San Francisco Giants (.467).
It's conceivable the Jays could end up losing more games than the Reds and Rangers, which would land them pick No. 7.
They could also finish hot, catch the Twins, Mets and Giants, and end up with unlucky No. 13.
---
Could Estrada return to rotation in 2019?
It's been another rough year for Marco Estrada and that didn't get any better Friday when he was blown up in the Bronx for eight earned runs over just 2.2 innings.
But despite a 5.75 ERA, could the pending free agent be an option for the Jays' 2019 rotation?
With GM Ross Atkins already pointing to pitching depth as the main priority in what's expected to be a ho-hum winter for the Jays on the free agency front, Estrada's familiarity with the AL East and clubhouse presence could be attractive as a stopgap while the young arms find their way.
He'd also come much, much cheaper than the $13 million he's earning this year.
In 133 innings, Estrada has posted an ERA of 5.75, but he's struggled mightily in the second half with a 7.89 ERA over his last nine starts.
There will be more exciting options on the market than a 35-year-old soft tosser with back problems and two straights seasons of ERAs around 5.00, but Estrada would return with the understanding that he'd have to earn his rotation spot in the spring and he could be quickly shifted to the bullpen or shuffled out if the kids prove they're ready.
---
Pannone spins second straight quality start
Speaking of those kids, southpaw Thomas Pannone is working on a nice little run to finish out the season.
In his fourth start of the season on Sunday, the 24-year-old held the Yankees in check over seven innings, scattering four hits and allowing just two runs to push his record as a starter to 3-1.
For a flyball pitcher — Pannone's groundball rate is just 30.1 per cent through 31 big-league innings — Yankee Stadium is always going to be a tough test and keeping the white sphere in the ballpark is going to be key for Pannone moving forward.
Andrew McCutchen got to Pannone for a solo home run in the first inning, giving the lefty five homers allowed in his four starts, but he's now allowed just four runs over his past two starts to lower his ERA to 3.77.
The battle for rotation spots next March will be intriguing and Pannone will be in the mix.
As of today, Marcus Stroman, Aaron Sanchez and Ryan Borucki would likely hold down the first three spots, with Pannone, Sean Reid-Foley and Sam Gaviglio battling whatever additions are made via trade or free agency this off-season.
---
Stroman's underlying numbers paint prettier picture
While it hasn't been officially confirmed by the club, no one expects to see Marcus Stroman return to the mound this season.
Manager John Gibbons came close on this road trip, saying Stroman "probably" won't pitch again down the stretch due to the blister on his right middle finger.
Other than to maybe give the 27-year-old some peace of mind heading into the off-season, there isn't much point in pushing him to return, even if he wants to.
Stroman's season has been in disarray from the start.
In spring training, he dealt with shoulder inflammation and he wasn't given enough time to recover, setting him up to fail the rest of the way.
And fail he did.
Eventually, Stroman landed on the disabled list due to the shoulder issue in May with a 7.71 ERA, and while he returned in late June to post a 2.98 ERA over his next seven starts, the blister problems cropped up in August, making it difficult for him to go deep into starts.
In 19 starts spanning 102.1 innings, Stroman (likely) finishes with a 5.54 ERA, but the underlying numbers show the diminutive righty didn't quite deserve that fate.
While he walked more and struck out fewer than he did in his breakout 2017 season, Stroman was the victim of a strand rate well below league average at just 60.5 per cent, and his 3.90 FIP is right in line with his career mark.
With a winter of rest, there's no reason to believe Stroman won't bounce back in 2019.
---
Jays finalize group heading to Arizona Fall League
A couple weeks after announcing Vladimir Guerrero Jr., Bo Bichette, Cavan Biggio and three other prospects would be heading to the Arizona Fall League developmental circuit in October, the Jays finalized the seven-player contingent with another big name.
As expected, the Jays will send 2017 first-round pick Nate Pearson to the AFL in order to regain some of the innings he lost when his season ended in May thanks to a comebacker that resulted in a fractured right forearm.
Now that Pearson, who has been throwing in Dunedin for weeks and touching 102 mph, has proven he's ready to ramp things up, the group of Jays that will be suiting up for the Surprise Saguaros couldn't be any more intriguing.
Despite being limited to just 21.2 pro innings since being drafted 16 months ago, the 22-year-old could find his way to Double-A by the end of next summer if he can stay healthy and succeeding against the bevy of top bats in the AFL would be a good head start.
---
UP NEXT: Baltimore Orioles at Camden Yards
MONDAY: LHP Ryan Borucki (3-4, 4.26) vs. TBA
TUESDAY: RHP Aaron Sanchez (4-6, 4.90) vs. TBA
WEDNESDAY: TBA vs. TBA​