The Rangers have wasted Lundqvist's prime
Goaltender has been a staple of excellence for more than a decade on Broadway, but time is running out for Henrik Lundqvist to win a Stanley Cup in New York, writes TSN's Travis Yost.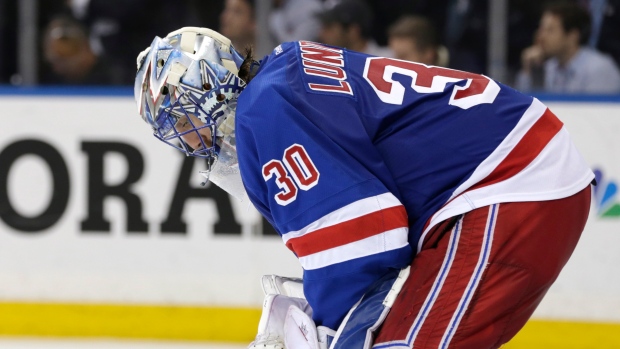 The look on Henrik Lundqvist's face in Game 5 said it all. And yet, his two end-of-series quotes were even more sobering for New York Rangers fans.
First, he conceded that the Pittsburgh Penguins were both a smarter and better team.
Second, he said he spent much of Game 5 – a game he was pulled from after a particularly un-Hank performance – thinking about how the season could've went better for the Rangers organization.
I'm sure Lundqvist wasn't the only Rangers representative thinking about that. The front office and coaching staff will surely spend this off-season trying to figure out how it all went wrong.
And, make no mistake, it went wrong. I wrote in my first-round preview that New York/Pittsburgh was about as lopsided a series as one could envision. The only chance I gave the Blueshirts was if Lundqvist more or less stood on his head for the duration of the series. That didn't happen, and the end result was a Penguins team bludgeoning a Rangers group that has looked disjointed and disoriented since the puck dropped back in October.
There was some criticism directed toward Lundqvist in the hours following New York's early exit. To a degree, it's understandable. Yes, Lundqvist was hung out time and time again by an abysmal and entirely overwhelmed blueline, but this was more or less the same environment he has played in for years. An 86.7 per cent stop rate just isn't going to cut it in any circumstance, particularly so in a playoff atmosphere where goals are at a premium.
Still, you have to sympathize with Lundqvist's plight. TSN's Ian Mendes raised the point that Lundqvist may be one of the best players in NHL history to have never won a Stanley Cup. Considering he's almost certainly the best goaltender to have never won a title, I think this is a fair statement.
Of course, none of this has been his doing. Lundqvist has been a staple of excellence for more than a decade on Broadway, right up and through this regular season – one where he continually glossed over mistakes made by a Rangers roster that would've punched a draft lottery ticket with league average goaltending.
It's for that reason that I really struggle with pointing the finger at Lundqvist. Rangers executives, whether they want to admit it or not, have wasted a first-ballot Hall of Famer's prime. The data bears it out.
"Let me articulate this in two ways. First, let's look at every game played by any regular goaltender (minimum 200 games) since the start of the 2007-08 season. For every game, we can measure Actual Goals vs. Expected Goals. The latter can be derived by a number of ways, but generally what it's looking at is shot volume, shot location/distance, shot angle, and shot type. Great goalies routinely save goals against for their team (actual goals being lower than expected goals); poor goalies routinely add goals against for their team (expected goals being higher than actual goals). We'll call this stat "Goals Saved Per Game." Automated calculations of this can be found at Corsica.
Any guesses on who is number one here?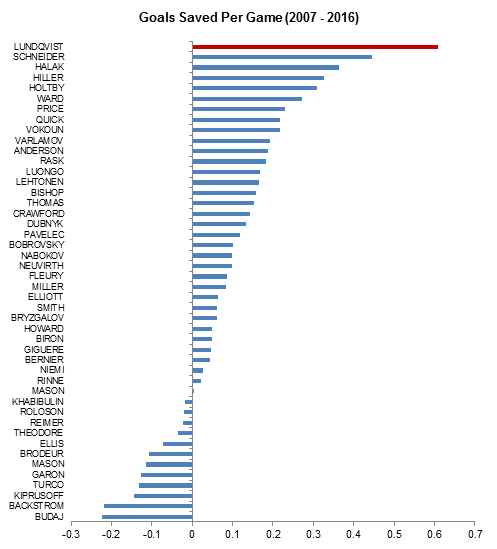 It's Lundqvist, and it's not even close. He's saved the Rangers 0.60 goals per game since the 2007 season. Alternatively: for every three games Lundqvist has played, he's reduced the Rangers goals against number by two. Carey Price, another all-world talent, is about half that effective in his career with the Montreal Canadiens.
(Side note: it's not surprising that a majority of regular goaltenders have positive numbers here – they're better than replacement level and have earned their routine ice time by playing well.)
This speaks volumes about the kind of superstar Lundqvist is, but it also says something about the defence he's played behind. The fact that he can deviate so greatly from expectations without the Rangers ever exhibiting the signs of a dominant team suggests that New York has been a revolving door in the defensive zone for some time now. And again, that theory checks out – the Rangers' Expected Goals Against number over this same time span is 24th (!) in the league, sandwiched between Toronto (!!) and the crosstown rival New York Islanders (!!!).
So we know that Lundqvist has had a historically great career, and we know that the Rangers have been pretty poor defensively since his net takeover.
Now, who is ready for a piece of alternative history?
Let's assume that the Rangers never had Lundqvist, and instead had a league average automated goaltender play every season since 2007-08. How would the Rangers goal differential have looked in every season (including regular season and playoffs) since then?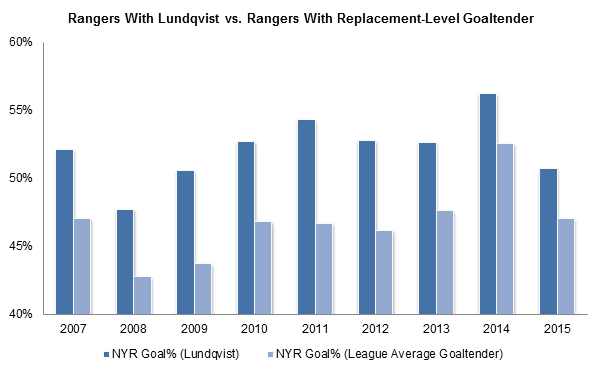 I think this is remarkable. In most of our prior seasons the New York Rangers would've been about a 47 per cent Goal% team. In most instances that's lottery bound. But more noticeable is the fact that despite having one of the NHL's best goaltenders of all time in net, they've managed to assemble just one very capable and talented team – that version coming in the 2014 season.
That, if nothing else, is a scathing indictment of the franchise.
So, we'll end with some good news/bad news. The good news is that Lundqvist (a) is still Vezina calibre and (b) probably has a few years left in the tank. The bad news is, well, point (b). He probably has a few years left in the tank – emphasis on few.
It's now or never, New York.