The TradeCentre Match Game: Mike Hoffman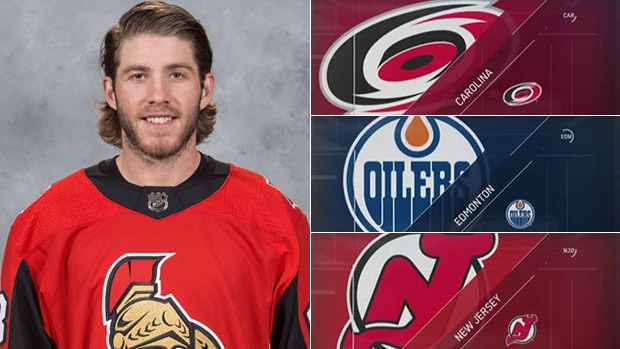 With the National Hockey League's Feb. 26 trade deadline rapidly approaching, TSN Senior Hockey Reporter Frank Seravalli plays TradeCentre Match Game: Proposing a number of potential team fits for players on the TSN Trade Bait Board.
Today, we examine potential new homes for Ottawa Senators left winger Mike Hoffman.
Match Game 2018
Mike Hoffman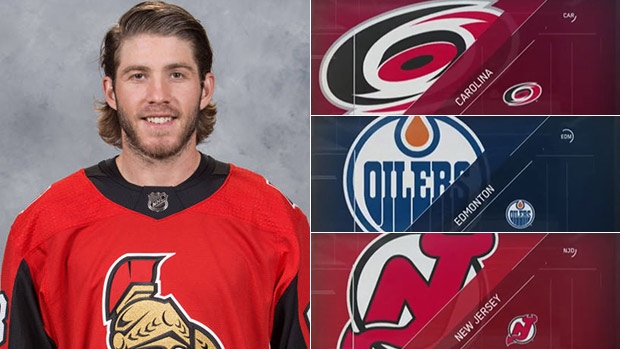 Mike Hoffman
| Team | Pos | Age | GP | G | P | 17-18 Cap Hit | Past 17-18 |
| --- | --- | --- | --- | --- | --- | --- | --- |
| Ott | LW | 29 | 48 | 12 | 30 | $5.19M | 2 Years |
Carolina Hurricanes: Yes, contending teams like St. Louis will also be interested in Hoffman, but what makes him attractive to teams that want to get better now and for the future are the two years remaining on his deal. Hoffman has significantly more points than anyone on the Canes roster has compiled over the last three seasons. He helps drive play, which Carolina needs as much as anything. He would be an ideal piece to help make a splash with new owner Tom Dundon taking the reins as the Canes try to end an eight-year playoff drought.
Edmonton Oilers: Connor McDavid could desperately use a wingman who shoots. Few do it better than Hoffman, who is having a down year after averaging 27 goals a year over the last three seasons. He averaged 222 shots per season those three years with a 12.4 per cent shooting clip. He is tracking toward his first full season below 11.5 per cent (7.6 through 48 GP). The Oilers should buy low while Ottawa is trying to shave salary. They'd get a player they can afford for two years whose complete game has taken significant strides over the last 18 months.
New Jersey Devils: Miles Wood is blossoming into a nice player, but the Devils would look pretty solid moving forward with Taylor Hall, Marcus Johansson and Hoffman on the left side. If the Senators are looking to shave salary like owner Eugene Melnyk said, the Devils have oodles of cap space to make something happen. They are one of the teams believed to have expressed interest so far in Hoffman.
PLAY THE TRADECENTRE MATCH GAME
Where will Mike Hoffman go?