There's cause for concern with Marner
The numbers show the talented Maple Leafs winger is struggling through a reduction in shot quantity and quality, Travis Yost writes.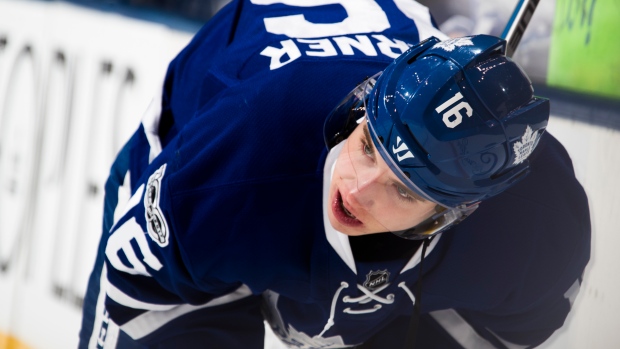 The Toronto Maple Leafs are at their best when players like Mitch Marner are buzzing around the offensive zone, creating waves of dangerous scoring opportunities and relentless pressure.
I think it's fair to say Toronto is still searching for the best fit for Marner in the lineup. He's a wondrous playmaker, but is far from the Leafs' best defensive option. Head coach Mike Babcock has played him in pretty much every imaginable spot – on an offensive-heavy line with James van Riemsdyk and Tyler Bozak, on a balanced line with Auston Matthews and Zach Hyman, and even on a sheltered depth trio with the aforementioned Bozak and Matt Martin.
Marner's off to a decent start to the season, on pace for around 53 points, but that's a bit of a drop-off in production from last year's rookie season where he finished with 61. Why? He simply isn't scoring goals. Regardless of who he has played with, Marner hasn't been as individually productive in the offensive zone – he has two goals in just 25 games, and only one of those came at even-strength.
In many instances, fluctuations in goal-scoring can be attributed to randomness – puck luck gone awry. After all, we are only talking about a 25-game sample for a second-year player. But in some instances the numbers can be cause for concern.
That appears to be the case for Marner, who is struggling on two separate fronts. First: Marner's shot volume is down year-over-year. Shot volume, as always, remains the biggest driver of goal-scoring. As shot volume moves, so too (generally speaking) does goal-scoring. Second: the quality of shots – defined as shots generated from the home plate scoring area – are also down. Combine a reduction in shot quantity with a reduction in shot quality, and you have a problem.
Not only are the numbers substantially down year-over-year, they have fallen below league averages. That's an important distinction.

The question I get curious about is teammate impact. Marner is a very talented player – a no-doubt-about-it top-six talent. But teammates matter. Playing with a first or second-line talent is much different than playing with a fourth-line grinder, so our expectations should be calibrated accordingly.
Is it possible that Marner fits better on certain lines than others, especially as it relates to generating those dangerous scoring chances coaches so desperately covet? To quickly analyze this piece of the question, I pulled out Marner's individual scoring chance rates (data assist via NST) with any forward teammate he's played with for more than 30 minutes of 5-on-5 play.
Here's what those numbers look like. One word of caution though: Marner's linemates were incredibly consistent in his rookie year, playing predominantly with Bozak and van Riemsdyk.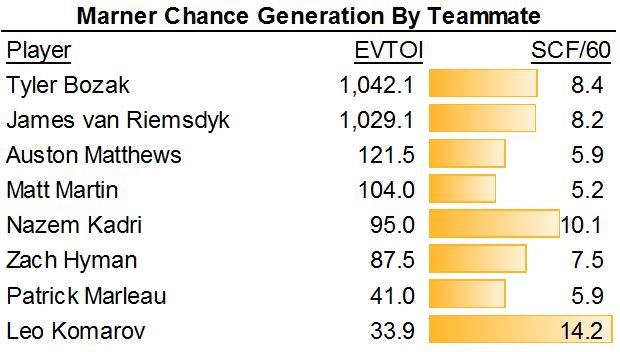 There's no doubt that Marner's comfortable playing with two other talented offensive weapons in Bozak and van Riemsdyk – his individual scoring chance rates are above league average with both of those forwards. But it is important to note that even that line has seen diminishing returns for Marner in 2017-18. His chance rate with those guys in 2016-17 was 8.7 per-60. His chance rate this season with those same players is 7.1 per-60.
Regardless of a possible downturn for that trio this year, Babcock has to know that when together, they're dangerous offensively. The problem with that group was and always will be what they do when they don't have the puck, and how much confidence the Leafs coaching staff can have with them on the ice when protecting leads.
I'm also interested in Marner's numbers when playing with two other names: Auston Matthews and Nazem Kadri. It's hard to believe that a player could generate so little with such a superstar like Matthews, but the numbers speak for themselves in 121 minutes of ice time. Is it possible that Marner's more deferential when playing with Matthews? Is it possible that Marner's losing his chances in favour of a better goal-scorer in Matthews?
The numbers with Kadri are at the opposite end of the spectrum – and perhaps this is the duo that Babcock tries out a bit more during the regular season. Marner has run wild when paired with Kadri and that's been true – albeit in limited minutes – for both the 2016-17 and 2017-18 seasons. Kadri remains an underrated two-way player and, with the long-term future of pending free agents Bozak and van Riemsdyk in question in Toronto, it's possible that this duo could see more ice together.
Marner won't stay out of the goal column for long – he's too talented and sees plenty of ice time with one of the league's most prolific offences. That said, there are a couple of cautionary flags raised around Marner's game here. You can't chalk up a drop in goal-scoring for Marner to sheer randomness or regression. He's just not attacking with the same lethality as he was last season, and that alone should generate further investigation from the executive group in Toronto.