Thompson looks to test himself against the next generation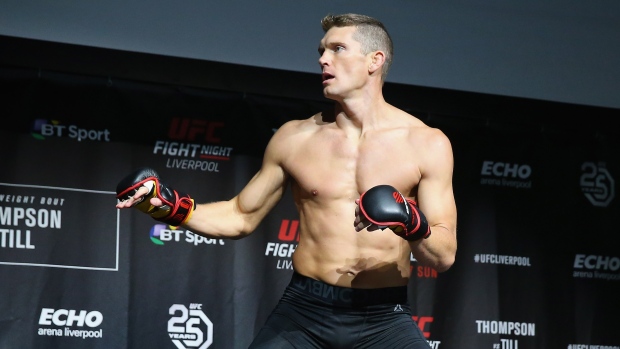 Since making his debut in the UFC more than six years ago, Stephen "Wonderboy" Thompson has climbed the ranks of the welterweight division.
Utilizing an unorthodox karate style and with a combined fifteen amateur and professional kickboxing championships, Thompson took the UFC by storm with some vicious knockouts, becoming a must-watch fighter in the process.
Now, at age 35 and following two failed championship attempts in back-to-back fights against Tyron Woodley that resulted in a draw followed by a razor-thin majority decision loss that UFC President Dana White felt that he had won, Thompson remains the top-ranked contender in the division.
However, several new challengers have emerged in the division, including Colby Covington, Kamaru Usman and Thompson's opponent this weekend Liverpudlian Darren Till, who he faces in the main event of Sunday's UFC Fight Night event in Liverpool.
Till will undoubtedly be the crowd favourite in a city with as passionate a sporting fanbase as anywhere, but Thompson has been well received since his arrival.
"I've been here since Sunday and everybody here in Liverpool has been super welcoming and just really nice," Thompson told The TSN MMA Show."Hopefully, if they do want to boo me, they'll get it out the day before, they've got a huge soccer game going on and there are supposed to be a million people in the streets, so hopefully they'll get out all of that cheering and they'll have hoarse voices by the time Sunday comes around."
The fight with Till has long been coveted by fans since it was initially reported as a possibility, but Thompson was hesitant to take the fight.
"I didn't even know who he was when I was first approached by them, I had to do some studying up on him and of course, I said no, but I had two broken thumbs and I wanted to see where the welterweight division was going. There was rumour of an interim title, so I kind of wanted to see what was going on and obviously, I didn't get that," said Thompson. "I want to test myself against these up and comers, the next generation as people are saying, to solidify that number one spot."
Thompson has never lost to a younger opponent and does not plan to start now.
"I think Darren Till is very durable, he's a very young fighter, most of the guys I've fought have been my age other than Rory MacDonald. He's a very hungry fighter and he's doing it in his hometown. His striking is very good, he's definitely a big guy, a big welterweight and he's put some guys away, so you have to look out for that left hand," said Thompson regarding how Till stacks up to the previous opponents on his impressive resume.
"That said, his style is kind of basic, he's a Muay Thai stylist, but not your average Muay Thai stylist. He does kind of fight with his hands down, throws a mean left hand and he loves to try and pressure you, get you up against the cage and throw that elbow. Most of the guys that I've faced in the welterweight division have been aggressive, so he says he's going to put me out in the 2nd round, so that leads me to believe that he's going to be aggressive."
Stephen Thompson faces Darren Till in the main event of UFC Fight Night in Liverpool, which airs on Sunday at 1:00 pm ET on TSN4