Thornton, Hall-of-Fame-worthy playmaker
San Jose Shark centre, who just hit the 1,300-point mark, has consistently made everyone around him a better player, Travis Yost writes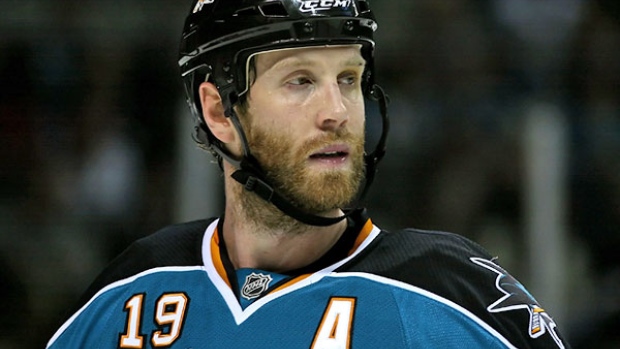 Tuesday night, San Jose's Joe Thornton hit the 1,300-point mark – an absurdly impressive milestone when you consider how few players have done it (33, counting Jumbo Joe) and how many of those players did it playing in eras where scoring was more commonplace.
There's going to be a lot of debate about whether or not Thornton has had a Hall-of-Fame-worthy career, but I think the argument against his candidacy is extremely weak. Most of it seems to be tied into the fact that he's never won a championship. Of course, that never stopped the likes of Mats Sundin, Cam Neely, and Pavel Bure from being awarded the highest of hockey honours.
The biggest argument in support of Thornton is going to be the aforementioned point totals. In support of those impressive numbers will be the fact that he consistently made everyone around him a better player. In both Boston and San Jose, Thornton's incredible playmaking ability elevated the performance of his team. Whenever he was off the ice, his absence was felt and team results generally suffered.
I do think calling Thornton a superstar playmaker is a fair moniker. To me, a playmaker in the NHL is the guy who routinely creates opportunity for his linemates. Wayne Gretzky was a playmaker of the highest order, but there's no shortage of guys currently around the league (Sidney Crosby, Henrik Sedin, and of course, Thornton) who positively impact their teammates.
One of the things that Thornton has been able to do for years is create swaths of scoring opportunities for his teammates. This has been his calling card for years, and it hasn't really waned over time. Players instantly become better shooters when paired up with Thornton, and instantly become weaker shooters once they lose him as a teammate.
The craziest part about Thornton's impact on his teammates is that it is still prevalent well into his thirties. Look at the last four years of data for 10 of Thornton's most common linemates, and note how drastic the change is with/without Jumbo Joe.
Thornton Factor
| Environment | Individual Goals/60 | Individual Shots/60 | Shooting Percentage |
| --- | --- | --- | --- |
| Forwards (With Thornton) | 1.1 | 8.5 | 12.99% |
| Forwards (Without Thornton) | 0.6 | 7.5 | 8.29% |
So, to be clear here: when forwards played with Thornton, they (on average) shot about 13 per cent at 5-on-5. When those same forwards played without Thornton, they (on average) shot about 8.3 per cent at 5-on-5. That's a substantial drop-off.
We can break it out by forward to see it at a more granular level. But again, the same idea holds here: most forwards observed saw palpable shooting percentage jumps when playing with Thornton, and those jumps were more pronounced with the players who saw larger samples of minutes with the big centre.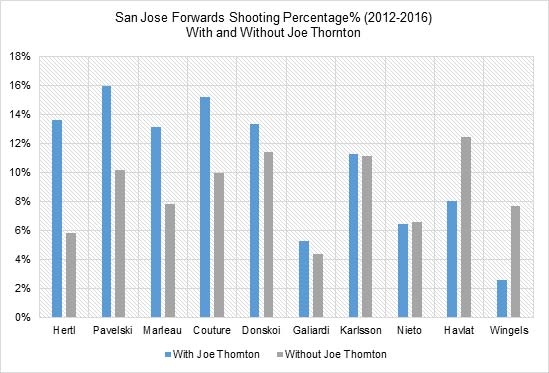 I think the Joe Pavelski aspect of this graph is pretty telling. It's the story of what happens when you put two exceptional players together. But it's not as if Pavelski and Thornton have been attached to the hip forever. In fact, Pavelski has played about 1400 minutes of 5-on-5 without Thornton. Those minutes, at least from a shooting percentage aspect, have been far less productive.
As for the two outliers (Havlat and Wingels), I think there's a minute sampling issue. They played enough minutes (Havlat 191 and Wingels 226 compared to Pavelski's 2,254 minutes) to qualify as one of Thornton's most common linemates, but we are still only talking about a couple hundred minutes apiece – certainly a sample limited enough where you might not be able to see Thornton's impact on shooting talent manifest as it tends to do over longer samples.
At any rate, I think the larger takeaway is very clear here: Thornton (still!) makes players better shooters. If you went back and looked at the four years pre-dating our sample, you'd likely see just as pronounced an effect. Four years prior to that, same thing.
It's an important consideration in this case, particularly so when you are thinking about how many goals a player has earned for his team (and, by extension, how many wins a player has earned for his team). Combine positive shooting percentage impacts with positive shot differential impacts (which Thornton has also done beautifully throughout his career) over incredibly long periods of time, and you start talking about the difference between an everyday NHL player and a dynamic one with a Hall-of-Fame resume.
The Takeaway
Thornton's gaudy point totals should come as no surprise. He has been one of the league's most reputable playmakers for a decade, and even at the age of 36, he's still an absolute force. He deserves to one day be enshrined in the Hockey Hall of Fame.