Ticats to start Green at RB with Gable ailing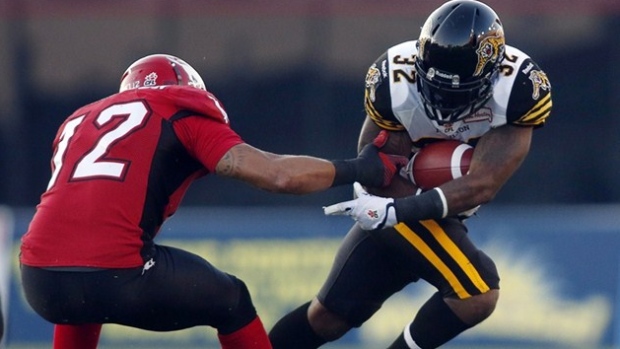 Running back Alex Green will make his first career CFL start when the Hamilton Tiger-Cats take on the BC Lions Friday.
Green will fill in for the team's usual starter, C. J. Gable, who head coach June Jones said is dealing with a shoulder injury incurred in last week's game against the Saskatchewan Roughriders. Gable is listed as the No. 3 back on the depth chart for Friday night.
Green, 29, signed with the Tiger-Cats ahead of this year's training camp, but was cut prior to the start of the regular season. He played collegiately at Hawaii, and spent time in the NFL with the Green Bay Packers and New York Jets. In 29 games in the NFL, Green recorded 510 yards rushing on 149 carries and 139 yards receiving.
Also joining the starting lineup in Vancouver will be recently acquired wide receiver Shamawd Chambers. Chambers will take over for Mike Jones, who received a two-game suspension earlier this week.
Right tackle Ryker Matthews will also re-take his spot on the offensive line after missing last week's game.
Jeremiah Masoli will make his fourth consecutive start at quarterback for the Tiger-Cats. Masoli is 2-1 as the team's starter since taking over for Zach Collaros, who was benched after an 0-8 start.