Time for Canucks to split up the Sedins?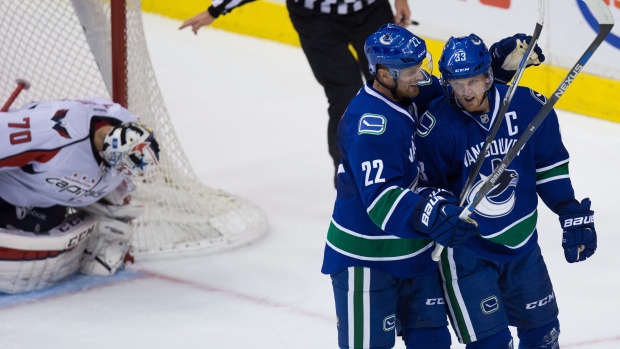 VANCOUVER – Fifteen games into the new Vancouver Canucks season, Henrik Sedin has yet to set up his brother Daniel for a goal. Yes, Henrik has a couple of assists on Daniel's four goals, but both of them have been secondary helpers. As far as Henrik dishing directly to Daniel and the puck winding up in the net, that has yet to happen. It has occurred in reverse, though, with Daniel picking up the primary assist on all three of Henrik's goals – including a second period marker on Saturday that got the Canucks on the scoreboard in Buffalo.
And that's the point that in recent years Daniel Sedin has morphed into his brother and become less of a goal-scorer and more of a playmaker. And an argument can now be made that Daniel – who has a share of the Canucks team lead with seven helpers on the season (one more than his brother) is every bit the set-up guy that Henrik is. And on a team that is scoring by committee, but one that could certainly use some help lighting a fire under a few of its goal-scoring candidates, perhaps it's time to take the drastic measure of putting Daniel and Henrik Sedin on different lines.
Everyone knows twins are capable of playing together – and that can always remain an easy fallback for the Canucks coaching staff. So far this year, Daniel and Henrik have been okay, but they're hardly the unstoppable force they were for many years. They're 35 now and have played at such a high level for so long; it's just expected in Vancouver they'll continue to produce at elite levels forever. But perhaps in their 15th National Hockey League seasons, the Sedins are showing signs of their age and we're witnessing the start of their declines as top-end producers. And that's fully understandable if that is in fact the case. However, individually they remain remarkably skilled players – it's just the magic they produced together to make them the most dynamic duo in the league for a few seasons has faded.
So what's the risk for the Vancouver Canucks to take a look at Henrik on one line and Daniel on another? And more so, how about spreading the offense on a power play that has gone stale the past four games unable to convert its last 13 chances? It was hard to watch at times as the Canucks failed to produce the winner with a five-minute advantage in the third period of a 3-3 tie in New Jersey on Sunday.
With three straight losses and just three wins in their last 11 games (3-4-4), the Canucks are not producing victories with their line-up as currently constructed. It makes no sense to continually trot out the same players in the same formations thinking it's just a matter of time before things click. Sunday in New Jersey, Willie Desjardins shuffled his line combinations to start the second period, but chose once again to keep Daniel and Henrik Sedin together.
Maybe it's time to split the two of them, trying to place some balance across two lines and give opponents a wrinkle to think about when defending the Canucks. And maybe it removes a security blanket for both Daniel and Henrik and forces them to change their approach a little and re-invent the way they attack things in the offensive zone. The Canucks definitely need to get Radim Vrbata, Brandon Sutter and Bo Horvat going offensively and even Alex Burrows and Jared McCann have gone quiet in the goal-scoring department over the past 10 days. Why not put a play-making Sedin on different lines and maybe more importantly different power play units and see if that can't stoke the offensive embers and produce the desired results?
There was a time when the mere mention of splitting the Sedins was crazy-talk. That was five seasons ago. But things are different now. The Canucks need a spark and even the Sedins could use a jolt. It's hard to believe that 15 games into the season, Henrik has just two primary assists and none in the past eight games. That's hardly the Henrik Sedin Canucks fans have watched for so long make setting up goals look so easy. Some of that is on the goal-scorers he's working with, but some of that is on the captain, too, who can no longer dominate games from the perimeter the way he did for so long.
While there is an undeniable energy the young players on the Canucks have infused into the line-up, this is a team that is still reliant on its aging veterans to deliver. And in spurts they have. But too often, too many of them haven't been able to produce with any regularity and as a result the Canucks haven't won nearly as often as they'd like.
This is a hockey team that can't continue much longer with so many of its key contributors struggling to produce offense. However, tough times call for drastic measures and splitting the Sedins probably falls in that category. But it might just be the right move at the right time to get a bunch of players on the Vancouver Canucks – the Sedins included -- going. It certainly seems like it would be worth a look.