Timeline for Matthews coming into focus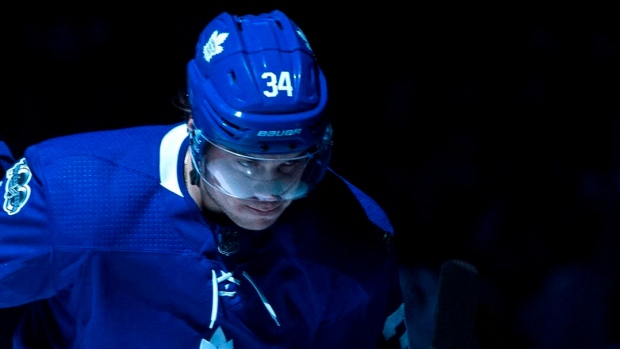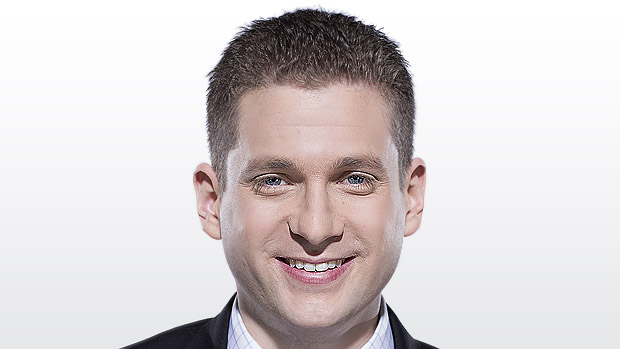 TSN Toronto reporter Mark Masters checks in daily with news and notes from Maple Leafs practices and game-day skates. The Leafs practised at the MasterCard Centre on Monday.
Auston Matthews was on the ice for Toronto's entire practice on Monday. It's the first time he's stayed out for a full session since sustaining a shoulder injury on Feb. 22. However, the 20-year-old was still wearing a red no-contact sweater and he did not skate in his regular spot. Matthews did rotate in at times during the line drills even taking a few reps as a defenceman to stay in the flow of things.
"I would expect that he's going to be pushing not for the Dallas game (Wednesday), but after that some time," said head coach Mike Babcock.
"He looks good," observed centre Nazem Kadri. "Mats is a special player so it doesn't take much for him to regain his strength and regain his momentum."
Matthews is expected to miss a seventh straight game on Wednesday when the Maple Leafs host the Dallas Stars. Toronto will then play in Buffalo on Thursday before returning home to face the Montreal Canadiens on Saturday night.
"He's obviously feeling way better," Babcock said. "I noticed when we were doing the contact stuff he didn't do as much of that and didn't dive right into it. I didn't talk to anybody, that's just what I noticed."
Matthews, who sat out a battle drill at the end of practice, was one of the last players on the ice Monday putting in some extra work long after most of his teammates had departed. There's a belief this injury absence will leave him feeling energized for the playoffs.
"It will help him for sure," Babcock said. "And, we've made a point, he's done some skating. He'll be in better shape than he was when he left just because (with) his two previous injuries he couldn't skate during that (initial recovery) time. I think that's important for him."
Mitch Marner missed time with an upper-body injury last season and can relate to what Matthews is going through now.
"You can do all the bikes and sprinting and all this stuff but, for some weird reason, the game is very different than all those things," Marner noted. "You think you got the cardio and then you play a game and that first 10 minutes is deadly on you. After that you get back in the rhythm.
"It sucks," Marner added. "I mean, it's a weird (injury). Your shot obviously comes back slowly and slowly and gets better."
The Leafs are now 8-6-2 without Matthews in the lineup this season (2-2-2 during the most recent absence) and are trying to keep things as close to business as usual as possible.
"It's way easier for me when he's in so we don't have to talk about it so much, you know what I mean?" Babcock said to laughs. "This is what I would tell you, it doesn't matter who's in the lineup we expect to win."
Good to see Matthews last the full session today?
"I didn't even notice it was (his first) full practice, to be honest," said Morgan Rielly with a smile. "But, yes, very happy."
Usually players who take part in a full practice are available to the media, but Matthews did not address reporters today. Per the team's media relations staff, Matthews likely will not speak publicly until it's clear he's ready to return.
—
We got a reminder about why a red sweater is necessary for injured players during Monday's practice as forward Dominic Moore and defenceman Connor Carrick, who have both been in and out of the lineup this season, got heated at one point exchanging shoves at the end of a drill.
"As an athlete I don't think you want to be wearing that red colour jersey, but it's just a precautionary thing," Kadri said. "You want to make sure he's just 100 per cent before guys know that you can actually be physical. In practice things can get pretty competitive so it's just a precautionary thing."
The Leafs are going through a stretch where they play just once in eight days and that has led to several longer-than-usual practices with Monday's workout lasting about 55 minutes with a conditioning skate at the end.
—
In 22 games since Jan. 20, Marner has 14 goals, tied for fifth in the league in that stretch. Always known as a prolific playmaker, the former London Knight wanted to make defenders respect his shot more this season and he appears to be doing just that. Marner has fired 69 shots on net in the last 22 games. That's 3.1 per game. He averaged just two shots per game in the first 47 outings of the season. Last season, he averaged 2.3 shots per game.
"I think he's more conscious about his shot," observed Kadri, who has also tried to improve that aspect of his game in recent years. "I've been trying to tell him to get that shot off. It's not necessarily about how hard you shoot it, it's the release and how quick you get it off. Sometimes you can surprise goaltenders and pucks that shouldn't go in end up going in the back of the net."
Kadri points out that Marner's power-play goal against the Penguins on Saturday is a perfect example of what he's been doing more of.
"Shoot it knowing it probably won't go right in, but it hits a couple shin pads and it's in the back of the net," Kadri said. "He now knows if he shoots more and more consistently he's going to score more goals."
"I've noticed a lot of pucks going off people and in," Rielly quipped. "So, I don't know whether or not that's on purpose (chuckle). No, he's playing great."
During this 22-game surge, Babcock has rewarded Marner by playing him about a minute more than his average early in the season. One of the coaching staff's directives to Marner at the outset of the season was about shooting more.
"I thought he had two really good cracks last game," Babcock noted. "He hit the bar on one and the top of the pad on the other one. I believe he can shoot the puck and shoot it well. He's just got to use his momentum and he's working on it constantly and he's getting better."
Marner's shooting percentage has ticked up this season from 10.8 per cent as a rookie to 11.5 as a sophomore. He believes success of the power play has been a key, especially of late.
"Just trying to get it to the net more," he explained. "That's one reason why our power play (group) is working so well, we're getting pucks to the net from all angles: Bozie, Mo, James doing a great job in front and Naz is always there for backdoors or those three-feet ones. It's a battle, but we just have to keep getting the puck to the net and when that starts to happen your shot gets more confidence, you get more confidence in your head and I think that's the way I'm thinking right now."
Marner is third on the team with seven power-play goals. He has six points on the man advantage in the last six games as the top unit featuring him, Kadri, Rielly, Tyler Bozak and James van Riemsdyk, has started to heat up. Those five players have combined for 27 power-play goals this season, representing 66 per cent of Toronto's output. This despite the fact the power play ice time has been divided quite evenly between the units.
"Our power play has been real dangerous on one group and not as good on the other group," Babcock said. "We got to get that fixed. You need two balanced units with fresh guys going out there to do a job. We feel we have the depth to do that and so we have to come up with a scheme and work ethic and execution that makes that happen. That'll happen more when Matty's back, but in the mean time we still need goals out of that second group."
The second unit, featuring William Nylander, Matthews, Patrick Marleau, Jake Gardiner and injury replacements Leo Komarov and Josh Leivo, has combined for just 11.
Nylander was second on the team with nine power-play goals last season while Matthews was third with eight. So, what's hampering that group this season?
"That's a good question," Babcock said with a smile, leaving it at that.
—
Nikita Zaitsev, who unexpectedly missed Saturday's game due to an illness, was absent from Monday's practice.
"Obviously, he didn't bounce back the way we expected so he's seeing the doctor today," Babcock said. "Just think it's the flu, but (it) wasn't done as quick as we expected."
—
Babcock was asked if he's leaning toward inserting Matt Martin back into the lineup for Wednesday's game.
"I wouldn't try reading my mind," the coach said with a smile. "I don't even know what's going on in there."
—
Lines in Monday's practice:
Hyman-Nylander-Marner
Marleau-Kadri-Komarov
van Riemsdyk-Bozak-Brown
Martin/Moore-Plekanec-Kapanen
Matthews
Rielly-Hainsey
Gardiner-Polak
Dermott-Carrick
Leivo
Andersen
McElhinney