Trade Talk: Bruins looking to trade
The Boston Bruins lost out on Antoine Vermette but are still looking to make some acquisitions ahead of the trade deadline. Check out today's trade rumours and speculation from around the NHL beat, including the latest with the Bruins, Calgary Flames, and Arizona Coyotes.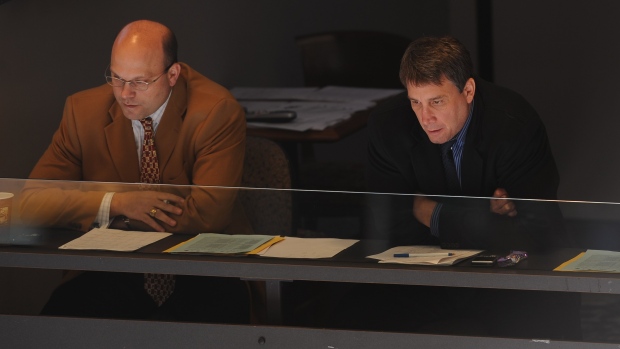 Busy B's
Expect the Boston Bruins to be active in seeking trades up to and on Trade Deadline Day.
Joe Haggerty of Comcast Sportsnet New England reports that while the Bruins missed out on one target, former Arizona Coyotes forward Antoine Vermette, the team is still in on several other players.
"Peter Chiarelli is still looking for a right winger with some physicality, a depth defenseman and potentially a backup goaltender, and wants to acquire any and all these things without dealing away the team's first round pick, or any of their top young players."
"Chris Stewart and Erik Cole are at the top of the list as true power forward-types with the ability to generate offense, and Curtis Glencross remains a possible fit if Boston is one of his desired NTC destinations."
Haggerty also reported on some current Bruins that could be headed the other way in trades over the next two days.
"Veteran names like Dennis Seidenberg and Loui Eriksson had been mentioned as potential trade targets should the Bruins look to shed some salary."
TSN Hockey Insider Pierre LeBrun of ESPN.com echoed Haggerty's report that the Bruins are regrouping after losing out on Vermette.
Buying or Selling?
As of Saturday's action, the Calgary Flames are three points out of the playoffs. The question remains, will they be buyers or sellers on Trade Deadline Day?
Randy Sportak of the Calgary Sun reports that if the Flames do decide to sell at the deadline, forward Curtis Glencross might not be the only player shipped out of town.
Sportak lists five others that could be in different uniforms for the rest of the season: Mikael Backlund, Jiri Hudler, Mason Raymond, Brandon Bollig, and one of either Karri Ramo or Jonas Hiller.
Backlund may be the most surprising on this list, but Sportak reasons it could be the right time to see what the Flames can get for the centre.
"If you believe in a couple of years those two high first-round picks will be the cornerstones up the middle and that either Markus Granlund, Joe Colborne or Josh Jooris can give you a strong trio of centres, it may be worth seeing what Backlund could fetch at a time teams are mindful of their budgets going forward."
No Trade Barrier
Zbynak Michalek is still recovering from injury right now but that doesn't mean he won't be moved before the deadline.
Coyotes GM Don Maloney told Craig Morgan of Fox Sports Arizona that Michalek is recovering and generating significant interest on the trade market.
Maloney also refused to say that Michalek's current injury was hurting the process of finding a potential suitor for the defenceman.