Trade Talk: Jets in the spotlight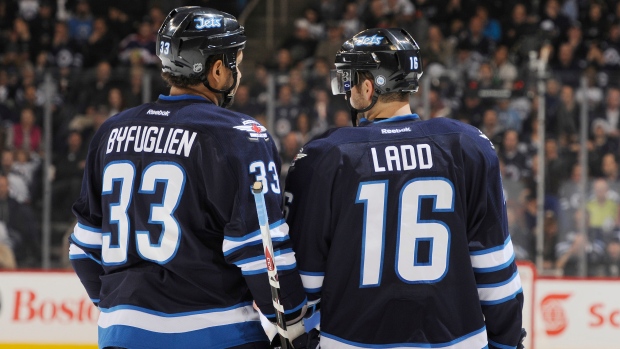 The NHL's Feb. 29 Trade Deadline is approaching and teams are making decisions on whether to buy or sell and decide which players can make the biggest difference and hold the greatest value. Check out today's trade rumours and speculation from around the NHL beat.
Air Traffic Control
The Winnipeg Jets and general manager Kevin Cheveldayoff have a lot of moving parts to deal with as the February 29th trade deadline approaches according to Bruce Garrioch of the Ottawa Sun.
"They've gotten calls on captain Andrew Ladd and defenceman Dustin Byfuglien - both scheduled to become unrestricted free agents on July 1 - the belief is only one of them will be moved," Garrioch writes in his Sunday column. "Three league executives told the Sun Saturday they think Ladd is the one who will get shipped out."
Garrioch mentions that Ladd may have turned down a six-year, $36 million deal at the beginning of the season and that the Jets are expected to take a serious run at signing Byfuglien prior to the February 29th deadline.
He also says that restricted free agent Jacob Trouba will also need a new deal and that discussions have not gone well, so far in the negotiations.
According to Garrioch, Montreal Canadiens GM Marc Bergevin has been trying to make a trade and is listening to offers for Tomas Fleischmann, Dale Weise and Tom Gilbert, all of whom will be unrestricted free agents at the end of the season.
The Oilers also have to make a call on pending RFA defenceman Justin Schultz before the deadline.
Dealing Loui?
Trading Loui Eriksson could be tricky for the Boston Bruins, but they also might have a lot of options on where to send him writes Fluto Shinzawa of the Boston Globe.

"Eriksson is the one right wing who has earned Julien's trust," write Shinzawa in the Boston Globe. "The Bruins would have to find not just a second-line replacement, but another penalty killer and a net-front/goal-line presence on the No. 1 power-play unit. The latter will be especially difficult to find. No left-shot forward on the roster has Eriksson's man-up skill set."
Shinzawa writes that normally general manager Don Sweeney could command a first-round pick and a prospect but the Bruins need talent back that they can use this season.
The Bruins would prefer a young top-four defenceman but speculates that even packaging the player with a first round pick would not be enough to bring back players such as Matt Dumba, Jonas Brodin or Sami Vatanen.
Possible trade partners include the Winnipeg Jets, Columbus Blue Jackets, Anaheim Ducks, Calgary Flames and Ottawa Senators.