TSN.ca's 2014-15 NHL Season Preview: Montreal Canadiens
With the NHL regular season right around the corner, TSN.ca profiles each team leading up to puck drop. Next up is the Montreal Canadiens - Canada's top franchise last season with a lot of pressure to improve on last spring's playoff success. Catch up on their off-season moves and the issues they face this season, as well as their analytical breakdown by TSN's Scott Cullen.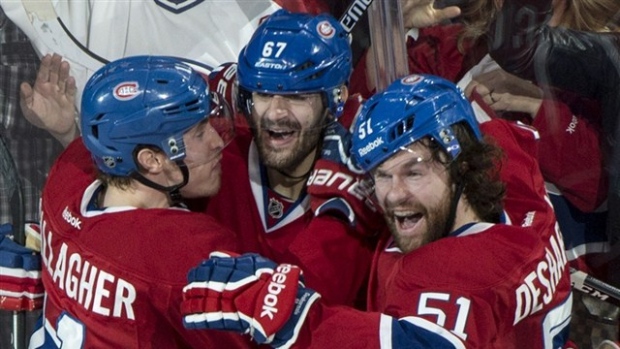 With the NHL regular season right around the corner, TSN.ca profiles each team leading up to puck drop. Next up is the Montreal Canadiens - Canada's top franchise last season with a lot of pressure to improve on last spring's playoff success. Catch up on their off-season moves and the issues they face this season, as well as their analytical breakdown by TSN's Scott Cullen.
Division: Atlantic GM: Marc Bergevin Head Coach: Michel Therrien
2013-14: 46-28-8 (3rd in Atlantic) Playoffs: Lost in Eastern Conference Final
Goals For: 209 (21st) Goals Against: 201 (8th) PP: 17.2% (19th) PK: 85.1% (4th)
That Was Then:
After a 2012-13 season that saw the Canadiens capture the division title and qualify for the post-season, most of the Montreal faithful were happy with their turnaround from a last place finish in the Eastern Conference basement a year earlier. Not Marc Bergevin.
"There were a many positives from last year," he told his players flatly prior to last season's training camp. "We made the playoffs but lost in the first-round (to Ottawa). We can't be satisfied with that."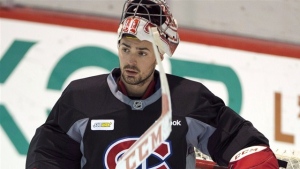 The Canadiens struggled in the first quarter of the season, with a 10-9-2 record and slow starts from two of their top forwards. David Desharnais, with just one assist in his first 17 games, was chastised on social media by Montreal mayor Denis Coderre - who called for his demotion to Hamilton of the American Hockey League. Max Pacioretty, who was also struggling on the score sheet, was suddenly the subject of trade speculation.
All of that came to a head on Nov. 19, when Pacioretty scored a natural hat trick and Desharnais notched two assists in the Habs' 6-2 win over the Minnesota Wild. That victory put the Canadiens' top scoring duo back on track, as well as kickstart a 9-0-1 run through Dec. 7.
The rest of December and January weren't particularly kind, headlined by a listless 5-0 home loss to Washington on Jan. 25 that saw the club booed mercilessly at the Bell Centre. Cue Bergevin, who saw it all first-hand and had all of his players stay in the dressing room to address the media after the game. That subtle (or not-so-subtle depending what he said to his players) reminder of accountability worked as the Habs recovered quickly and went 5-1-1 into the Olympic break.
Going into the NHL's 3pm et trade deadline on Mar. 3, things looked very quiet from the front office. The team had already acquired depth players in forward Dale Weise and defenceman Mike Weaver and appeared to be standing pat. That is, until 2:59pm et when news broke that the Canadiens - who weren't even rumoured to be in the running - acquired arguably the biggest name of the day in sniper Thomas Vanek. The Austrian winger, who settled in on a line with Desharnais and Pacioretty, gave the Canadiens that added offensive punch they needed to make the post-season.
Which brings us to Mar. 15 and a nationally televised Saturday night game at home against Ottawa. Down 4-1 late in the third period, the Canadiens - in an NHL first - stunned the Senators with three unanswered goals in the final three-and-a-half minutes of play en route to an incredible 5-4 overtime win. As Therrien and Bergevin later admitted, that victory turned their season around and gave them the momentum to clinch a post-season berth with an 11-3-1 finish in their final 15 games.
What happened in the playoffs was beyond just about everyone's expectations, as the Canadiens knocked off the Tampa Bay Lightning and hated Boston Bruins before losing out in six games to the New York Rangers in the Eastern Conference Final. Just two wins shy of their first Stanley Cup Final since 1993, it will be difficult for Bergevin and Therrien to temper expectations after the Habs' best post-season showing of this generation.
Scott Cullen's Analytics
Canadiens 2013-14 Stats by Quarter
| Games | GPG | GAA | SH% | SV% | SAF% | PTS% |
| --- | --- | --- | --- | --- | --- | --- |
| 1-20 | 2.55 | 2.10 | 5.9 | .942 | 50.3% | .550 |
| 21-41 | 2.33 | 2.14 | 7.5 | .923 | 47.2% | .683 |
| 42-62 | 2.62 | 2.76 | 7.9 | .930 | 47.8% | .595 |
| 63-82 | 2.70 | 2.60 | 9.6 | .926 | 47.6% | .625 |
| NHL AVG | 2.67 | 2.67 | 7.8 | .922 | 50.0% | .562 |
Key: GPG= goals per game, GAA= goals-against per game, SH%= even-strength shooting percentage, SV%= even-strength save percentage, SAF%= score-adjusted Fenwick percentage (differential of shot attempts faced vs. shot attempts, excluding blocked shots, adjusted for game score),PTS%= percentage of available points.
Analysis:
Games 1-20: Spectacular goaltending from Carey Price overcame a lack of finish early.
Games 21-41: Percentages closer to average, possession falls, but record strong thanks to four OT/SO wins.
Games 42-62: Top-shelf goaltending and improved finish kept Habs rolling, despite subpar possession stats.
Games 63-82: Addition of Thomas Vanek helped elevate shooting percentage.
Key 2014 Additions: RW P-A Parenteau, C Manny Malhotra, LW Jiri Sekac, DTom Gilbert
Key 2014 Subtractions: C Daniel Briere, RW Brian Gionta, D Josh Gorges, DFrancis Bouillon, C Ryan White, D Douglas Murray, C Louis Leblanc, LW Thomas Vanek, RW George Parros
This Is Now:
Daniel Briere's tenure with the Canadiens lasted just one season, as the veteran centre was shipped to the Colorado Avalanche for a younger, bigger and more productive P-A Parenteau. Bergevin also parted ways with captain Brian Gionta and shot-blocking blueliner Josh Gorges, as both headed to the Buffalo Sabres through free agency and a trade.
On July 1, the Canadiens added faceoff specialist Manny Malhotra, who should take some of the defensive zone responsibilities off two-way centres Tomas Plekanec and Lars Eller. Free agent defenceman Tom Gilbert was also brought in, providing power play help and a valuable right-handed shot behind Andrei Markov and P.K. Subban.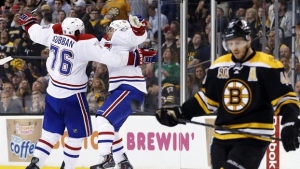 Markov appears to be a career Canadien after signing a new three-year contract prior to July 1, while Subban - much to the delight of Canadiens fans - signed an eight-year, $72 million contract.
Gionta's absence leaves the Canadiens with two roles to fill - a stable second/third line right winger and a leader in the dressing room. Parenteau believes he can take the role on the second line, while free agent signing Jiri Sekac will also get a look.
Where the leadership element is concerned, Gionta's (and Gorges') departure means the torch will be passed to a core headlined by younger players like Pacioretty, Subban and Brendan Gallagher.
TSN Montreal reporter John Lu's Five Key Storylines heading into training camp:
1. How is Carey Price's left knee (injured in Game 1 of the Eastern Conference Final in a collision with Chris Kreider) and can he replicate his (non-Olympic) success?
2. Will a bigger contract mean bigger responsibilities for P.K. Subban?
3. Who will win the battle at right wing on the second and third lines?
4. Who will be the Canadiens' captain after losing two key leaders in Gorges and Gionta?
5. Young defenders contending to be full-time NHLers - how will Nathan Beaulieu, Jarred Tinordi and Greg Pateryn fit in?
DEPTH CHART
Forwards
| Left Wing | Centre | Right Wing |
| --- | --- | --- |
| Max Pacioretty | David Desharnais | Brendan Gallagher |
| Alex Galchenyuk | Tomas Plekanec | PA Parenteau |
| Rene Bourque | Lars Eller | Dale Weise |
| Brandon Prust | Manny Malhotra | Jiri Sekac |
| Travis Moen | Michael Bournival | Sven Andrighetto |
| Jacob de la Rose | Gabriel Dumont | Patrick Holland |
Defence
| | Left | Right | |
| --- | --- | --- | --- |
| | Andrei Markov | P.K. Subban | |
| | Alexei Emelin | Tom Gilbert | |
| | Nathan Beaulieu | Mike Weaver | |
| | Jarred Tinordi | Greg Pateryn | |
| | Davis Drewiske | Morgan Ellis | |
| | Mac Bennett | Darren Dietz | |
Goaltenders
Carey Price
Peter Budaj
Dustin Tokarski
Craig's List
A list of the Canadiens' top prospects as ranked by TSN Director of Scouting Craig Button.
A-Level Prospects
| No. | Name | Pos. | 2013-14 Club |
| --- | --- | --- | --- |
| 1 | Jacob de la Rose | LW | Leksands (SWE) |
| 2 | Zach Fucale | G | Halifax (QMJHL) |
| 3 | Nikita Scherbak | RW | Saskatoon (WHL) |
| 4 | Artturi Lehkonen | LW | KalPa |
B-Level Prospects
| No. | Name | Pos. | 2013-14 Club |
| --- | --- | --- | --- |
| 5 | Jiri Sekac | LW | Lev Praha (KHL) |
| 6 | Jeremy Gregoire | C | Baie-Comeau (QMJHL) |
| 7 | Charles Hudon | LW | Baie-Comeau (QMJHL) |
| 8 | Sven Andrighetto | RW | Hamilton (AHL) |
| 9 | Greg Pateryn | D | Hamilton (AHL) |
| 10 | Mac Bennett | D | Michigan (NCAA) |
Fantasy - Cullen's Player to Watch - Alex Galchenyuk
The third overall pick in 2012 has shown flashes of talent in two pro campaigns, but struggled during his sophomore season, particularly after missing time with a broken hand, scoring three goals and eight points in 21 games after returning from the injury.
Nevertheless, the 20-year-old has the size and skill to be a difference maker for the Habs, provided he is utilized in a sufficiently prominent offensive role. Through his first two years, there have been some ups and down when it comes to ice time, as Galchenyuk has averaged 13:30 per game over his first 113 NHL games, but if he stays healthy, and plays a top-six role this season, Galchenyuk could be poised for a breakthrough season.