TSN.ca TradeCentre live blog
Welcome to live coverage of TSN TradeCentre as the NHL's trade deadline approaches at 3pm et/12pm pt today. Keep on top of all the latest news and rumours by checking in throughout the day.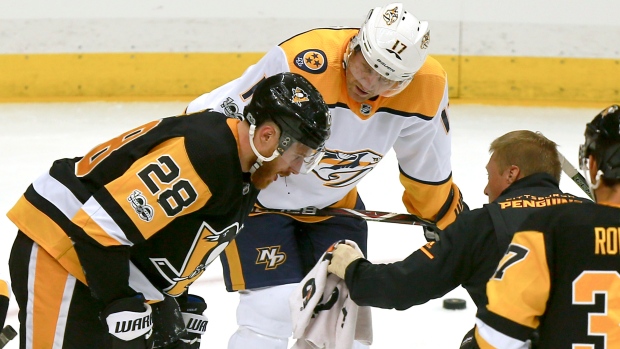 Welcome to live coverage of TSN TradeCentre as the NHL's trade deadline approaches at 3pm et/12pm pt today. Keep on top of all the latest news and rumours by checking in throughout the day.
4:50pm - Bruins acquire Tommy Wingels from Blackhawks.
---
4:26pm - Canucks GM Jim Benning says the team wanted picks in a Vanek trade, but they weren't available.
Benning also says they plan to give Leipsic a chance to play with skilled players to see what he can do.
---
4:17pm - Penguins GM Jim Rutherford on his new acquisition Josh Jooris, who brings the team insurance and depth at centre.
---
4:04pm - Dale Tallon says that the Panthers were looking to add, but they weren't interested in dealing top prospects.
---
4:03pm - And there's the confirmation on what we had all figured - the Leafs did not make any trades.
---
4:01pm - More on Karlsson - McKenzie reports that the Vegas negotiations got deep, but when they hit a stalemate, the Golden Knights moved on to Detroit.
---
3:59pm - Note the wording here from Pierre Dorion:
"If Erik Karlsson is here July 1, we'll be making him a contract offer." That's a big "if," folks. That could mean a trade at the draft.
---
3:51pm - When Boogie Cousins got hurt, the New Orleans Pelicans signed former first overall pick Emeka Okafor, who ended up starting his first game since 2013. Well, it looks like we could get an NHL equivalent.
The Sens have called up Jim O'Brien, who last played in the NHL on March 2, 2013.
---
3:50pm - MAROON UPDATE - The Oilers also get a prospect from the Devils in J.D. Dudek, a 2014 sixth-round pick who is currently at Boston College.
---
3:40pm - Lou Lamoriello's press availability at 4 suggests that the Leafs have not done anything following yesterday's trade.
---
3:30pm - McDONAGH UPDATE - Hoo boy. For McDonagh and Miller, the Rangers will receive Vladislav Nemestnikov, Libor Hajek, Brett Howden, a 2018 first-round pick and a conditional second. I'm gonna sit down.
---
3:27pm - ANOTHER TRADE - Nick Shore has been dealt by the Sens to the Flames for a seventh in 2019.
---
3:20pm - McDONAGH UPDATE - J.T. Miller is also going to Tampa Bay. This could be a big trade.
---
3:19pm - MAROON TRADED - The Oilers have traded Patrick Maroon to the New Jersey Devils.
UPDATE: It's a third-round pick for Maroon.
---
3:17pm - ANOTHER TRADE - But we don't know where yet - Mike Reilly has been traded by the Wild
UPDATE: It's the Habs for a fifth (Washington's) in 2019.
---
3:15pm - Mike Green is still a member of the Detroit Red Wings.
---
3:14pm - [DJ KHALED VOICE] AND ANOTHER ONE - Joe Morrow is headed to the Jets from Montreal for a fourth-round pick.
---
3:09pm - ANOTHER TRADE - Tomas Tatar is headed to the Golden Knights for a first, second and third.
---
3:08pm - TRADE COMING - And it's a big one. Ryan McDonagh is going to the Lightning.
---
3:05pm - Bob says Vegas came closest to landing Karlsson, but they didn't and he has not been traded.
---
3:03pm - Add the Stars to the teams that stayed quiet.
Oh, and Jack Johnson wasn't moved.
---
3:02pm - They landed Kevin Shattenkirk last year, but the Washington Capitals have stood pat, says Tarik El-Bashir.
---
3:01pm - As always, just because the deadline has passed, deals can still leak out with trade calls having been finished before it and all that jazz.
You know the drill.
---
3:00pm - THE TRADE WINDOW IS CLOSED
---
2:55pm - FIVE MINUTES REMAIN
---
2:47pm - ACTUAL TRADE - The Canucks have traded Thomas Vanek to the Blue Jackets.
UPDATE: It's Tyler Motte and Jussi Jokinen heading to the Canucks.
The Canucks are Jokinen's ninth NHL team.
---
2:34pm - Craig Custance says a Ryan McDonagh move could still be in the cards.
---
2:33pm - ANOTHER KANE UPDATE - So here's the catch with the conditional first-round pick: If Kane re-signs, it's a first. If he doesn't, it's a second.
---
2:25pm - Bob says trade talks are continuing on Karlsson.
---
2:22pm - KANE CONTEXT - Scott Cullen notes that Jack Eichel and Evan Rodrigues both played with Dan O'Regan at Boston.
---
2:17pm - MORE KANE DETAILS - Here's what's coming back to the Sabres - It's a conditional first-rounder (lottery-protected), an unnamed prospect and a fourth.
UPDATE: The first is in 2019, the fourth is in 2020 and the prospect is Dan O'Regan.
---
2:15pm - Uh, it doesn't sound like Brayden Schenn is happy about the Blues moving Paul Stastny to Winnipeg.
---
2:13pm - KANE DETAILS - Bob McKenzie says this is a pure rental without an extension.
---
2:11pm - ACTUAL TRADE - The Ducks have acquired Jason Chimera from the Isles for Chris Wagner.
---
2:11pm - TRADE COMING - Evander Kane looks like he's on his way to the Sharks.
---
2:00pm - ONE HOUR REMAINS
---
1:51pm - The Pens, who used a monkey's paw to somehow get Derick Brassard under the cap, are not in on Ryan McDonagh because they're out of wishes.
---
1:45pm - ACTUAL TRADE: Look pal, they all can't be winners. The Jackets acquire Ryan Kujawinski from the Coyotes for Jordan Maletta. Carry on with your day.
---
1:37pm - Ian Mendes discovers the downside to call-in talk radio on Deadline Day.
---
1:28pm - JOEL QUENNEVILLE DUNKIN' DONUTS UPDATE: Quenneville says it was "brutal" working there today.
You know why it was brutal? Because for whatever reason, these days vanilla dips (or Hawaiians, if you're a purist like myself) have those little balls instead of sprinkles. That does a disservice to everybody. The sprinkle is far superior and everybody knows it.
---
1:23pm - Paul Maurice ain't lyin', folks.
---
1:13pm - Mike Babcock explains why the trade deadline is fun for players on good teams and not fun for players on bad ones.
---
1:04pm - Because I am worldly and learned, I am able to translate this Habs tweet for you. Nikita Scherbak has been recalled.
---
12:57pm - John Vogl says the Sabres are still talking to four teams about Evander Kane.
---
12:56pm - I'm still here, everybody. Just had some lunch and popped into the washroom. You should do the same.
---
12:38pm - Nothing new on the Karlsson front and you would have to think, the closer we get to 3pm, the less likely it is that he gets moved.
---
12:31pm - INJURY UPDATE: Matt Murray left Pens practice early with an injury and is being evaluated, according to Mike Sullivan.
---
12:26pm - Scott Cullen notes the allure of Leipsic for the Canucks - he played under Travis Green in the WHL.
---
12:20pm - TRADE COMING - The Vancouver Canucks and Vegas Golden Knights are closing in on a deal that will see Brendan Leipsic swap places with Philip Holm.
UPDATE: Trade call is happening.
---
12:16pm - BIG TRADE - The Winnipeg Jets have reeled in Paul Stastny. To the Blues goes a 2018 first-round pick, Erik Foley and a conditional fourth in 2020.
UPDATE: The Blues will retain half of Stastny's salary.
---
12:10pm - CM Punk is not taking this trade well.
---
12:04pm - ACTUAL TRADE - It's Ryan Hartman and he's going to the Predators.
UPDATE: Here's your full trade. It's Hartman and a 2018 fifth for a 2018 first, fourth and Victor Ejdsell.
---
12:02pm - WAIVER CLAIMS - Ah, waiver claims. The trade's less attractive cousin. We have a few:
Chris Stewart is going to the Flames.
Johnny Oduya is headed from Ottawa to Philly.
Mark Alt is headed to the Avalanche.
---
11:58am - So that Blackhawks/Preds deal appears to be centred around Ryan Hartman, says Mark Lazerus. He's the only Chicago player not at practice right now.
---
11:56am - Bolts coach Jon Cooper says most of the trade rumours you hear are "fake news."
---
11:41am - Something to keep in mind when you hear about waivers and demotions later today: A player must be on an AHL roster by 3pm et today to be eligible to be sent between now and the rest of the season.
---
11:40am - It's Tomas Plekanec all the time, folks. At practice, he found himself in between Leo Komarov and Josh Leivo.
---
11:30am - Speaking of new additions, brand new New York Islander Brandon Davidson will wear the No.88 for the team.
---
11:25am - Tomas Plekanec is on the ice for Leafs practice and he is wearing the turtleneck!
---
11:22am - If you recall earlier today, Mark Lazerus said that the Jackets were kicking tires on Anisimov. Well, Andy Strickland says the Preds are talking to the Blackhawks now.
---
11:13am - So, what might the Calgary Flames be up to? Well, maybe goaltending for one thing.
---
11:10am - I have just discovered that the llamas thing AND "The Dress" happened on the same day, three years ago today.
We were spoiled for content that day. Truly magical.
---
11:00am - NEWS (NOT A TRADE, THOUGH): Mike Fisher's retirement is officially over and he's back with the Nashville Predators.
---
10:48am - I don't have any news for you, but a reminder that it was three years ago today those llamas got loose.
Remember that? That was fun.
---
10:28am - I guess you could say the Anaheim Ducks are Sitting, Waiting, Wishing for Jack Johnson, according to Aaron Portzline.
That's a Jack Johnson joke, folks. You see, Jack Johnson is also the name of an insufferable singer.
---
10:25am - Still. Not. Done. Ian Cole says it's tough to leave the Pens.
---
10:05am - ...and I'm not done.
"I'm excited by this," Cole tells Portzline of his trade. "It's been an interesting few days, but I'm happy - really happy - to be heading to Columbus."
---
10:04am - Brand new Ottawa Senator Nick Moutrey is headed to the AHL's Belleville Senators.
And if you're wondering if I woke up this morning thinking I'd be writing a lot about Ian Cole, no, I did not. I'm as surprised as you are.
---
10:02am - And there is the official announcement of the Cole trade.
---
9:57am - The Oilers' Patrick Maroon appears to be in heavy demand. Andy Strickland cites the Jets, Predators and Bolts as potential destinations.
---
9:51am - Now that Cole is on his way to Columbus, Aaron Portzline says that Jack Johnson could be on his way out.
---
9:44am - Tomas Plekanec has arrived in Tampa Bay to join the Leafs and, folks, THE GOATEE IS GONE.
---
9:40am - ACTUAL TRADE - There it is, folks. Your first trade of the day. The Senators have sent Ian Cole to the Blue Jackets.
It's a third-round pick in 2020 and centre Nick Moutrey headed to Ottawa.
---
9:36am - They've already dealt Rick Nash and Nick Holden to the Boston Bruins, so the New York Rangers are open for business, but Darren Dreger says that nothing has knocked Jeff Gorton's socks off when it comes to offers for J.T. Miller or Mats Zuccarello.
---
9:35am - Don't forget that there are games tonight and a return to the lineup, which appears to be happening soon, for Ondrej Palat is like a deadline addition for the Lightning.
---
9:26am - So if the Habs do make a move today, it could be their captain Max Pacioretty. Darren Dreger looks at how likely that might be.
---
9:04am - The Toronto Maple Leafs and Montreal Canadiens consumated a trade yesterday in the move of Tomas Plekanec to Toronto. How busy will they be today?
---
8:48am - Add the Jackets to the list of teams kicking tires on Ian Cole, says Pierre.
But LeBrun also notes that Jack Johnson's future could play into things there.
---
8:43am - Uh, Joel Quenneville is at a Dunkin' Donuts for some reason...working there, that is. He's serving coffee and not ordering it and he's giving it out for free and charging the Blackhawks. That sure as hell wouldn't have flown with Bill Wirtz.
---
8:37am - Hey, it's Antoine Vermette! Pierre says the Ducks could be looking to move the oft-travelled centre after making him a healthy scratch last night, but there are only eight teams to which he can be dealt.
---
8:25am - The Pens got Brassard on Friday, but that might not be it as the club looks for the first Stanley Cup threepeat since the New York Islanders won four in a row. Pierre LeBrun says that Jim Rutherford is still working the phones.
---
8:19am - Could the Columbus Blue Jackets be looking at reuiniting with an old friend?
The Chicago Sun-Times' Mark Lazerus reports the team has contacted the Chicago Blackhawks about reacquiring Artem Anisimov, but lowballed them with a third-round pick offer and wanted them to retain salary. So this appears to be dead for now.
---
8:12am - TSN Hockey Insider Darren Dreger says there's nothing new overnight on Erik Karlsson.
Something important that Dreger notes - if the Sens were to hold out until the summer, it opens up the market. Teams that aren't interested today could very well decide to get involved come June. But the Sens could still be busy today.
It doesn't appear that veteran defenceman Ian Cole will ever play for the Sens. Dreger reports that Pierre Dorion will look to flip him today after acquiring him from the Pittsburgh Penguins on Friday. with the Winnipeg Jets among those interested in his services.
---
8:08am - PUBLIC SERVICE ANNOUNCEMENT: Don't get fooled by fake Twitter accounts. This is like Christmas Day for the weirdos who run them. Two quick things - look for the Verified checkmark and the number of followers. A legit source doesn't have 67 followers. Here, look at this guy. This isn't Pierre LeBrun.
He has 510 followers. Somebody you know, and maybe even respect, might retweet this guy today. Don't take the bait.
---
8:05am - Good morning, all. Buckle in and get ready for seven hours of wall-to-wall trade coverage. Please don't hold me personally responsible if things go slower than you'd like. I'm on your side here, man.