TSN.ca TradeCentre Live Blog
Welcome to live coverage of TSN TradeCentre. The 3pm et deadline has come and gone, but news and deals keep trickling in. All times listed are ET.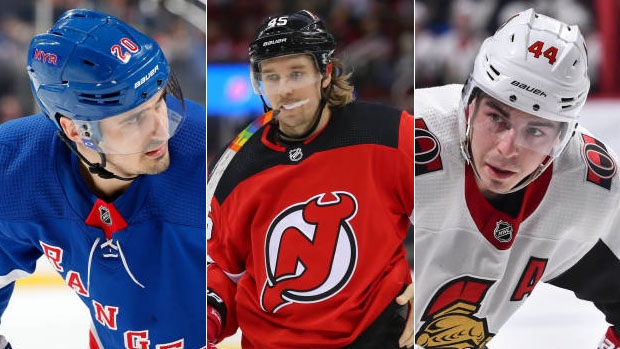 Welcome to live coverage of TSN TradeCentre. The 3pm et deadline has come and gone, but news and deals keep trickling in. All times listed are ET. Click here for TSN.ca's Trade Tracker or the latest version of the Trade Bait Board.
---
4:48 - Full details of the Goodrow trade
The Lightning have made things official.
On top of Goodrow, the Bolts receive the Flyers' third-round pick, while Anthony Greco accompanies the first-round pick to San Jose.
---
4:45 - Leafs, Isles make minor deal
The Leafs and Islanders have hooked up on an AHL deal.
Matt Lorito is headed for the Leafs with Jordan Schmaltz moving the other way.
---
4:32 - Flames acquire Gustafsson
The deal is official.
The Calgary Flames have acquired defenceman Erik Gustafsson from the Chicago Blackhawks in exchange for a pair of third-round picks in 2020.
---
4:16 - Another late deal
The Blackhawks and Flyers have completed a minor deal.
Forward Nathan Noel heads to the Flyers' ECHL affiliate Reading Royals in exchange for veteran defenceman TJ Brennan.
---
4:09 - Habs deal Cousins
And here's that additional Montreal Canadiens trade.
Nick Cousins has been moved to the Vegas Golden Knights for a fourth-round pick.
---
4:05 - Markstrom on the shelf
This explains the Canucks' acquisition of Louis Domingue
TSN Radio 1040 Vancouver's Rick Dhaliwal reports that Jacob Markstrom is expected out for three to four weeks with a knee issue.
---
3:57 - Ducks stay busy
The Anaheim Ducks have acquired Christian Djoos from the Washington Capitals.
Daniel Sprong heads the other way to DC.
---
3:52 - Preds, Ducks exchange D-men
A couple of defencemen are on the move.
Korbinian Holzer has been traded to the Nashville Predators with Matt Irwin and a pick headed back to the Anaheim Ducks.
---
3:48 - Guerin excited to still have Parise
Zach Parise is still a member of the Minnesota Wild.
Bill Guerin admits to exploring a trade with the New York Islanders, but isn't "going to get into details." Parise has five years left.
---
3:40 - Habs not done yet?
The Montreal Canadiens appear to have something in the hopper.
Pierre LeBrun reports the team might have something yet to come down.
---
3:33 - Subban heads the other way in Lehner deal
We now know who is going to the Chicago Blackhawks for Robin Lehner.
Darren Dreger reports that along with picks, Malcolm Subban will be headed to the Blackhawks.
---
3:28 - Bolts land Goodrow
Barclay Goodrow is headed to the Tampa Bay Lightning.
The San Jose Sharks were able to land a first-round pick for the 26-year-old winger. The Lightning trade their second 2020 first-round pick in a little over a week, having moved one for Blake Coleman last Sunday.
---
3:22 - Canucks acquire Domingue
The Vancouver Canucks have made an addition to their crease.
Louis Domingue is on his way to BC, so we will wait and see if this has something to do with Jacob Markstrom's health.
---
3:16 - Leafs re-up Muzzin for four years
Jake Muzzin won't be headed to free agency in July.
The Toronto Maple Leafs have signed the defenceman to a four-year extension worth $22.5 million.
---
3:11 - Skjei *does* go to Carolina
The Sami Vatanen acquistion wasn't a Plan B after all.
The Carolina Hurricanes were able to acquire Brady Skjei from the Rangers in exchange for a first-round pick.
The 'Canes had two first-round picks in 2020 thanks to their absorption of Patrick Marleau's contract from the Toronto Maple Leafs last summer.
---
3:08 - Shore heads to CBJ
The Ducks were looking to move Devin Shore and they found a buyer.
Shore is headed to the Columbus Blue Jackets in exchange for former first-round pick Sonny Milano, reports The Athletic's Aaron Portzline.
---
3:04 - Oilers are done
The Oilers made their moves and no more are forthcoming.
Ryan Rishaug reports that Ken Holland is done for the day.
---
3:02 - Thornton stays in SJ
Joe Thornton was rumoured to maybe seek a Stanley Cup elsewhere, but it won't be this season.
The veteran centre will remain a San Jose Shark.
---
3:01 - Barrie still a Leaf
Tyson Barrie has not been traded.
Barrie is a free agent at season's end.
---
3:00 - DEADLINE HAS PASSED
---
2:58 - Lehner to the Golden Knights
A former Vezina nominee is on the move.
The Chicago Blackhawks have dealt Robin Lehner to the Vegas Golden Knights. Lehner will slot in as a backup for Marc-Andre Fleury.
---
2:50 - Vatanen to the 'Canes
The Carolina Hurricanes didn't want to go the rental route, but it appears they have with the New Jersey Devils.
The team is acquiring Sami Vatanen. Vatanen is an impending UFA and is seemingly their Plan B after Brady Skjei talks couldn't get past the cap snags.
---
2:30 - Nothing on the Barrie front
There's a little under a half-hour remaining prior to the deadline and as of right now, Tyson Barrie ain't going nowhere.
McKenzie reports that the Toronto Maple Leafs aren't close to trading the impending UFA defenceman.
---
2:26 - Pens reacquire Sheary and add Rodrigues
Jim Rutherford wasn't lying when he said he wasn't finished.
The Pens have reacquired Conor Sheary and added Evan Rodrigues from the Buffalo Sabres with Dominik Kahun going the other way.
Sheary spent three seasons with Pens from 2013 to 2016.
---
2:03 - Flames acquire Forbort; working on Gustafsson
The Calgary Flames are making additions to their blue line.
Defenceman Derek Forbort is headed to the Flames from the Los Angeles Kings for a fifth-round pick, while the team is looking to finalize a deal with the Chicago Blackhawks for defenceman Erik Gustafsson.
---
1:59 - Ennis to the Oilers
The Edmonton Oilers have stayed busy.
The Ottawa Senators have sent veteran winger Tyler Ennis and Edmonton native on his way to the Oilers in exchange for a fifth-round pick in 2021.
Ennis joins his third Canadian team in two seasons, having played for the Toronto Maple Leafs last season.
---
1:54 - Pens not done yet
After acquiring Jason Zucker last week and picking up Patrick Marleau earlier today, the Pittsburgh Penguins are apparently not finished yet.
General manager Jim Rutherford tells The Athletic's Josh Yohe that he isn't done with a little over an hour until the deadline.
---
1:49 - Isles sign Pageau to lengthy extension
The newly acquired Jean-Gabriel Pageau has been locked up for the long haul by the New York Islanders.
The team has announced a six-year deal for the centre.
UPDATE: It's got a $5M AAV with a NTC in its first two seasons and a partial NTC for the rest.
---
1:39 - 'Canes want Skjei, but how?
Remember we said earlier that the 'Canes wanted a defenceman with term? Well, it appears they've landed on Brady Skjei of the Blueshirts, but there is a bit of a problem.
Carolina has a cap crunch and the 25-year-old Skjei has four seasons at a $5.25M AAV remaining on his current deal.
Dreger notes that the Hurricanes would be sending a first to the Rangers in a potential deal.
---
1:13 - Oilers land Athanasiou
The Edmonton Oilers have broken the relative trade calm this afternoon.
Gord Miller reports the team has acquired Andreas Athanasiou from the Detroit Red Wings.
The 25-year-old Athanasiou, who is an RFA at season's end, was rumoured to be of interest to the Columbus Blue Jackets.
UPDATE: It's two second-round picks to the Wings
SECOND UPDATE: And Sam Gagner is heading to Detroit, as well, with defenceman Ryan Kufner going to the Oilers.
---
12:49 - And what about Joe Thornton?
The Sharks have already moved Patrick Marleau, so could Joe Thornton be next?
The Athletic's Kevin Kurz reports that there is nothing imminent with the 40-year-old veteran centre, but he remains considering his options with a little over two hours left before the deadline.
---
12:38 - Habs, Sens make minor move
The Habs and Sens have gotten together on an AHL deal.
The Canadiens have acquired a seventh-round pick in 2020 and forward Aaron Luchuk from the Sens in exchange for Matthew Peca, while Peca could join the Sens in time for Monday night's game.
---
12:31 - Isles working on Parise
Wait, what?
Frank Seravalli reporting that the Islanders are working on a deal to land Zach Parise from the Minnesota Wild.
Andrew Ladd would be part of the return going to Minneapolis.
Parise has five years remaining on his current deal at $7.5M, while Ladd has three years at $5.5M.
---
12:28 - Ducks, Bruins do business
Danton Heinen is headed to the Ducks
Nick Ritchie heads back to the Bruins.
---
12:25 - Hurricanes injury update
The Dave Ayres story was a great on the weekend, but the Carolina Hurricanes' famous victory over the Leafs came at a cost. James Reimer, Petr Mrazek and Brett Pesce were all injured.
Rod Brind'Amour said on Monday that the injuries to Mrazek (concussion) and Pesce (shoulder) are set to sideline them for the immediate future.
---
12:18 - Leafs recall Gravel
Kevin Gravel is back in the NHL.
The Leafs have once again recalled the defenceman from the Marlies. Gravel has appeared in three games for the Leafs this season.
---
12:05 - A pair of waiver claims
It's noon, so it's time for waiver claims and there were two.
The Detroit Red Wings have claimed forward Dmytro Timashov from the Toronto Maple Leafs, while winger Andrew Agozzino has been claimed from the Pittsburgh Penguins by the Anaheim Ducks.
---
11:50 - Simmonds to the Sabres
Wayne Simmonds is on the move again.
The veteran power forward is on his way to the Buffalo Sabres for a fifth in 2021.
This is Simmonds' fourth team in two seasons. The Devils will retain half of Simmonds' cap hit.
---
11:33 - Grant heads to Flyers
While the Ducks are pondering Devin Shore's fate, they've moved on from Derek Grant.
The 29-year-old forward has been dealt to the Philadelphia Flyers, who've made their second trade of the morning.
Kyle Criscuolo heads to Orange County.
---
11:31 - Leafs reacquire Rosen for Hutchinson
The Michael Hutchinson era in Toronto is over.
The Maple Leafs have traded to goaltender to the Colorado Avalanche in exchange for defenceman Calle Rosen.
Rosen played eight games for the Leafs over the past two seasons. He appeared in eight this season for the Avs.
---
11:30 - Ducks looking to move Shore
Fox Sports Midwest's Andy Strickland reports that the Anaheim Ducks are looking to find a new home for Devin Shore.
Shore, 25, is a restricted free agent after this season.
---
11:24 - Rangers duo involved in car accident
At the same time he announced the Chris Kreider extension, John Davidson had some bad news, as well.
Pavel Buchnevich and Igor Shesterkin were involved in a car accident. While, Buchnevich was just shaken up and is day-to-day, Shesterkin's prognosis wasn't as good. He incurred a small fracture in his ribs and will be reassessed in two weeks.
---
11:14 - Kreider staying put? UPDATE: Yes, for seven years and $45.5 M!
The No.1 name on the Trade Bait board appears to be going absolutely nowhere.
Darren Dreger reports that the expectation is right now that the New York Rangers are going to extend Chris Kreider, rather than deal him.
UPDATE: Kreider is staying for seven more seasons.
Rangers president John Davidson announces that Kreider has agreed to a seven-year extension that will take him to age 35. The deal is worth $6.75 million per season.
---
11:12 - Clarification on the Marleau deal
There is a condition on the Sharks' return for Patrick Marleau.
Should the Pens win the Cup, the third-round Pittsburgh sent becomes a second-round selection.
---
11:08 - Rielly on the road back
Morgan Rielly hasn't played since January 13 with a broken foot, but he's on the road to a return.
The Toronto Maple Leafs defenceman is skating for the first time since incurring the injury last month.
Fellow rearguard Cody Ceci is also back on the ice for the Leafs.
---
11:04 - Preds lock up Grimaldi
Rocco Grimaldi was on the Trade Bait board, but he's sticking around with the Nashville Predators.
The team announced on Monday that the forward has re-upped on a two-year, $4 million deal.
In 58 games this year, Grimaldi has 10 goals and 20 assists.
---
11:01 - Marleau heads to Pittsburgh
Toronto Maple Leafs legend Patrick Marleau is on the move.
The San Jose Sharks have traded the veteran forward to the Pittsburgh Penguins for a third-round pick
---
11:00 - Kovalchuk thanks the Habs
Ilya Kovalchuk has nothing but good things to say about his former club.
In meeting the media for the first time as a Washington Capital, the veteran forward revealed that Marc Bergevin had "better" offers, but chose Washington in part because of the fit for the player.
---
10:43 - Flyers looking at Habs vet - UPDATE: And it's done
After dealing Ilya Kovalchuk on Sunday night, Marc Bergevin could get back into action on Monday morning.
LeBrun reports that veteran forward Nate Thompson has drawn the interest of the Philadelphia Flyers and a deal could be close.
McKenzie adds that the Flyers had been interested in Pageau, but wouldn't pay the price the Senators ultimately commanded.
UPDATE: Frank Seravalli reports that the deal is, in fact, done.
A fifth is headed to the Habs.
---
10:34 - Florida not done, either
Despite trading Vincent Trocheck, the Florida Panthers remain in the thick of the Atlantic playoff hunt and are looking to shore up their blue line, too.\
LeBrun reports that Dale Tallon will look to add another defenceman ahead of 3pm et.
---
10:25 - What's next for Carolina?
After acquiring a forward with term, the 'Canes are now looking for the same on the blue line.
LeBrun reports that while the Don Waddell would like to add a defenceman, he wants one with time remaining on his current deal.
---
10:11 - Trocheck to the 'Canes
One of the more surprising names to be in the rumour mill over the past several weeks is on the move.
The Florida Panthers have dealt Vincent Trocheck to the Carolina Hurricanes.
Trocheck has two more years at $4.75 million remaining. Lucas Wallmark, Erik Haula and two prospects head the other way.
UPDATE: McKenzie has the identities of the prospects.
Eetu Luostarinen and Chase Priskie head to the Panthers.
---
10:08 - Avs not finished
The Colorado Avalanche aren't done looking to make moves even with the acquisition of Namestikov.
Bob McKenzie reports the team is still interested in bringing aboard another winger.
---
9:48: Isles get Pageau
A massive name just came off the board.
The New York Islanders have acquired forward Jean-Gabriel Pageau from the Ottawa Senators according to Darren Dreger.
Heading back to Ottawa is a first-round pick in 2020, a second-rounder in 2020 and a third-rounder in 2022 according to Dreger, who adds there are conditions on the picks.
The first-rounder in 2020 shifts to a first in 2021 if the Islanders pick in the top three of this June's Draft. There are no conditions on the second-rounder and the conditional third exists if the Isles win the Stanley Cup this year only.
This now gives the Sens three first-round picks in this summer's draft, owing their own, San Jose's and now New York's.
Pageau has 24 goals and 40 points in 60 games with the Senators this season. He came into the day ranked at No. 2 on TSN's Trade Bait Board.
The Isles are in Ottawa next week, meaning Pageau shouldn't have to wait long for his return to the nation's capital.
---
9:40: Namestnikov to Colorado
We have a trade!
The Ottawa Senators have sent forward Vladislav Namestnikov to the Colorado Avalanche in exchange for a 2021 fourth-round pick according to Bob McKenzie.
Namestnikov, who was acquired for a fourth-rounder and Nick Ebert from the New York Rangers in October, had 13 goals and 12 assists in 54 games with the Sens.
He closed out Sunday as the No. 6 name on TSN's Trade Bait Board.
---
9:29: Wild getting calls on Pateryn
The Minnesota Wild are "getting lots of calls" on defenceman Greg Pateryn according to Frank Seravalli.
Pateryn has one year left on his deal at $2.25 million. He has not scored yet in 12 games this season and had seven points (1 G, 6 A) in 80 games with Minnesota last season.
---
9:24am: Upshall retires on TradeCentre
After 15 seasons and a decorated international career, Scottie Upshall called it a career this morning on TradeCentre.
The forward finished with 138 NHL goals and 285 points.
"It's time I focus my attention on the hair and camera!! Wait, that's always been priority #1!!" he tweeted.
---
9:20: They're up on the West Coast!
With some fancy socks, too...
---
9:07am: Leafs' plans for Barrie
Bob McKenzie updates what the Maple Leafs are thinking of doing with defenceman Tyson Barrie. Here is what he had to say:
"If anything, Saturday night's game and playing as poorly as they did for three of four games and trending in the wrong direction enhances the chances of Barrie being dealt. Now, he's on an expiring contract. He's only making about $2 million in terms of the cap hit because Colorado ate half of it when he came to the Leafs. So it's a low price in terms of the actual contract. The acquisition cost, the Leafs don't want to give him away. They want a first-round pick, they want a prospect. They want to try and do a deal like St. Louis did with Kevin Shattenkirk to the Washington Capitals three years ago. Or they want to do a deal like Andrej Sekera to the LA Kings from Carolina five years ago. A first and a prospect. A lot of teams find that to be too high, we'll see if they get the deal done or not over the course of the day," McKenzie said.
---
8:55am: The latest on Byfuglien
"Early enough in the day to speculate on the "long shot." My candidate for this is Dustin Byfuglien. Unlikely he gets traded, but there could be a team willing to be creative today," tweets TSN's Darren Dreger.
The veteran defenceman has not played yet this season as his future in the NHL continues to be a question.
---
8:52: Update on Montreal
TSN Montreal bureau reporter John Lu joins TradeCentre to update the status of the Canadiens on Deadline Day.
---
8:40am: Gallant makes his picks
Former Vegas Golden Knights head coach Gerard Gallant made his top five Stanley Cup contender predictions on TradeCentre.
In order: Washington, Tampa Bay, St. Louis, Boston, Vegas.
---
8:33am: Buyers and sellers
Here are TSN Hockey's top projected buyers on Deadline Day.
1. Calgary Flames
2. Colorado Avalanche
3. Carolina Hurricanes
4. Dallas Stars
5. Vegas Golden Knights
Sellers:
1. Ottawa Senators
2. Montreal Canadiens
3. New Jersey Devils
4. Detroit Red Wings
5. San Jose Sharks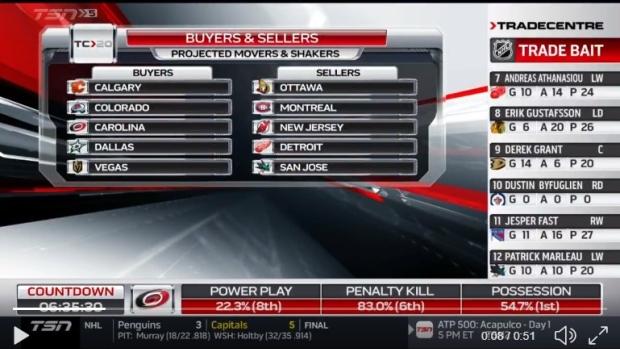 ---
8:25am: Under/over
TSN's Frank Seravalli set the under/over at trades before the 3pm deadline at 17.5. Last season there were 23 deals involving north of 40 players.
---
8:15am: Red Wings set for action?
Darren Dreger reports the Detroit Red Wings are likely to move out "a couple more pieces" Monday before the deadline. A few teams have interest in forward Andreas Athanasiou and Dreger adds he wouldn't be surprised if someone steps up for Luke Glendening.
---
8:12: Sharks taking calls on Thornton, Marleau
The San Jose Sharks are taking calls on both Joe Thornton and Patrick Marleau according to TSN Hockey Insider Pierre LeBrun.
"Totally up to them if they sign off on going to a contender for a chance to win a Cup. Both would be welcomed back to SJ on July 1 if they wish. Pittsburgh has shown interest in Marleau," LeBron added on Twitter.
Bob McKenzie notes it's a possibility Thornton will agree to leave San Jose, while Darren Dreger adds that the Penguins are an "excellent fit" and that general manager Jim Rutherford will be "working hard on this."
Marleau is No. 12 on TSN's Trade Bait Board, with Thornton coming in at No. 13.
---
8:04am: Ayres opens TradeCentre
Fresh off his emergency performance against the Maple Leafs, David Ayres opened up TradeCentre as an "emergency backup host" in place for James Duthie, who is out with turf toe.
Okay, fine, Ayres isn't filling in for Duthie.
But former Vegas Golden Knights head coach Gerard Gallant will be with the panel all day, bringing a fresh angle to our TradeCentre 2020 coverage.
---
8am: TradeCentre is LIVE
TradeCentre 2020 is underway NOW on TSN1, TSN4 and TSN5. Tune in now and stay up to date with the latest moves, updates and more.
---
8am: Sens on the Move?
With seven pending unrestricted on their roster, there will be no shortage of attention on the Ottawa Senators today.
Bruce Garrioch of Postmedia reports the expectation is that one or both of Tyler Ennis and Vladislav Namestnikov will be moved before the deadline after being scratched for asset management over the weekend.
---
8am: New Trade Bait board
Mike Green is off the board after the Detroit Red Wings shipped the veteran defenceman to the Edmonton Oilers in the first deadline day deal in the early hours of Monday.
The Red Wings acquired Green forward Kyle Brodziak a conditional fourth-round draft pick, which could rise to a third-rounder. Detroit also retained 50 per cent of Green's $5.375 million cap hit for the remainder of the season in the deal.
With Green removed, here's the latest TSN Trade Bait Board: