TSN Delivers Stacked Card of UFC Programming Leading Up to UFC 217: BISPING vs. ST-PIERRE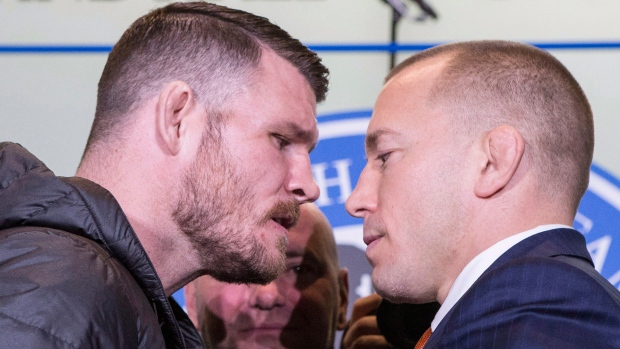 After a four year hiatus, Georges St-Pierre (GSP) makes his highly anticipated return to the Octagon® as he headlines this weekend's UFC® 217: BISPING vs. ST-PIERRE. TSN heads to Madison Square Garden in New York City to prime fans with a knockout lineup of UFC® programming and coverage in the lead-up to this historic middleweight matchup.
Headlined by the TSN Original feature, THE MIND OF GSP, TSN's comprehensive UFC® coverage begins tonight (Wednesday, Nov. 1) at 8 p.m. ET across TSN. The 30-minute feature follows Canadian UFC® legend Georges St-Pierre as he provides insight into his struggles with fear, self-doubt, and anxiety about fighting - and how a motivation to overcome those demons pushed him to greatness. A version of the feature will also air on CTV's W5 on Saturday, Nov. 4 (see below for complete broadcast schedule).
TSN UFC® analyst, Robin Black, is on-site at Madison Square Garden, delivering reports for SPORTSCENTRE throughout the week, featuring pre- and post-fight one-on-one's with Georges St-Pierre, Michael Bisping, and other UFC® guests. Black hosts coverage of media day and open workouts (today); the UFC® 217 news conference (Thursday, Nov. 2); and weigh-ins (Friday, Nov. 3), and provides instant analysis and reaction to the main card and preliminary bouts.
TSN's programming continues throughout the week with a knockout lineup of features airing each night in SPORTSCENTRE, plus encore broadcasts of past GSP bouts and the COUNTDOWN TO UFC® 217 special. Immediately following the event, fans can recap all the action with the UFC® 217 POST FIGHT SHOW at 1 a.m. ET on TSN2.
TSN Digital platforms also keep fans up-to-date throughout UFC® 217 with a massive slate of content including comprehensive news updates and highlights, plus interviews with preliminary bout competitors and special UFC® guests. Event details are updated daily on TSN.ca/UFC, with comprehensive social media coverage on TSN's official Instagram, Snapchat, Facebook, and Twitter accounts.
Coverage of the network's UFC® programming as well as the UFC® 217 PRE- and POST-FIGHT SHOW is available live and on demand to TSN subscribers on TSN.ca and the TSN GO app. French language coverage of the UFC® 217 PRELIMS is available on RDS2.
Broadcast Schedule*
Wednesday, Nov. 1
- 8 p.m. ET – The Mind of GSP on TSN1, TSN3, TSN4, and TSN5
- 9 p.m. ET – Countdown to UFC 217 on TSN2
- 11 p.m. ET – The Ultimate Fighter on TSN2
Thursday, Nov. 2
- 7:30 p.m. ET – Countdown to UFC 217 on TSN4 (encore presentation)
- 8:30 p.m. ET - UFC Main Event: St-Pierre vs. Diaz on TSN4 (encore presentation)
- 9:30 p.m. ET – The Mind of GSP on TSN4 (encore presentation)
Saturday, Nov. 4
- 4:30 p.m. ET – The Mind of GSP on TSN5 (encore presentation)
- 5 p.m. ET – Countdown to UFC 217 on TSN5 (encore presentation)
- 7 p.m. ET – UFC 217 Pre-Fight Show on TSN5
- 8 p.m. ET – UFC 217 Prelims on TSN5
Sunday, Nov. 5
- 1 a.m. ET – UFC 217 Post-Fight Show on TSN2