TSN Hockey Preview: Ottawa Senators
With the puck almost ready to drop on the 2016-17 season, TSN's hockey reporters and contributors provide a comprehensive season preview of all seven Canadian teams. Read up on the opening night analysis of the Ottawa Senators.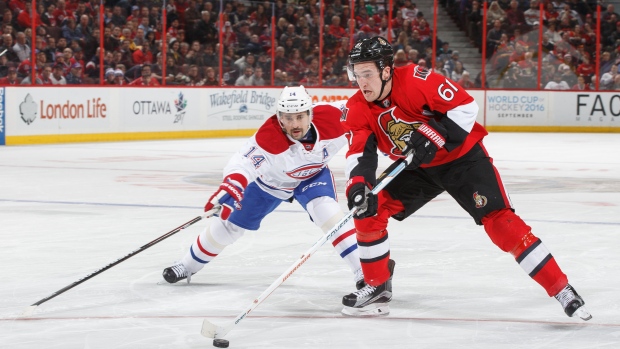 Guy Boucher returns to the NHL after spending parts of the past three seasons coaching in Switzerland.
His tactical changes could help, but the Senators haven't have dramatically improved their lineup either. They did bring in veteran centre Derick Brassard (sending Mika Zibanejad to the Rangers), who joins Mike Hoffman, Mark Stone and Bobby Ryan as players expected to lead the offensive charge.
Defenceman Erik Karlsson is the Senators' standout performer, using his rare skating ability to create offensive chances. Otherwise, there are a lot of questions. Marc Methot and Dion Phaneuf have had their moments, but both are 31 and have seen some decline, which means the Senators need development from young blueliners like Cody Ceci and 19-year-old Thomas Chabot.
The goaltending tandem of Craig Anderson and Andrew Hammond is fine - probably a little better than league average - and Hammond could push for more playing time after Anderson started 60 games last season.
The Senators have the makings of a competitive team, though they don't appear to have enough depth to have the quality of a legit playoff team. Perhap Boucher can improve their tactics enough to get the results they need to compete for a spot in the postseason.

Off-Season Headlines
April 10: Murray steps down as Senators GM, Dorion takes reins
May 8: Senators hire Guy Boucher as head coach
July 18: Senators acquire Brassard

Three Key Senators Questions
1. How will the change behind the bench change the Senators' fortunes on it?
With very little player turnover, the addition of Boucher and an entire new coaching staff was the biggest off-season move for the organization. Boucher becomes the Sens seventh head coach in the past decade. He is a no-nonsense, detailed and demanding bench boss. Boucher has explained to everyone what their role is going to be and he's shown he isn't playing favourites through camp. When key players Bobby Ryan and Cody Ceci missed a team meeting, Boucher made a public example of them and benched them for the first period of an pre-season game at home. Message delivered, said the players. But for all the demands Boucher has placed on his players, will it translate into victories?
2. The Senators can score goals, but can Boucher fix the problems in their own end?
Ottawa was a mess defensively last season, ranking 26th in goals against average and last in shots against. Boucher's biggest challenge will be to get his team to move the puck effectively out of their own end. He's already run drills in practice timing them how long it takes to clear the defensive zone. If they don't exit the zone in time the players do push ups. Boucher has been trying to instil a new fast paced puck moving system, how long will it take until the players are able to execute the new system efficiently.
3. What's the effect of gaining Derick Brassard and losing Clarke MacArthur?
The trade for Derick Brassard caught everyone by surprise, including Brassard. But it was the bold move by first-year general manager Pierre Dorion. Brassard addresses a couple of needs. One, he's a left handed centre that can find Bobby Ryan on the right wing. Ryan, the Sens' highest paid player, has not scored 30 goals in a season since he did it four straight years in Anaheim.
Two, Brassard gives a beleaguered power play a much-needed left-handed shot along the half-wall. Brassard lead the Rangers in total power play points the last three seasons. Clarke MacArthur was supposed to be the left wing on Brassard's line, but another concussion has sidelined him indefinitely. MacArthur was looking forward to this season after missing the last 78 games of the season as a result of another concussion. He says he's working to get back as soon as possible, but there's no timeline at this point. Now the Sens, who thought they had their top two lines set, will look to see who can fill that spot. For now, it appears as Zack Smith will get that opportunity.

2016-17 Ottawa Senators

Button's Top 2016-17 Prospects
1. Thomas Chabot (19) – D (Saint John Sea Dogs - QMJHL)
- Smooth skating defenseman that is smart, poised and very good with the puck. Very effective defensively, offensively and in transition.
2. Andreas Englund (20) – D (Djurgarden – SHL)
- Plays a strong positional game and is very territorial with a heavy physical approach and is no joy to play against. Moves puck effectively.

Button's Top Long-Term Prospects
1. Logan Brown (18) – C (Windsor – OHL)
- All the attributes of a #1 centre. Excellent vision, creativity and is highly productive offensively. Great playmaker and with size, is a unique type player.
2. Colin White (19) – C (Boston College – NCAA)
- Exceptionally smart and capable of playing any situation in the game and his versatility adds value and he excels anywhere in lineup.
3. Jonathan Dahlen (19) – LW (Timra – Sweden Allsvenskan)
- Quick to recognize goal scoring opportunities with the hands to make good on them as well as the quickness to break free. Determined to score.
4. Francis Perron (20) – LW (Rouyn Noranda -QMJHL)
- Tremendous growth in his game. Very smart offensive player who creates offense in multiple ways. He's that 'diamond in the rough' that's' becoming more polished.
5. Christian Jaros (20) – D (Lulea - SHL)
- He won't win style points but he'll help your team win. Great competitor with a physical aspect but also smart with puck and has a big shot.

Travis Yost's Analytic Storyline
The Dave Cameron era in Ottawa will be remembered for two things: the incredible run of goaltender Andrew Hammond in year one, and the team's total inability to slow down any attack at 5-on-5. Ottawa conceded 31.7 shots against per 60 minutes in the last two seasons, with only the lowly Colorado Avalanche and Buffalo Sabres having less success. That means new head coach Guy Boucher's first order of business will be cleaning up what's become a recurring sore point for the organization. To the extent that he fails in year one, Ottawa again runs the risk of missing the postseason.