UFC Notebook: Cormier tops Johnson at UFC 210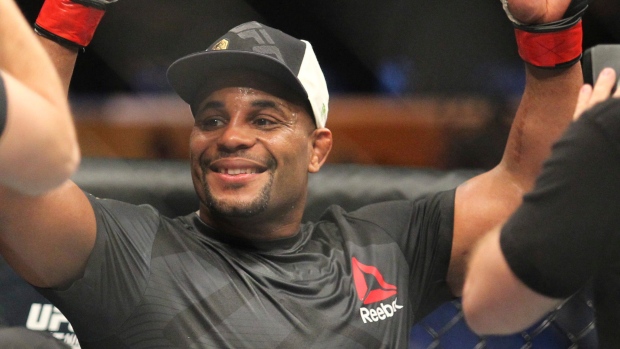 The UFC returned to Buffalo for the first time since UFC 7 with UFC 210, which took place at KeyBank Center on Saturday. TSN's Aaron Bronsteter has all the details as Cormier retained in the main event and controversy reigned in the co-main.
Cormier Sends Johnson into Retirement with Repeat Performance

UFC Light Heavyweight champion Daniel Cormier remains the only man in the division to defeat Anthony Johnson since he started fighting in the weight class nearly five years ago. After saying if he survived the first seven minutes against Johnson he would be successful, he finished Johnson via rear-naked choke submission in the ninth minute of their rematch, in the same fashion that he did nearly two years prior.
The win, only Cormier's second title defense during his near-two year reign, lines up what many feel is an inevitable rematch between him and his nemesis former light heavyweight champion Jon Jones, who is the only fighter to ever beat the 19-1 Cormier.
Jones wasn't the only fighter who had Cormier in his crosshairs, Jimi Manuwa flew from England to scope out the competition at the top of his division. After Cormier called him out during his post-fight interview, the two engaged in a heated backstage verbal altercation.
The logical next fight for Cormier would be Jones, which would allow him to avenge his only career loss and cement his status as one of the best to ever compete in mixed martial arts.
Mousasi and Weidman Clash Ends in Controversial and Disappointing Fashion

The co-main event at UFC 210 featured former champion, fourth-ranked Chris Weidman and fifth-ranked Gegard Mousasi, two of the best middleweights in MMA. It was a back-and-forth affair until the fight ended in premature, controversial fashion.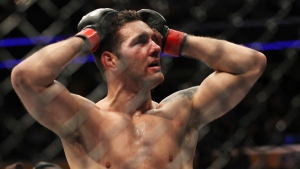 Mousasi was delivering knees to Weidman, who attempted to get on all fours to bait Mousasi into attempting an illegal knee. Mousasi continued to knee Weidman, which led to referee Dan Miragliotta calling timeout to assess a foul to Mousasi. Upon reviewing the footage, something that is not typically done in the UFC and is contrary to the New York State Athletic Commission's guidelines, Miragliotta determined that the knee was legal.
As a result of the knee being deemed legal and Weidman having taken time to recover, the commission decided not to allow the fight to continue and awarded a technical knockout victory to Mousasi.
A furious Weidman demanded a rematch during his post-fight scrum and plans to appeal the result.
"If you look at the way that fight was going, Mousasi was on his way to win that fight," said UFC President Dana White after the event. "I don't think we do a rematch of that fight."
Mousasi is a free agent and White hopes to bring him back. "I'm the one that brought Gegard in, I'm a big Gegard fan, I always have been and I don't know, we'll see what happens," said White when asked about his pending free agency.
White Scoffs at Idea of an Interim Middleweight Title
Georges St-Pierre being given a shot at Michael Bisping's middleweight championship belt upon his return has made for some unhappy contenders in the division.
Both top contender Yoel Romero and former champion, second-ranked Luke Rockhold have called for an interim title.
"An interim title is very justified at this point," said Rockhold. "Two irrelevant title fights back-to-back is stupid. Dan (Henderson) was one thing, but this is a joke here. An interim title is a guarantee at a title shot."
UFC President White feels otherwise.
"Not only is Bisping ready and willing to defend the title, he's waiting on GSP right now and he also said, as soon as this GSP fight is over, if I win the title again, I will defend against Romero immediately," said White, who denied that an interim title was necessary.
Oliveira Makes a Statement
Charles Oliveira tenure in the UFC has been inconsistent since he debuted at age 20 in 2007.
With a 10-7-1 record, one would think that Oliveira will never be a contender.
Since moving to the featherweight division in 2012, Oliveira has failed to make weight on four occasions. As a result, Oliveira decided to return to the lightweight division for the first time in over five years and faced former Bellator lightweight champion Will Brooks.
In terms of the betting odds, Brooks was a significant favourite but that did not deter Oliveira, who quickly submitted Brooks at the 2:30 mark of the first round.
Oliveira, who is one of the most dangerous submission experts in MMA, showed that despite his recent losses, he is still able to beat top-level competition on any given night.
One person who was impressed was UFC President White, who said that he likes Oliveira at lightweight.
"The guy looked like an animal tonight, an absolute stud," said White. "When that kid is on, he is unbelievable."
Oliveira is expecting the birth of his first child and is hoping that his wife delivers on Monday or sometime after that so that he can be there.
Bonuses and Attendance
The two quickest finishers on the card were awarded the fight night bonuses on Saturday. Gregor Gillespie, native of nearby Webster, New York finished his opponent Andrew Holbrook in just 21 seconds. The four-time NCAA All-American wrestler looks like he has a very bright future pairing his elite wrestling with vicious knockout power.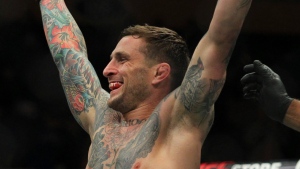 The aforementioned Oliveira was the other bonus winner with his first round submission win over Brooks. It was Oliveira's tenth performance of the night bonus and both earned $50,000.
Attendance was 17,110 for this sold out event, which earned a $2 million gate, a new record for a sporting event at the Keybank Center in Buffalo, NY.
The next UFC event takes place this Saturday, April 15 at the Sprint Center in Kansas City, Missouri. It features a flyweight title fight between Demetrious Johnson, the only champion that the division has ever had and third-ranked Wilson Reis. Both the preliminary card and main card air on TSN5 this Saturday, with coverage beginning at 4pm et/1pm pt.