UFC Notebook: Nunes dominates Pennington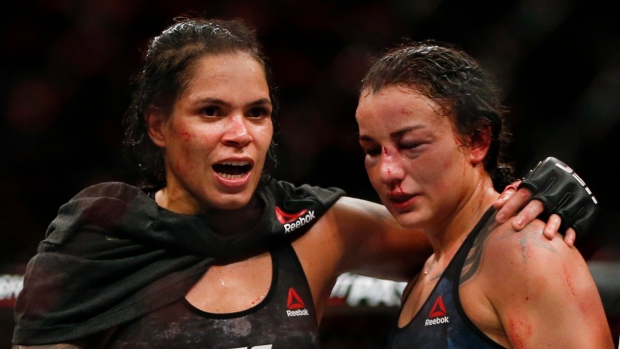 Amanda Nunes continued her incredible reign as women's bantamweight champion with a fifth-round TKO win over Raquel Pennington at UFC 224 in Rio de Janeiro, Brazil in a fight where Nunes had won every round.
Nunes outstruck Pennington 124-64 in significant strikes and landed three of four takedowns.
After the fourth round, Pennington told her corner that she was done, but they convinced her to go out for fifth round, where it was clear that she did not have much left to offer.
It was Nunes's seventh finish, surpassing Ronda Rousey for the most fight finishes in the promotion's history. Nunes extended her win streak to eight.
After the fight, Nunes said that fighting Pennington, her friend, was the hardest thing that she's had to do. She invited Pennington's fiancee, UFC strawweight Tecia Torres, into the cage and Nunes had her partner, strawweight Nina Ansaroff, at her side and said that they would all enjoy a beer together after the fight.
---
Gastelum emerges as likely next title contender
Kelvin Gastelum has been lobbying for a middleweight title shot for quite some time and he may finally get one after earning a split-decision victory over perpetual title contender Ronaldo "Jacare" Souza.
Gastelum has beaten a who's who of tough veterans in the middleweight division, including former champion Michael Bisping late last year as he improved to 5-1-1 in the division.
The middleweight title will be contested next month at UFC 225 in the main event when Robert Whittaker defends his title for the first time against Yoel Romero, whom he previously beat last July for the interim title, which later became the undisputed title when Georges St-Pierre relinquished the championship following his win over Bisping last November.
With the loss, the clock may have elapsed on Souza's title hopes. The former Strikeforce middleweight champion boasts an impressive 8-3 record in the UFC, but seems to consistently come up short when he is one win away from a title shot.
The result is a changing of the guard in the middleweight division, which has been dominated by mostly older fighters over the last five years. The champion Whittaker is 27, while Gastelum is 26.
Earlier in the evening, former title challenger Vitor Belfort paved the way for more younger fighters to move up in the rankings after he retired following a loss to Lyoto Machida.
---
Dern dominates despite not making weight
All eyes were on Mackenzie Dern during the main card of UFC 224 after she failed to make weight the morning before when she clocked in at 123 pounds, seven pounds over the 116-pound cutoff for her strawweight fight against Amanda Cooper.
Despite Cooper's trash talk, Dern did what she does best and punctuated it with what she is most criticized for.
Dern, a multiple time world jiu-jitsu champion, has often had her striking criticized, but it came through for her as she dropped Cooper with a huge overhand and followed it up with her signature jiu-jitsu, defeating her opponent with a tight rear-naked choke just shy of half way through the first round.
Dern earned the win in front of her father Wellington "Megaton" Dias, a Brazilian jiu-jitsu world champion in his own right, who watched her compete in mixed martial arts in person for the first time.
---
Attendance and Bonuses
UFC 224 at the Jeunesse Arena in Rio drew 10,696 attendees with an unreported gate.
Performance bonuses were awarded to Gastelum and Souza for their fantastic co-main event fight, while Machida and Oleksiy Oliynyk took home bonuses for their knockout and submission victories, respectively.
---
Rodriguez released after rejecting fights
After highly touted Mexican featherweight prospect Yair Rodriguez called the rumoured UFC 226 fight between him and Zabit Magomedsheripov "fake news," Dana White delivered what he called "real news" when he released Rodriguez from the organization.
White told Lance Pugmire of the L.A. Times that Rodriguez had turned down fights against both Magomedsheripov and Ricardo Lamas and that the UFC "had no use for him."
The move came as a surprise to many as the 25-year-old Rodriguez (10-2) had been considered one of the top prospects in the featherweight division and one of the biggest Mexican stars in the organization.
The Ultimate Fighter: Latin America winner has reportedly already had several organizations express interest in his services following his release.
---
Alvarez/Poirier rematch slated for Calgary main event
After much negotiation, the highly anticipated rematch between third-ranked Eddie Alvarez and fourth-ranked Dustin Poirier has been scheduled as the main event for UFC Fight Night in Calgary, which Dana White is calling his "birthday card."
The fight is a rematch from their UFC 211 bout last May in Dallas where Poirier had a lot of early success before Alvarez turned the tables. Alvarez, unfortunately, landed what were deemed to be illegal knees against a downed Poirier and the fight was ruled a no contest.
Since that time, both have had wins over Justin Gaethje and Poirier also scored a win over former champion Anthony Pettis.
The stakes are much higher this time around as a title shot could hang in the balance with the futures of both Conor McGregor and Tony Ferguson unclear.