UFC Notebook: Nunes squeaks out win over Shevchenko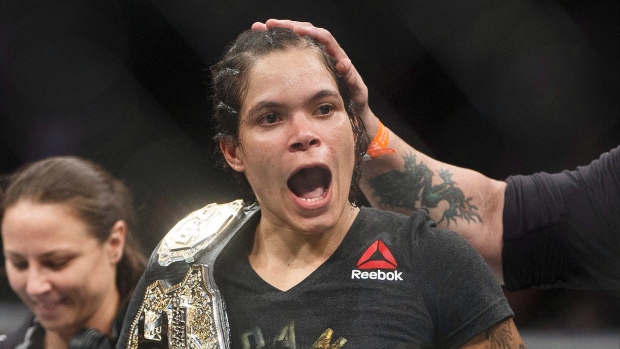 The rematch between UFC women's bantamweight champion Amanda Nunes and Valentina Shevchenko went the distance in an extremely close, technical fight in Edmonton.
After going back and forth for five rounds, Nunes retained her title in a razor-thin split decision.
After the decision was announced, a visibly disappointed Shevchenko said she felt she'd done enough to earn the decision.
With Nunes winning both fights between the two competitors and the decision not being viewed as particularly controversial, an immediate rematch is unlikely.
Nunes instituted a sound gameplan by cutting off corners and forcing Shevchenko to strike first, limiting her ability to counter.
Nunes also showed improved footwork, agility and, most importantly, answered any questions about whether her cardio would hold up over a five-round fight by looking fresh up to the conclusion.
After the fight, many members of the Edmonton Oilers gathered to take a photo with her and she told TSN that she appreciated their support.
Johnson and Borg likely rescheduled for UFC 216
UFC 215 took a massive blow less than 48 hours before the card when flyweight title challenger Ray Borg was forced to withdraw from the card due to a viral illness.
It's the third of this year's eight pay-per-view events to lose a main or co-main event within 48 hours of the start of the card.
With the recovery time for a viral infection being minimal, it has been speculated that the fight could be added to UFC 216 in October.
The bout has particular significance to flyweight champion Demetrious Johnson. He would eclipse the record for consecutive title defenses with a win, which would be his eleventh straight defence.
A disappointed Johnson told TSN that he appreciated finding out of the cancellation directly from the UFC rather than social media.
Three of five Canadians successful at UFC 215
Canadian fighters competing at UFC 215 delivered a mixed bag of results.
The card started with Canadian lightweight Kajan Johnson, the biggest underdog on the card, earning a shocking second-round knockout win over Adriano Martins. Following the win, Johnson used his platform to discuss continuing his work towards earning more compensation for fighters.
In the following fight, Canadian heavyweight Arjan Singh Bhullar became the first fighter of South Asian origin to compete in the UFC, beating Luis Henrique. Bhullar used his wrestling and striking to successfully neutralize the larger Henrique.
The final Canadian to get a win was Sarah Moras, who defeated Ashlee Evans-Smith with a beautifully executed inverted armbar. An emotional Moras told TSN what a performance bonus would mean to her, but unfortunately she was overlooked when the bonuses were announced.
The wins were bittersweet as the two remaining Canadians on the card lost in devastating fashion.
Mitch Clarke was defeated by TKO after being badly bloodied during his fight with Alex White. Following the loss, Clarke announced his retirement from the UFC in his post-fight interview with Joe Rogan.
Gavin Tucker, who was considered one of the top Canadian prospects in the UFC, lost in one of the most lopsided decisions in UFC history against Rick Glenn.
Many felt that the fight should have been stopped by the referee on several occasions or that Tucker's corner should have thrown in the towel. The loss was the first of Tucker's career.
Attendance, gate and bonuses
UFC 215 was the first event that the promotion has held in Edmonton and did well at the box office with an attendance of 16,232 and a gate of $2.46 million (Canadian). It was the highest gate for a Canadian event since 2013.
The Fight of the Night bonuses were awarded to Jeremy Stephens and Gilbert Melendez, while the Performance of the Night bonuses went to Rafael dos Anjos and Henry Cejudo for their wins over Neil Magny and Wilson Reis respectively. All four of the fighters earned an additional $50,000.
Miocic open to several possibilities for next fight
UFC heavyweight champion Stipe Miocic was in Edmonton for an EA Sports event. He discussed his future in an interview with TSN.
Miocic said that he would be open to a fight with Francis Ngannou and is okay with any scenario that the UFC puts in front of him, but that a few things need to happen before his next fight.
Miocic also said Cain Velasquez is worthy of a title shot despite his long layoff due to what he's accomplished during his UFC tenure.
Another name that Miocic has thrown around is Anthony Joshua, who he would be eager to test himself against in a boxing match. Despite the success of Floyd Mayweather versus Conor McGregor, many consider this a very unlikely scenario.
Miocic last defended his title in May at UFC 211.