Canucks GM Benning signs 3-year extension
Despite five seasons of mediocre on-ice results, Vancouver Canucks general manager Jim Benning believes his new contract shows that the team trusts his plan for the future.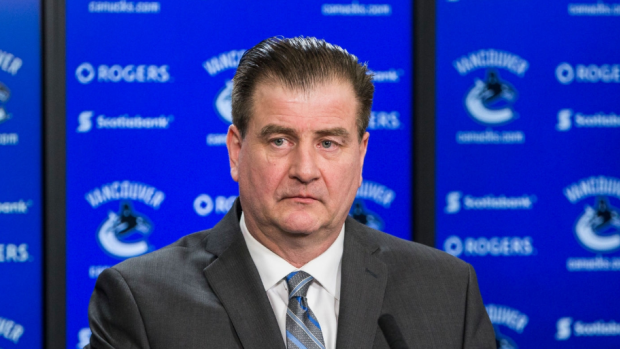 VANCOUER, B.C. — Despite five seasons of mediocre on-ice results, Vancouver Canucks general manager Jim Benning believes his new contract shows that the team trusts his plan for the future.
The organization announced Tuesday that Benning has signed a three-year extension, keeping him with the Canucks through the 2022-23 season.
"The ownership, I think, is happy with the direction of the team," the GM told reporters after the announcement.
"We want to continue going in the right direction, taking that next step and being a competitive team."
Benning, 56, has held the post since 2014 and was entering the final year of his deal. He was given a multi-year contract extension in February 2018 and months later, his portfolio grew to include hockey operations after the club split with team president Trevor Linden.
Vancouver has made the playoffs just once in his five seasons at the helm and the team has consistently lingered near the bottom of the Western Conference standings, finishing last season with a 35-36-11 record.
Canucks owner Francesco Aquilini said in a statement that Benning's experience, relationships and hockey knowledge are "invaluable."
"We're committed to building a winning team and getting back among the NHL elite for the long term," Aquilini said. "There are no shortcuts, but we've embarked on a path to get there, and I have confidence in Jim's ability to see it through."
The extension comes during a busy off season for Benning.
At the NHL draft in June, Vancouver acquired forward J.T. Miller from the Tampa Bay Lightning in exchange for a future first-round pick. The following week, the Canucks added some big names in free agency, including defencemen Tyler Myers and Jordie Benn, and forward Micheal Ferland.
The contract extension was in the works long before those deals were sealed, Benning said.
"Those moves were made so our team can take the next step and be more competitive next year," he said. "I think last year, the first 60 games we were competitive and the last 20 games we kind of fell off. We didn't have the depth and we got injuries and stuff and we ended up not making the playoffs. And I think we've addressed some of those needs by signing what we think are two top-six forwards to help out."
Before joining the Canucks, Benning served as an assistant GM with the Boston Bruins for seven seasons, earning a Stanley Cup with the team in 2011.
The Edmonton native also spent 12 years with the Buffalo Sabres, working as their director of amateur scouting, and put in 12 seasons on the blue line for the Canucks and Toronto Maple Leafs.
Benning has been credited with drafting some of Vancouver's up-and-coming stars, including centre Elias Pettersson, who was named the NHL's rookie of the year last season.
"We've got some good players now who I think are going to be cornerstones, core players for our group for the next 10 years, whether it's with Petey, with (Brock Boeser), with Quinn Hughes, with (Thatcher) Demko," Benning said Tuesday. "It's been a combination of trying to sign some free-agent players to support the development and the growth of our young players. But ultimately, it's going to be our young players keep getting better to be a competitive team and be where we want to be year in and year out."
The Canucks GM has also repeatedly faced criticism for adding long-term, big-money contracts in both trades and free agency that gobbled up cap space but failed to offer on-ice support for the club's young talent.
One deal that's drawn ire is the signing of left-winger Loui Eriksson, who came to Vancouver as a free agent in 2016, signing a US$36-million deal. At the time, Benning called the Swedish forward"an elite scorer and play maker with great defensive instincts."
The 34-year-old has yet to crack a 30-point season with the Canucks. Last year he tallied 11 goals and 18 assists in 81 games.
Some of Vancouver's trades made under Benning's tenure haven't panned out as planned.
During the 2015 off-season, Vancouver dealt forward Nick Bonino and defenceman Adam Clendening to the Pittsburgh Penguins for centre Brandon Sutter, who Benning dubbed "a foundation piece."
Sutter has since struggled to stay healthy, playing just one full season in 2016-17 where he racked up 34 points. Last year, the 30-year-old was sidelined first with a shoulder injury in late October, then with a lower body ailment that eventually required surgery for a sports hernia. He saw action in 26 games and tallied just six points in 2018-19.
Benning was also responsible for dealing former first-round pick Jared McCann to the Florida Panthers for defenceman Erik Gudbranson in May 2016. The GM admitted at the time that the price was steep, but said the trade added a top-four blue liner to his team.
Gudbranson suffered a season-ending wrist injury his first year in Vancouver and returned to put up lacklustre numbers. He posted eight points, 83 penalty minutes and a minus-27 rating last season before he was sent to the Pittsburgh Penguins for forward Tanner Pearson at the trade deadline.
With just weeks to go before the 2019-20 season begins, Benning still has work to do, including signing restricted free agent Boeser. The 22-year-old was the Canucks third leading scorer last season, putting up 26 goals and 30 assists.
Benning said Tuesday that he's still talking with Boeser's agent and is hopeful a deal will be inked soon.
"We're trying to get to some common ground. None of the RFAs (around the NHL) have signed yet. So I'm going to continue to work with him. And I'm hopeful that we can get something done here before camp so here's for the start of camp," the GM said.
A cap crunch could limit Benning's ability to make a deal. Not only is the club holding some big contracts for underperforming players, it also suffered a hit earlier this summer after former goalie Roberto Luongo announced his retirement.
The move means Vancouver will pay a recapture penalty of $3 million for each of the next three seasons because the club signed Luongo to a 12-year, $64-million contract extension in 2010.
Still, Benning is confident that his team can make the numbers work.
"We've got different options. We're going to look at all of our options. But a lot's going to depend on training camp. We're going to have a competitive camp this year. There's going to be competition for jobs and ice time," he said, adding that he's already got a green light from ownership to send players on big contracts down to the minors if necessary.
"We're going to go through camp and see how camp goes and see where our guys are. And the players who deserve to be here will be here. And then we're probably going to have to make some tough decisions."