Varlamov, Avalanche blank Blue Jackets
Jarome Iginla, Gabriel Landeskog and Matt Duchene scored in the first 10 minutes, and Semyon Varlamov made 44 saves to lead the Colorado Avalanche to a 4-0 victory over Columbus Blue Jackets on Saturday night.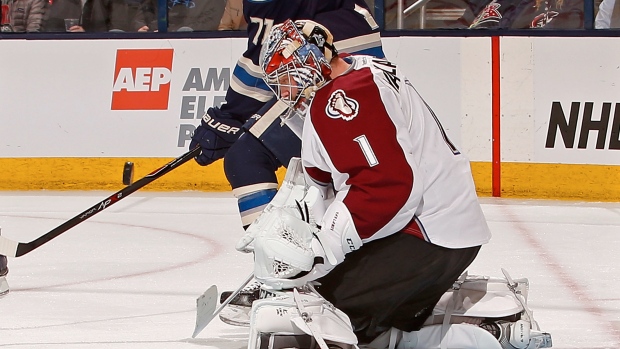 COLUMBUS, Ohio - No Nathan MacKinnon? No problem for the Colorado Avalanche.
Jarome Iginla, Gabriel Landeskog and Matt Duchene scored in the first 10 minutes, and Semyon Varlamov made 44 saves for his fifth shutout of the season in a 4-0 victory over the Columbus Blue Jackets on Saturday night.
The Avalanche were playing their first game without MacKinnon, last year's rookie of the year, who is likely lost for the remainder of the season with a broken foot.
"When you lose a player like him, you don't try to replace him," Colorado coach Patrick Roy said. "You just hope you're going to find ways to win games. So it's important for us to believe in what we're doing. Our mindset is very good right now."
The shutout was the 18th of Varlamov's NHL career. Three have come against the Blue Jackets, who lost their fifth in a row at home to fall to 12-9-2, worse than all but two other NHL teams.
"Varly was really good," said Iginla, the veteran star who notched his 581st career goal in his 1,375th game. "They had a lot of shots. He had some big saves in particular in the second."
Varlamov was not tested for most of the game, although he did turn away prime shots by Ryan Johansen and Jack Johnson during a Columbus power play in the second period.
"They only needed one goal," Johnson said. "To get shut out, that's frustrating. You (don't score) and you don't give yourself, you don't give your goaltender a chance. That's not going to cut it."
It was the second-most shots by the Blue Jackets in a shutout loss, trailing only the 54 they put on Phoenix Coyotes goalie Mike Smith in a 2-0 loss on April 3, 2012.
Alex Tanguay added a goal and an assist, and Tyson Barrie had three assists for the Avalanche, who came into the night nine points out of the final wildcard spot in the West.
"We're a desperate team," said Duchene. "We're still in it. We're trying to accumulate as many points as we can. They pushed hard but we were able to get a lead. When it's 3-0 after the first period, it's our game to win at that point."
Curtis McElhinney gave up three goals on 12 shots in the opening period before being replaced by Sergei Bobrovsky, who finished with 20 saves.
The Avalanche wasted no time in taking control of the game.
In the opening 2 minutes, Columbus' Nick Foligno was called for tripping and defenceman Dalton Prout for delay of game when he cleared the puck over the glass, leading to 56 seconds of 5-on-3 action.
Iginla ripped a one-timer from the left circle at the 2:24 mark for his 21st of the season, while Colorado had the two-man advantage. Just before the second penalty ended, Landeskog took a pass right of the net, negotiated some traffic in front and reached around to tuck a shot inside the far post for his 18th at 3:51.
Blue Jackets forward Scott Hartnell then made an egregious giveaway at the blue line, tossing a blind, behind-his-back pass directly to Duchene. He roared in all alone on McElhinney and slid the puck between his leg pads for his 17th at 9:53.
Bobrovsky replaced McElhinney at the start of the second period.
Tanguay scored midway through the third period, waiting and waiting until a sliding Blue Jackets player got out of his way before slipping a shot through Bobrovsky, who had stopped the first 14 shots he faced.
"Really, the first 3 minutes of the game, that was it," said Columbus coach Todd Richards.
NOTES: Earlier in the day, Columbus added LW Rene Bourque, acquired at the trade deadline from Anaheim in the deal for D James Wisniewski, on emergency recall from its AHL affiliate. The Blue Jackets also sent C Brian Gibbons to the Springfield Falcons. ... Colorado RW Dennis Everberg took a hard shot by Dalton Prout off his boot and hobbled to the bench in the first period. Everberg returned in the second period. ... Referee Chris Rooney took a shot off his left knee at 1:42 of the second and hit the ice while crying out in pain. He was helped off the ice and did not return.
___
Follow Rusty Miller on Twitter: http://www.twitter.com/RustyMillerAP