Vermette's suspension upheld by NHL
NHL Commissioner Gary Bettman has upheld the 10-game suspension assessed to Anaheim Ducks centre Antoine Vermette.
The Canadian Press with TSN.ca Files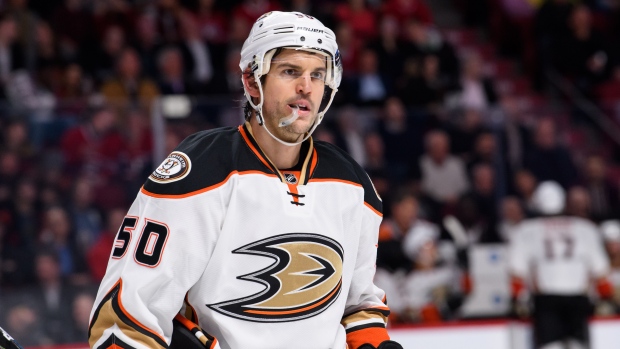 NEW YORK — NHL Commissioner Gary Bettman on Saturday upheld the 10-game suspension assessed to Anaheim Ducks centre Antoine Vermette for slashing a linesman.
According to TSN Hockey Insider Pierre LeBrun, the National Hockey League Players Association, on behalf of Vermette, have seven days to appeal the ruling once again, this time to an independent arbitrator.
Vermette slapped his stick against the back of linesman Shandor Alphonso's legs after losing a faceoff to Minnesota's Mikko Koivu during the third period of the Ducks' 1-0 win on Feb. 14. Vermette had a hearing with Bettman on Thursday after appealing the initial suspension.
"First and foremost, I have great respect for the officials and the integrity of the game," Vermette said in a statement released after the NHL upheld his suspension. "Also, I agree that I deserve a suspension. I should never make contact with an official. At the earliest possible opportunity, I apologized to Mr. Shandor Alphonso. I was trying to get his attention and was not trying to hurt him. However, using my stick was a mistake, and I accept full responsibility for my actions. I certainly hope my track record in the NHL will earn me the benefit of the doubt regarding this incident. I feel a 10-game suspension is excessive and will be reviewing my options. I look forward to returning to the lineup as soon as possible."
Bettman kept Vermette's full 10-game ban in place, but also declined to lengthen the suspension. Vermette will lose $97,222 in salary.
The veteran forward served the fifth game of his suspension Saturday when the Ducks visited Los Angeles. He is eligible to return at home March 12 against Washington.
The normally mild-mannered Vermette appeared to act out of frustration when Alphonso dropped the puck before the forward had put his stick in place on the ice. Officials immediately assessed a game misconduct to Vermette.
In Bettman's written opinion on his decision, the commissioner noted Vermette's "sincere remorse" for his actions, including an apology to Alphonso, who is in his first full season as an NHL linesman.
The NHL Players' Association argued for a reduction to a five-game suspension during the hearing, noting Vermette's usually exemplary behaviour. He has been whistled for only two major penalties in a 13-season career.
The union argued the slash wasn't a deliberate application of physical force under NHL rules, but a lesser action deserving a smaller suspension. But Alphonso described the blow as a "slash" in his postgame report and again in testimony at Vermette's hearing.
"Although there does not appear to be any evidence of intent to injure the official, the blow delivered by Vermette was not merely a 'tap,' as the NHLPA suggested," Bettman wrote.