Voracek sounds off on Olympic indecision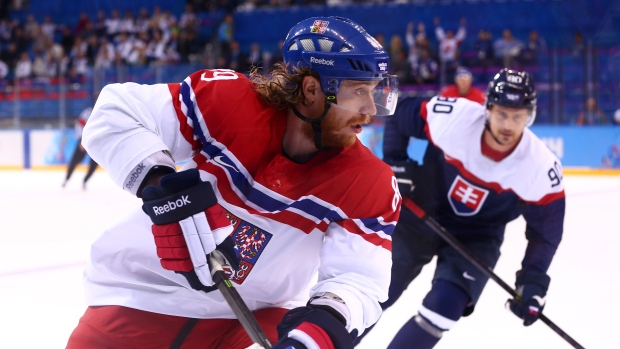 Philadelphia Flyers forward Jakub Voracek pulled no punches when it came to the increasing likelihood that National League Hockey players won't be taking part in next year's Winter Olympics in Pyeongchang, South Korea.
"Absolutely ridiculous," Voracek told CSN Philly's Tim Panaccio on Thursday of the situation.
As it stands, the NHL won't be releasing its players for the Games that get underway on February 9. During this past week's general managers meetings in Boca Raton, Florida, league commissioner Gary Bettman indicated that there was no appetite from the teams to participate, despite interest from the players.
"Unless something changes we're not going," deputy commissioner Bill Daly added to the Canadian Press. "We've said that consistently for three months so there's nothing new about that."
Voracek, who has represented his native Czech Republic nine times internationally including at the 2014 Sochi Olympics, found that tack to be unaccpetable.
"We have it once every four years," Voracek said. "I read something that Bill Daly said we're not going. Nobody wants you to go. The players want to go. Why you're saying you're not going? You're not part of the players association. ... Nobody wants you there. They want the players."
Washington Capitals captain Alex Ovechkin expressed his intentions to go to Pyeongchang over the All-Star Game weekend and Caps owner Ted Leonsis indicated that he would be okay with that.
"The players want to go, I guarantee you that," Voracek said. "I want to see how you are going to hold Ovechkin back. The Russian players. Tell them they can't go."
Bettman stated last week that the schedule being created for the 2017-18 season does not have an Olympic break included. For Voracek, it's a no-brainer.
"It's the Olympics," Voracek said. "It's not just about business. You want to be part of the Olympics. And trust me, players want to go. And the players who don't go get a week off to recharge their batteries. If you have bumps and bruises, you can heal and recover."
Though the door hasn't been officially closed on NHL participation for 2018, the league appears to be considerably more interested in the 2022 Games in Beijing. Daly flew to China on a fact-finding mission in December and expressed excitement over growing Chinese interest in hockey.
"Everyone there kept telling me: 'We've got a long way to go to catch up to basketball in China,' but the bottom line is the younger demographic really connects with our game and thinks it's cool," Daly told Postmedia at the time.
An exhibition game in Beijing between the Los Angeles Kings and Vancouver Canucks is currently slated for September, pending NHLPA approval.