Wall: Refs told me they missed calls in Game 1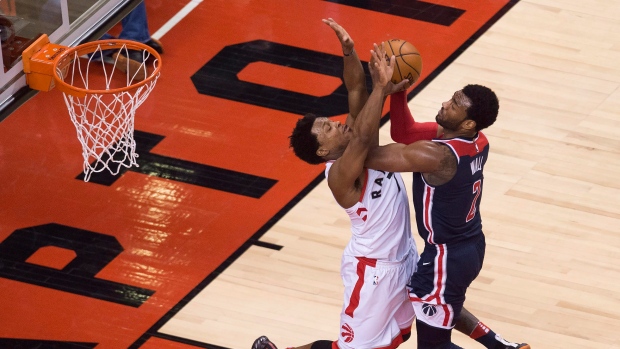 Ahead of Game 2 on Tuesday night, Washington Wizards point guard John Wall said that officials told him at the half of his team's 114-106 Game 1 loss to the Toronto Raptors that they had failed to call fouls on him.
"[Referees] came to me at halftime and said they missed two or three of them," Wall said. "I'd rather you not tell me about it. Me as a player, I've just gotta do a better job of not worrying about fouls and contact and just try to finish my plays."
You can catch Game 2 of the Wizards/Raptors LIVE across the TSN Network and on TSN GO with coverage getting underway at 6:30pm et/3:30pm pt.
Though Wall finished Game 1 as the Wizards' high scorer with 23 points and 15 assists, he was limited to a single layup and a trio of free throws in the fourth quarter and went one-for-five from the field.
Wall cited inconsistency in officiating, noting that the same officials from Game 1 - the Tony Brothers/Scott Foster crew - were more liberal in their foul-calling during Monday night's Game 2 between the Miami Heat and Philadelphia 76ers.
Game 2 between the Raptors and Wizards goes Tuesday night at 7pm et at the Air Canada Centre.