Waterson: McGregor incident 'insane, ridiculous and shouldn't have happened'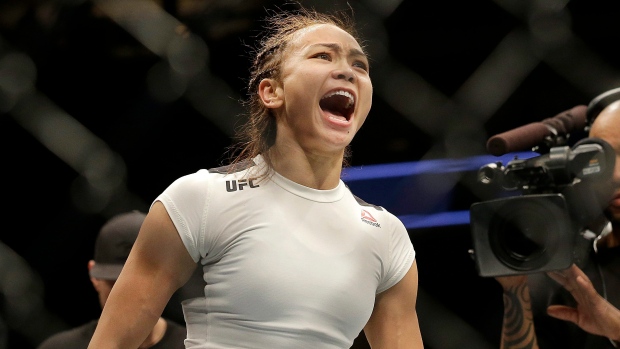 In the UFC, few weeks have been as much of a roller coaster as the one leading up to UFC 223.
Conor McGregor showing up unannounced at Barclays Center in Brooklyn on Thursday shortly after UFC 223 media day sent shockwaves through the headlines and resulted in immense collateral damage for the organization with three fights being removed as a result.
One of the fighters impacted by the situation was former flyweight title challenger Ray Borg, a teammate of Michelle "The Karate Hottie" Waterson, who fights at this weekend's UFC Fight Night card in Glendale, Ariz. Borg was forced to withdraw from UFC 223 after getting glass shards in his eyes when McGregor threw a dolly through the window of a bus carrying the event's red corner fighters.
Despite watching the situation play out from afar, Waterson who trains at Team Jackson-Winkeljohn in Albuquerque, N.M., had a lot to say about the situation.
"We've just got [sanctioned in] New York and all this drama goes down in New York, not to mention all of the fighters that got affected by it, my teammate (Borg) being one of those fighters," Waterson told The TSN MMA Show. "The ripple effect of what happened last week, it continues to affect people. Not just the fighters, the coaches - they are relying on the money. You put in eight to 10 weeks of training to get paid and now the coaches don't get paid. People's families go out there to support their loved ones as they fight."
Tensions are still running high in the aftermath of the event as additional measures have been taken to protect the fighters and UFC employees.
"Now the employees are afraid and now we're here in Arizona and we've got extra security out here just for extra precautions; it's insane, it's ridiculous and it shouldn't have happened," said Waterson.
Waterson was raised Buddhist, is a big proponent of the martial artist's spirit and tries to live her life in the present.
"I thought that it was extremely uncalled for," she said of the McGregor incident. "If you have [a] personal beef with somebody, we are in the perfect arena of business to hash out that beef and get paid for it. For things to go down the way they did, I thought was really unprofessional. I thought that Conor and his team acted emotionally and, as a martial artist, I think that being able to control your emotions is one of the most important things. And one of the things that I personally take pride in is having the ability to control my emotions.
"I know Conor is a huge martial artist and he is so mentally strong when it comes to the fight game, which is why it confuses me that he let little things like that get to him. I don't know how this is going to affect his career, but it's damaged his career, it's damaged the face of the UFC."
Following Borg's withdrawal from the event, he was inundated with comments on social media that accused him of using the incident as either a way of getting out of cutting weight or to file a potential lawsuit against McGregor for financial gain.
"It's ridiculous, we're professional fighters, this is what we do for a living," Waterson said of the allegations heaped at Borg. "Can you imagine, being on the bus having nothing to do with the drama going on? What would have happened if it was something even more severe? You get particles in your eye and that can affect you for the rest of your life, let alone one fight. Are you kidding me? This is our livelihood. It's not like we have workers' comp; we don't get paid if we can't fight. I think that's just insane that people can think that way. This is a professional sport. We're tough guys, but this is our livelihood, this is our career and, outside of taking fights, the longevity of a fight career is short to begin with."
As a result of the criticism aimed at Borg from MMA fans on social media, he felt compelled to post a picture of his medical discharge summary from New York-Presbyterian Hospital, as well as a strongly worded note to those who doubted the legitimacy of his injury.
"Ray was so excited to go in there, I just don't understand people sometimes," Waterson said of her teammate. "You're damned if you do and you're damned if you don't and I think the best thing for fighters to do is continue to fight because they're passionate about it and not even worry about the people that are just spectating."
Waterson herself faces another stiff test this weekend.
Following back-to-back losses to current strawweight champion Rose Namajunas and Tecia Torres, she now faces the always tough Cortney Casey.
"I don't want an easy ride; I want a hard fight, that's what makes life all worth it," Waterson said. "Cortney was actually on the same card as I was in Detroit (UFC 218) and I think we're kind of both on the same path. She's lost a couple of her fights to some tough opponents and so have I, so the UFC thought it was a great matchup and so did me and my camp."
Casey will be the tallest mixed martial arts opponent that the 5-foot-3 Waterson has faced to date - Casey is 5-foot-7 - and she has been working with some of the taller females that train with her to get used to the size discrepancy.
"Holly (Holm) is one of my training partners for this camp," Waterson said. " also have a lot of other teammates that have reach on me that we've been training together with. For this camp and for all of my camps really, but yes, I do think it's important to get used to that size and to understand the pros and the cons of fighting somebody that tall."
---
Seventh-ranked strawweight Michelle Waterson faces 10th-ranked Cortney Casey on Saturday, April 14 on the main card of UFC Fight Night in Glendale, AZ. You can catch the preliminary card LIVE at 6pm et/3pm pt on TSN5 and the main card airs LIVE at 8pm et/5pm pt on CTV2 and TSN5.