WCT Recap: Bottcher beats Koe in Portage La Prairie final
Catch up with all the curling action from this weekend with TSN.ca's World Curling Tour recap. Brendan Bottcher's crew picked up their first victory of the 2018-19 campaign on Monday by capturing the Canad Inns Men's Classic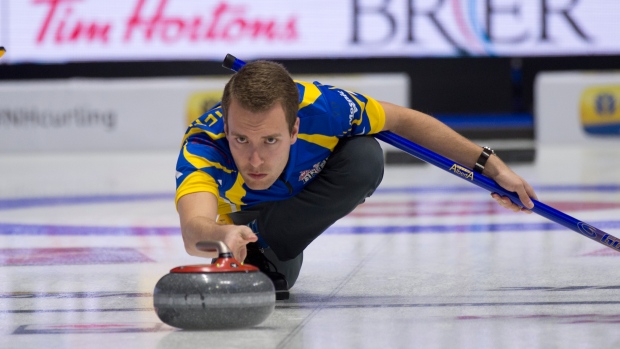 Catch up with all the curling action from this weekend with TSN.ca's World Curling Tour recap.
Canad Inns Men's Classic (Portage La Prairie)
Men's Purse: $56,000
Team Brendan Bottcher of Edmonton broke onto the curling scene last season with a strong performance at the Roar of the Rings Olympics trials in Ottawa followed by a Brier final appearance in Regina where they fell to defending champion Team Brad Gushue.
Bottcher's crew picked up their first victory of the 2018-19 campaign on Monday by capturing the Canad Inns Men's Classic with an impressive victory over the new-look Team Kevin Koe in the final, 7-5.
Bottcher went 6-0 in Portage La Prairie with wins over Glenn Howard and Jason Gunnlaugson in the preliminary round followed by taking down Braden Calvert in the quarter-final, Brad Jacobs in the semi-final and Koe in the championship match.
Team Matt Dunstone, Team Gunnlaugson and Team Howard where both eliminated in the quarters while Team Reid Carruthers, Team Kirk Muyres, Team John Shuster and Team Charley Thomas all failed to make the playoff round.
---
Sherwood Park Mixed Doubles Classic (Sherwood Park, Alberta)
Rachel Homan and Marc Kennedy teamed up this weekend to dominate the Sherwood Park Mixed Doubles Classic.
Both have had tremendous success in traditional curling over the years, so it's not hard to believe that it would translate to the increasingly popular mixed doubles variation.
Homan and Kennedy went 6-0, including wins over Homan's teammate Joanne Courtney and Courtney's father Ryan Taylor in the semi-final.
This will be one of the few times you'll see Kennedy on a curling rink this season as he's taking a break from traditional curling to spend more time with his family.
---
Atkins Curling Supplies Classic (Winnipeg, Manitoba)
Men's Purse: $10,000
Women's Purse: $9,400
Two Winnipeg rinks captured titles in their hometown on Monday as Team Corey Chambers and Team Barb Spencer were victorious at the Atkins Curling Supplies Classic.
---
Women's Masters Basel (Basel Switzerland)
Women's Purse: 32,000 (CHF)
Two-time world champion Binia Feltscher fell in the final of the Women's Masters Basel to fellow native of Switzerland Elena Stern. Team Stern went a perfect 6-0 over the three-day event.
Team Silvana Tirinzoni, who is having a great start to the season despite no event victories, went 4-0 in the preliminary round before losing to Feltscher in the semis.
Russia's Anna Sidorova went 1-3 and missed the playoffs while Sweden's Isabella Wrana went 3-1, but also missed the playoff round.
---
Driving Force Abbotsford Cashspiel (Abbotsford, British Columbia)
Men's Purse: $18,000
Women's Purse: $17,500
Out West at the Abbotsford Cashspiel, the lone non-North American team in Japan's Yuta Matsumura claimed victory by going 6-0, finishing it off with a victory over last year's BC champs in Team Sean Geall.
This was Team Matsumura's second win of the 2018-19 season after capturing the Oakville Fall Classic in September.
On the women's side, Sarah Wark of Chilliwack outlasted Kamloops' Corryn Brown in the final, 8-3.
---
Stroud Sleeman Cashspiel (Innisfil, Ontario)
Men's Purse: $12,200
Women's Purse: $7.200
John Willsey's crew lost twice in the preliminary round, but turned things around quick in the playoffs to win the Innisfil event. Team Willsey topped Richard Krell in the quarter-final, Wayne Tuck Jr. in the semi-final and finally Cory Heggestad in the championship contest.
Jaimee Gardner beat Kirsten Marshall to take the women's title.
---
McKee Homes Fall Curling Classic (Airdrie, Alberta)
Men's Purse: $12,800
Team Jeremy Harty were the last ones standing out of the 16 rink field at the McKee Homes Fall Curling Classic.
---