What happened to Anze Kopitar?
The Los Angeles Kings need to surround star centre with more offensive talent to help him bounce back from a miserable 2016-17 season, Travis Yost writes.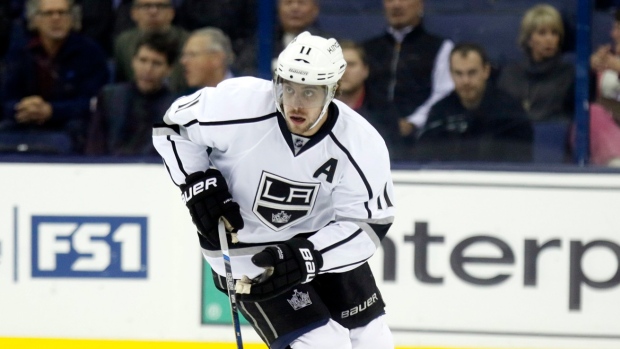 It flew a bit under the radar last season with the Los Angeles Kings in general disarray, but star centre Anze Kopitar had a rough season.
It wasn't very long ago that Kopitar was regarded as one of the league's preeminent two-way centres – talked about in the same vein as Boston's Patrice Bergeron. At his peak, Kopitar's five-man unit owned the puck like few units could in the NHL, and it was one of the big reasons why the Kings – despite consistently low scoring rates and up-and-down goaltending – were so difficult to beat.
The Kings have been in a funk for a couple of seasons now, and a big piece of that has to do with the degradation in performance from Los Angeles' top line. What's the best way to articulate the change? Kopitar, who has been a mid-70s point guy since entering the league, scored just 52 last year. Any time a guy sees his scoring rate drop by 30 per cent, red flags should be raised and sirens should be sounded.
The interesting question is whether we are seeing degradation in Kopitar's game, degradation in the game of the players surrounding Kopitar, or a combination of the two. At 30 years of age, the initial question is fair – but as you dig into it, you start to see that last year's miserable campaign was more about the Kings than Kopitar.
One of the first things to stand out is the evolution of Kopitar's linemates in Los Angeles. A few years ago, Kopitar was taking regular shifts with the likes of Marian Gaborik, Jeff Carter, and Justin Williams. But over time, former head coach Darryl Sutter kind of pushed Kopitar into a more defence-oriented role. In 2015-16 his more common linemates turned into Milan Lucic and Dustin Brown. Last season, it was a mix of the aforementioned Gaborik and Brown, as well as Trevor Lewis, Dwight King, Tyler Toffoli, and Jarome Iginla.
That's not exactly murderers' row of offensive talent on Kopitar's wings. It's mostly a collection of guys who are decent shooters but can't create on their own, or guys who can create on their own but are poor individual shooters.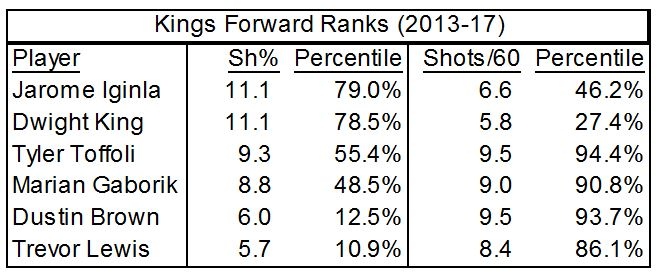 If I'm Kopitar, I look at this and think "Give me more Gaborik and Toffoli, and less everything else." And it'd be hard to blame him. Lewis and King are depth players and, at their best, simply checking line options. Brown and Iginla have completely fallen off of a cliff.
The above table is a four-year average, so it doesn't really capture year-over-year degradation well. If you break out one of the above components by year, you see that a lot of these guys are starting to taper off with time. Here's shooting percentage, as one example, by year: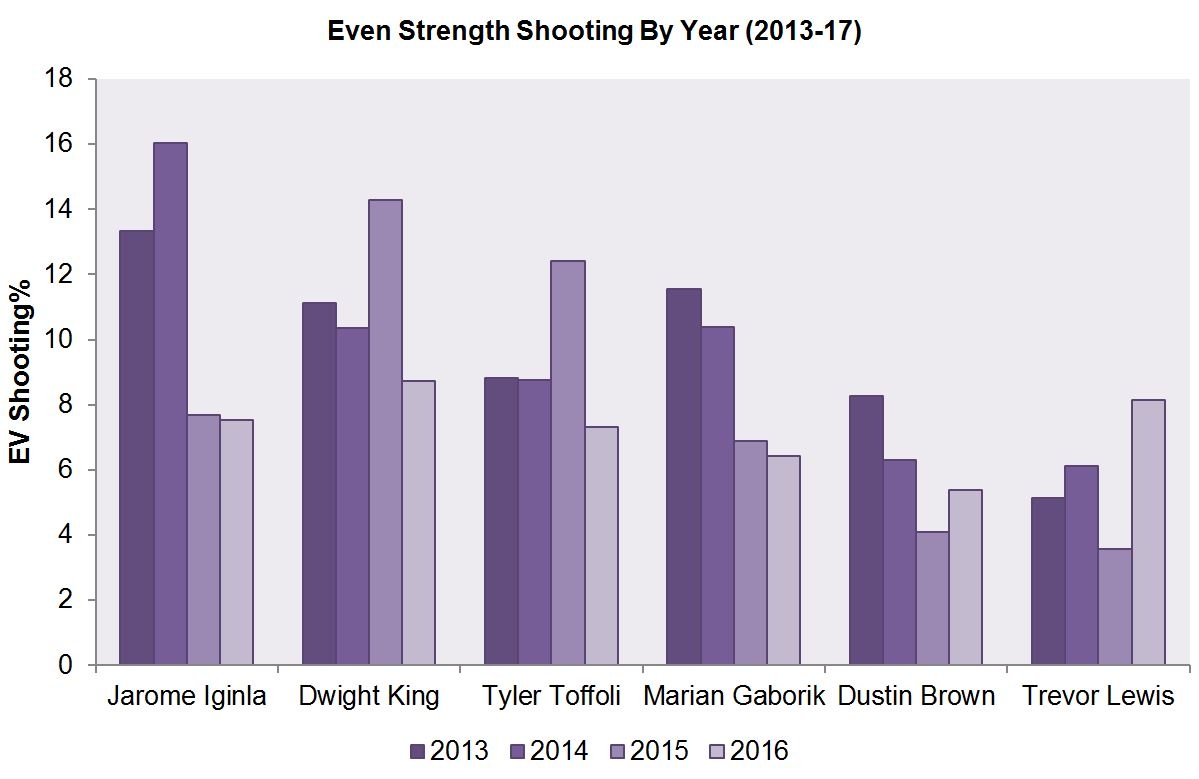 The average 5-on-5 shooter will convert on about 7.8 per cent of chances, and a top-six forward is probably a full point better. That's worth keeping in mind when you realize that only King and Toffoli have exceeded that threshold in either of the last two seasons and, again, King is indisputably a checking-line forward at this point in his career. Iginla and Gaborik have seen their numbers crash. Brown and Lewis have been in the gutter over hundreds and hundreds of games.
If you wanted to play devil's advocate, you might look at this and say, "Well, perhaps this is a two-way road, and everyone seems to be struggling because Kopitar himself is struggling." It's a fair question to ask. So two graphs below: those same players with and without Kopitar from 2013-17, and then repeated for just the 2016-17 season: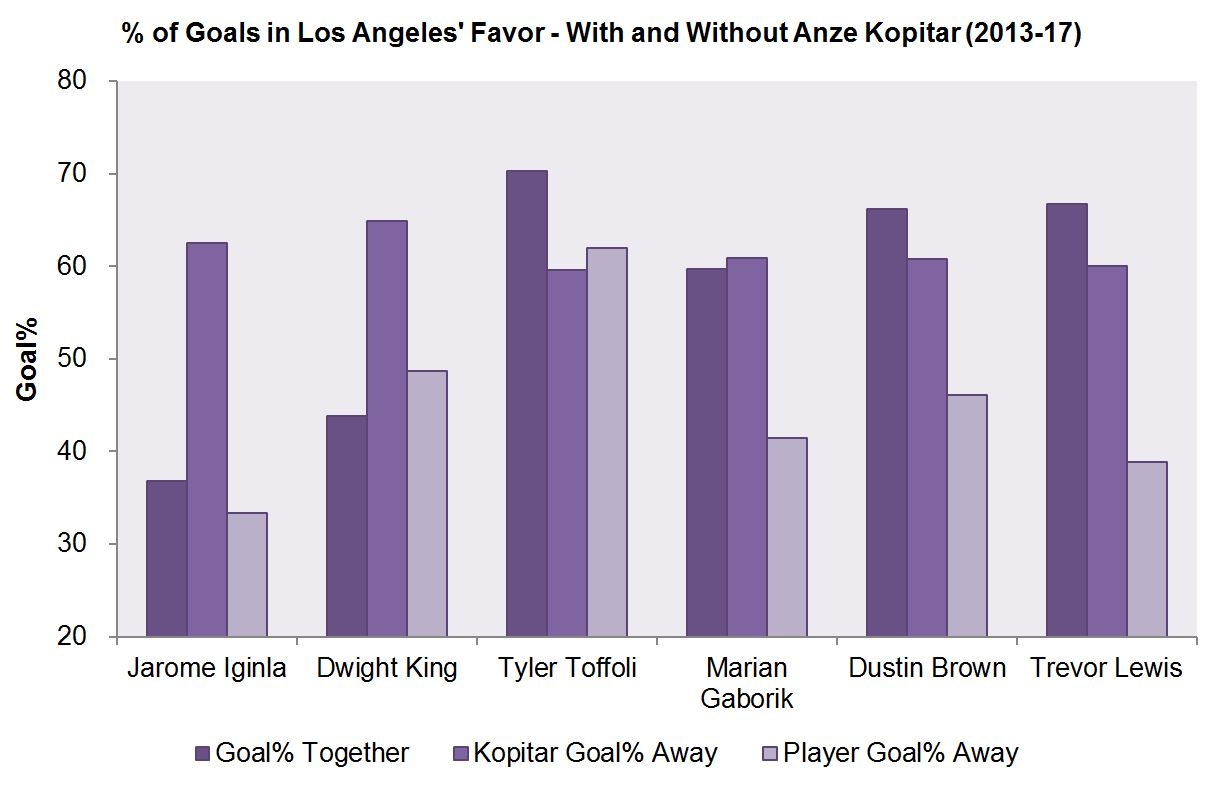 The multi-year numbers aren't surprising. Kopitar appears to have carried all of his teammates over the applicable years – only Toffoli really exemplified himself as a guy who could maybe drive a line and succeed on his own. Outside of that, it looks like an awful lot of guys were reliant on their centre.
Here's just last season: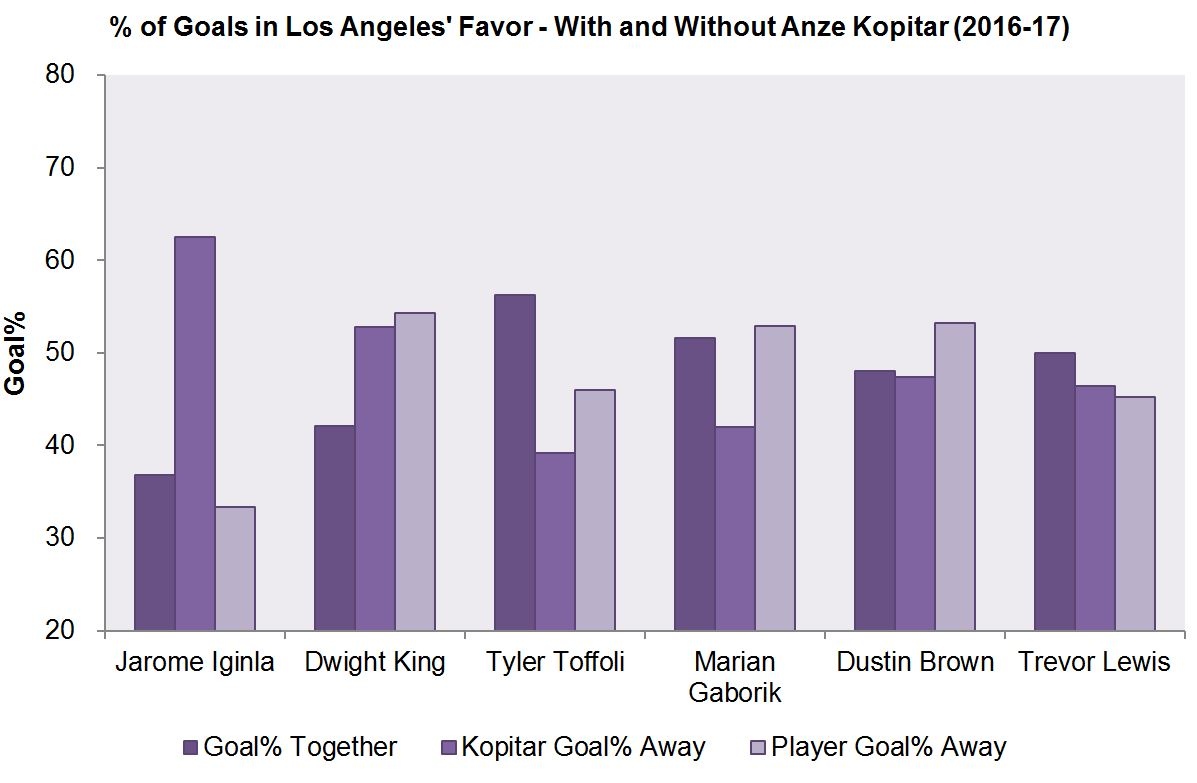 This is clearly different. The Iginla experiment will go down as one of the Kings' bigger failures, but look at the rest of Kopitar's linemates. Kopitar carried most of these guys to incredible success in years past, but it wasn't the case in 2016-17. When forwards move off of top lines and don't see their numbers go in the tank, you start to ask whether or not they really moved off of the team's top line.
I noted earlier that last year's failures – particularly across the top six – seemed to be more about the Kings than Kopitar, but I purposely did not absolve Kopitar of blame. The hallmark of any bona fide top-six centre (or any top-four defender, for that matter) is that he generally boosts the numbers of those around him. Kopitar's done that for about a decade, but last year was an exception. Even though we can reasonably conclude that throwing a bunch of checking-line, offensively limited forwards on Kopitar's side was a poor bet, it doesn't seem that Kopitar – like he has in years past – was able to improve their overall game.
To me, the key for Los Angeles going forward is surrounding Kopitar with as much talent as possible. If we are in the twilight of Kopitar's career, and he's devolving from a superstar centre to just a very good one, then he's going to need some help from time to time. Players like Brown, Iginla and Gaborik simply cannot handle that role in 2016-17.
The concerning part to me is that little has changed up front for the Kings heading into next season. Outside of playing Toffoli more with Kopitar (which seems like a decent option, though it leaves them vulnerable down the lineup), what can the Kings do? Newly acquired Michael Cammalleri can still shoot the puck, but at the age of 35, where is his game going? It strikes me as very possible he goes down the Iginla road – a road where offence can die very, very quickly.
Keep the above in mind as next season progresses. The Kings, for the first time in what feels like forever, actually have some cap space (just under $7 million). If they're a playoff contender, it seems to me that the obvious add at the trade deadline is a winger for Kopitar – one that can give them the scoring depth they need to return to the postseason.