Wheeler says he supports anthem protests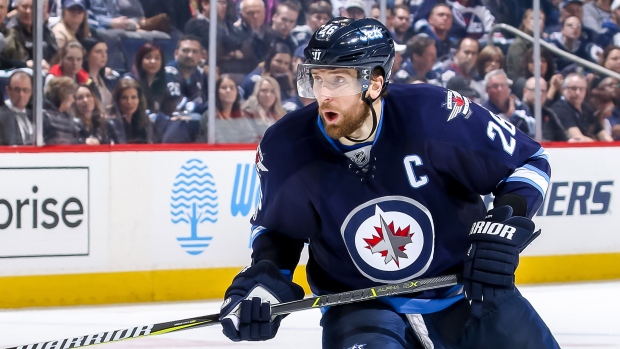 Winnipeg Jets American forward Blake Wheeler said Monday that he would support a national anthem protest from a teammate.
"Some of the language, you know, that (Trump) used about NFL players, I think that was kind of the last straw for a lot of guys," Wheeler said after Monday morning's skate.
"It's just kind of been a bit of a slow boil. The rhetoric over and over has gone a little bit too far," he said.
On Saturday, Wheeler tweeted that U.S. President Donald Trump was violating first amendment rights by calling on NFL owners to "fire" players who knelt in protest during the playing of the U.S. national anthem.
"It's the First Amendment to our Constitution. The First one!!" Wheeler tweeted.
"Regardless of how it makes you feel individually, these are literally the principles the US was founded on. Come on, Mr. President," he tweeted seconds later.
Toronto Maple Leafs forward James van Riemsdyk, an American who was born in New Jersey, agreed with Wheeler's tweets.
"I thought he had a good point there, it's kind of crazy that we're talking about our president going back and forth with people on social media," he said Monday.
According to Quant Hockey, 25.4 per cent of players who suited up for NHL teams during the 2016-17 season were born in the U.S.
Leafs forward Auston Matthews took a bit of a different tone. He said he supports athletes speaking out but he doesn't plan on participating in national anthem protests in the future. He also said he thinks it's a dishonour to anyone who fights for the flag to kneel, sit or stretch during the anthem.
"To me, I don't know if kneeling, sitting, stretching is something I'd really look into doing because to me it's like a dishonour to the men and women who fight for that flag, that fight for the U.S. I don't think I'd be one of the people to take part in that," said Matthews, who was born in Arizona.
Matthews noted that he's had friends and family members – including his great uncle – serve in the U.S. military.
Boston Bruins forward David Backes, a Minneapolis native, was particularly outspoken Monday, saying that he would "stand for every national anthem with my hand over my heart."
"If I've got beef with a social justice issue or something else-wise, I'm going to find different avenues that are not disrespectful," Backes told CSNNE.
Like Matthews, Leafs head coach Mike Babcock also cited the military when discussing the national anthem.
"I think it's important to have freedom of speech. On the other side of that for me, lot of friends in the military. When that national anthem is played, for me, that's an important thing, too."
"I respect a peaceful stand against what guys were doing. But me, personally, I'm going to stand every chance I get for the national anthem," Arizona-born Calgary Flames forward Matthew Tkachuk said.
His teammate and countryman Johnny Gaudreau took a similar stance. "I like to represent my flag and the people that fought for our country and stand for them," the New Jersey native said.
Flames head coach Glen Gulutzan said he hasn't officially addressed the issue in the locker room and doesn't know exactly what Trump said because he has been in a bubble during training camp. He also added that he hopes players are busy fighting to make the team first and foremost.
"For us hockey players I think (politics) is a slippery slope," said Leafs centre Nazem Kadri, who was born in London, Ont.
"To speak publicly on it is definitely a little bit dangerous especially if, you know, you don't have everybody feeling the same way."
Sunday, the Stanley Cup-champion Pittsburgh Penguins announced that they would accept their invitation to visit the White House.
"The Pittsburgh Penguins respect the institution of the Office of the President, and the long tradition of championship teams visiting the White House," they said in a statement.
"Any disagreement with a president's politics, policies or agenda can be expressed in other ways. However, we very much respect the rights of other individuals and groups to express themselves as they see fit."
"I support it. It's a great honour for us to be there," Sidney Crosby said Sunday after the Penguins' 4-1 preseason loss to the St. Louis Blues.
Trevor Daley of the Detroit Red Wings said he would go to the White House if he was still with the Penguins according to Craig Custance of The Athletic. Daley played for the Penguins the last two seasons before signing with Detroit in the off-season.
Matthews notes that if the Leafs were in the same position, they would "probably go."
Approximately 200 players across the NFL knelt, raised fists or linked arms in solidarity on Sunday. Trump said it was "not acceptable," and continued to tweet about players taking a knee into Monday morning.