Where does Nash rank among the Canadian sports pantheon?
With Steve Nash retiring after 18 seasons and over 1,200 NBA games played, TSN.ca looks at where Nash stands among Canadian sporting legends and if the argument can be made for Nash being Canada's greatest athlete of a generation.
Mike Beauvais, TSN.ca Staff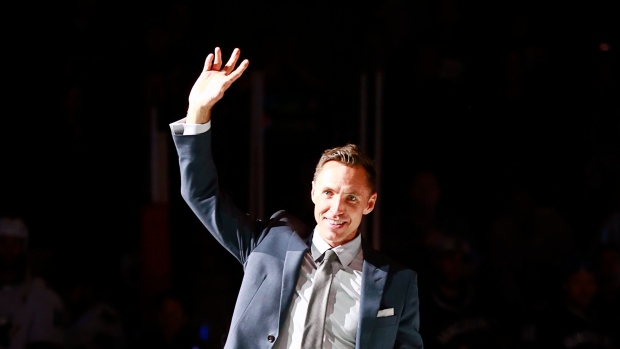 Steve Nash's retirement surprised nobody when the 41-year-old announced his decision on Saturday afternoon.
His Los Angeles Lakers career lasted a scant 67 games (only two of them being of the playoff variety) over three years, largely due to the myriad of back ailments that have felled him in the latter part of his career. Nash effectively had retired when it was determined that he wouldn't play at all during the 2014-15 season and almost said as much in an interview with TSN Radio 1040 Vancouver at the beginning of March. The end has been nigh for Nash for some time.
Still, what his protracted retirement on Saturday has finally done is allowed sports fans in Canada to debate where Nash belongs in the sporting pantheon of greatest homegrown athletes of all-time.
TSN and the Toronto Star's Bruce Arthur weighed in earlier on Saturday with his opinion:
Before we get to the impact of Steve Nash and where he ranks, let's take a look at some of Nash's contemporaries and those whose careers merit consideration as the greatest athlete born north of the 49th.
Wayne Gretzky became synonymous with the game he played. Gretzky, his four Stanley Cups and litany of individual awards and records aside, took the sport into the popular consciousness in a way that no player before him had. A household name not only in Canada, but in the United States, Gretzky did more to grow the game of hockey in the U.S. than any other one player before him or since. The way you view the NHL in 2015 is directly impacted by Wayne Gretzky.
If Gretzky were the Beatles of hockey, Mario Lemieux was the Rolling Stones. Arguably the most skilled player in the game's history, Lemieux's artistry was the antithesis of blue collar Pittsburgh, where he plied his trade and transformed the fortunes of a once moribund Penguins franchise.
A double gold medalist at the 1996 Olympics in Atlanta, Donovan Bailey is the only ever Canadian to cleanly stake claim to the title of "World's Fastest Man" and is responsible for returning the luster to Canadian sprinting after the Ben Johnson scandal.
Clara Hughes was as deft in the summer as she was in the winter. Both a cyclist and speed skater, Hughes is the only athlete in history to have won multiple medals at both the Summer and Winter Olympics, including a gold at the 2006 Torino Games.
But what of Nash?
Nash excelled in a sport in which Canadians traditionally did not. While Gretzky and Lemieux were dominant in their sport, it was a sport filled with other Canadians. Here was Nash entering into what was effectively virgin territory. With all due respect to the likes of Bill Wennington and Rick Fox and the handful of other Canadians who preceded him into the NBA, Nash stood alone as the game's first Canadian star.
Being Canadian made Nash's rise to stardom unlikely. Being recruited by just a single school, Santa Clara, made the rise all the more improbable. Here was a kid from Victoria, B.C. playing at a school in Silicon Valley whose most famous alumni prior to Nash were mostly politicians and The Kite Runner scribe Khaled Hosseini. The odds were against Nash from the jump.
And it's almost fitting that Nash was a point guard. It's the perfect position for an unassuming Canadian to play, letting other teammates be flashier and grab more headlines while staying in the background and pulling the strings with precision passing and timely shooting. He wasn't a prolific scorer like Dirk Nowitzki. He wasn't a dominant inside presence like Shaquille O'Neal. Nash carried the mantle of Isiah Thomas and John Stockton into the 21st Century, a player with preternatural court vision and lightning-quick decision-making.
An NBA Title proved elusive to Nash and whether or not he was ever his sport's best player - despite his two MVPs - is debatable thanks to the likes of Kobe Bryant and LeBron James, but Nash's mark on the game is indelible.
The slate of impressive young Canadians now in the NBA and others on the way is part of Nash's legacy. When Nash first stepped onto an NBA court in 1996, there were two other Canadians in the NBA. Today, there are 11 Canadians in the NBA and they're not bit-part players.
Andrew Wiggins is the runaway favourite for Rookie of the Year. In a season filled with injuries, Tristan Thompson has developed into an indispensable frontcourt piece for the Cleveland Cavaliers. On an aging San Antonio Spurs team, Cory Joseph has spelled Tony Parker admirably and will be a sought-after restricted free agent in the summer.
With this trio and the likes of Anthony Bennett, Kelly Olynyk, Andrew Nicholson, Nik Stauskas and Tyler Ennis all available for selection, Canada will be a legitimate medal contender at the 2016 Summer Olympics in Rio.
It was the advent of the Toronto Raptors that brought the NBA to this generation of Canadian basketball players, but it was Steve Nash who became the Association's homegrown face and the local player they could aspire to be.
There would be a brand new generation of Canadian hockey players whether or not there ever was a Mario Lemieux or Wayne Gretzky. An argument can even be made that Gretzky is far more significant to the development of American hockey than he was to the Canadian game, because Canadians play hockey. They always have and they always will. Without Steve Nash's contribution, though, a legitimate question can be asked about where the state of Canadian basketball would be in 2015. The significance of Nash's cultural influence should not be overlooked.
With Steve Nash retiring after 18 NBA seasons and over 1,200 career games, Nash's place among Canada's greatest athletes is never doubt. The question is not whether Nash is one of the country's greatest sports figures; it's whether or not he is the greatest.