Where does Quick rank among NHL goalies?
Travis Yost pulls the numbers to examine Jonathan Quick, a goaltender with a premier reputation, yet also part of the problem for a struggling Los Angeles Kings team this season.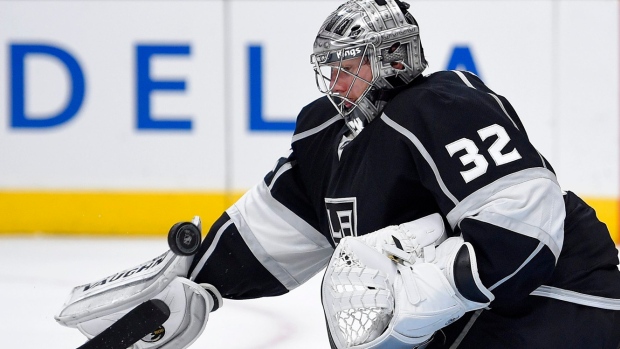 Earlier this week, TSN 1260's Allan Mitchell floated an interesting question about the best young goaltender target as a potential trade acquisition for teams in need. The answer, I thought, was relatively straightforward: Los Angeles' Martin Jones.
Jones is an easy answer for a number of reasons. One, since becoming a professional in the 2010-2011 season, Jones has a .921 save percentage over 5,382 shots. His NHL-only sample is substantially smaller, but still promising – he's holding a .925 save percentage over 738 shots.
Two, he's obviously not in the most advantageous position for a goaltender looking for more ice-time. Jonathan Quick, Los Angeles' starting goaltender, currently sits on a $58-million contract that runs through the 2022-2023 season. If you're of the belief that Los Angeles is fully committed to giving him big starter minutes for the vast majority of that contract – as a 29-year old, that's probably a reasonable assumption – you start to see how it shakes out unfavorably for Jones.
It's the second part of this relationship that I really find fascinating, and one that generates the most visceral, polarizing response from hockey fans. Whereas Jones is a promising young talent but a bit of an unknown, Quick's something of a known commodity – but not in the way you necessarily think.
I noted – in response to the above discussion – that Quick's sort of an enigma in that his reputation as one of the league's premier goaltenders just isn't legitimized by his individual performance. This generated considerable debate as to how much we should take into account his herculean performance in the 2011-2012 and 2012-2013 playoffs, his pair of Stanley Cups, and associated hardware.
I think the right answer here is those streaks definitely matter, and you simply have to account for those fantastic runs when evaluating what kind of a player he's been for Los Angeles over the years. Conversely, I think you have to also account for the fact that he's really had three consecutive average to subpar regular seasons – the last of which has put Los Angeles' playoff hopes in legitimate jeopardy.
To give you an idea as to how Quick compares to the rest of the league, I compiled a few numbers for regular goaltenders over the last five years, including playoffs. First, the unadjusted even-strength save percentage – how consistently does a goalie stop shots? Second, the adjusted even-strength save percentage (using War on Ice criteria) – to what degree can we reflect shot quality against and the effects it may/may not have on our goalie's save percentage? Third, dollars, the size of the goaltender's total deal – this will give us an idea as to the liability each team holds with their respective goaltender. The larger the bubble, the larger the dollar allocated to the goaltender.
I've coloured in Quick's bubble to let it stand out a bit – you'll see that he's sort of in the muddled middle of starting goaltenders in the league, though his bubble (the $58MM owed through 2022-2033) is really only rivaled by a handful of players around the league. His stop rates over the past five years, whether you don't adjust for any purported shot quality or do adjust for any purported shot quality, are comparable to Kari Lehtonen, Mike Smith, and Jonathan Bernier -- three goalies who have had varying degrees of success over the past few years.
From this data, one can reasonable conclude that Quick, at least on a five-year average, is something of a middle-tier starting goaltender in the National Hockey League. After all, no matter if you look at unadjusted or adjusted save percentages, you can find ten or more goalies that have out-performed him over thousands of shots and hundreds of games.
What's really concerning about Quick, though, is that his game has slid considerably in recent years. Inarguably his best two seasons came in 2010-2011 (.918) and 2011-2012 (.928). That, combined with a colossal individual performance during the first Kings Cup run, ended up with one of the league's biggest goaltending contracts.
Since then, it's been a bit of a dicey downturn for Quick. We can work through the same graph above, but isolate for 2012-Present (approximately the last 150-200 GP for regulars). How does Quick look here?
Again, Quick doesn't necessarily look bad – he's stopping a decent number of shots, comparable to goalies like Jhonas Enroth, Kari Lehtonen, and Semyon Varlamov. But, he's a far cry from some of the league's elite, and the size of his bubble – again denoting how much he's paid to be one of the best at his position – eclipses just about everyone here.
Darryl Sutter, for what it's worth, has recognized this as a serious issue. I would imagine the front office thinks the same way. Despite again being one of the league's premier 5-on-5 teams -- their puck possession numbers still rank among the league's elite, similar to the years in which they won it all – the Kings still sit outside of the playoff picture.
I'm pretty confident the Kings will get into the playoffs. They're still a dominant hockey team, one that's going to out-shoot the opposition 56-44 on a consistent basis. But, overcoming erratic goaltending can be tricky. And make no mistake, the team's .906 SV% this season is a pretty big contributing factor for their current situation, as the defending champs scramble for a playoff spot.