White: Mayweather in UFC talks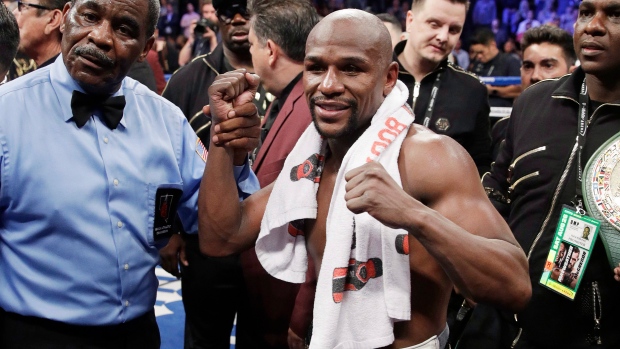 Floyd Mayweather might be 50-0 in the boxing ring, but how would he fare in the Octagon?
Ultimate Fighting Championship president Dana White told ESPN that the 40-year-old Mayweather is in negotiations with the organization to embark on a mixed martial arts career.
"We're talking to Floyd about doing a UFC deal," White said to ESPN. "It's real. He was talking about [boxing] Conor McGregor. Was that real? Have you heard Floyd talk about many things that aren't real? He usually tips his hand when he's in the media and then that s--- ends up happening. We're interested in doing something with Floyd. Everything is a realistic possibility. Mayweather vs. McGregor f---ing happened. Anything is possible."
Mayweather defeated McGregor this past August by TKO in the 10th round in a fight that drew 4.3 million pay-per-view buys.
If he were to sign with UFC, Mayweather wouldn't be the first pugilist to head into MMA. Famously, former multi-division champion James Toney made his one and only UFC appearance at UFC 118 in 2010 where he was badly outclassed by UFC Hall of Famer Randy Couture.
Mayweather intimated in early December that he was interested in a UFC deal.
"They just called me not too long ago and asked me to come back," said Mayweather during a social media stream ( transcribed by Fight Hype.) "I can come right back. If I wanted to, I can come right back to the UFC. I can go fight in the Octagon. I can do a three- or four-fight deal in the Octagon and make a billion dollars. Remember, I'm Floyd 'Money' Mayweather."