Why has Joe Thornton stopped shooting the puck?
The San Jose Sharks are more than talented enough to reach the post-season again. But as Travis Yost writes, they'll also need their best from Joe Thornton to get there.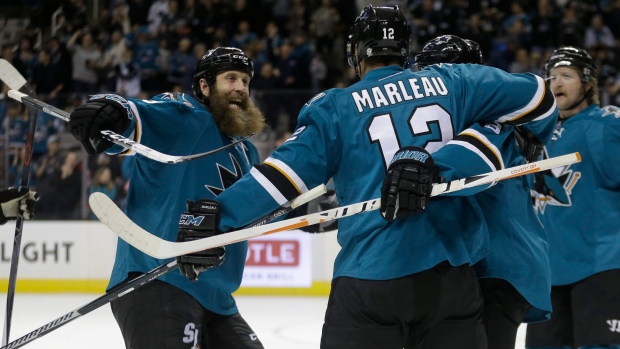 Why has Joe Thornton stopped shooting the puck?
Jumbo Joe's career has always been playmaking first. He has, for more than a decade, been one of the league's finest puck distributors and his absurd career point totals hammer that point home.
Even as he's aged into his late 30s, Thornton's still been one of the league's premier scorers and his 82 points just last season was good for fourth in the league, trailing only Patrick Kane, Sidney Crosby and Jamie Benn (Remember: all of these guys comfortably exceeded the 30-goal mark, which means Thornton had to cover a large points gap by way of racking up all of those assists).
But I think it could be argued that Thornton's been an underrated shooter too. This is a guy that once ran off eleven straight seasons of 20-plus goals and although that's dissipated later in his career, he's still been reasonably productive. Last year alone, he scored 19 goals and shot nearly 16 per cent in all situations, which puts him reasonably close to the upper tier of league scorers.
Thornton actually has a very high career shooting percentage, just about 14 per cent (Crosby, as a comparable, is about half a percentage point higher). Much of this, I think, is borne out by the fact that he's a selective shooter. He's looked pass-first for most of his career, but he does well to capitalize on opportunities when they present themselves. More often than not, this is when he has the puck in the low slot and his career shooting heat maps (via SportingCharts) indicate that he's looking to shoot when he's just outside of the cage: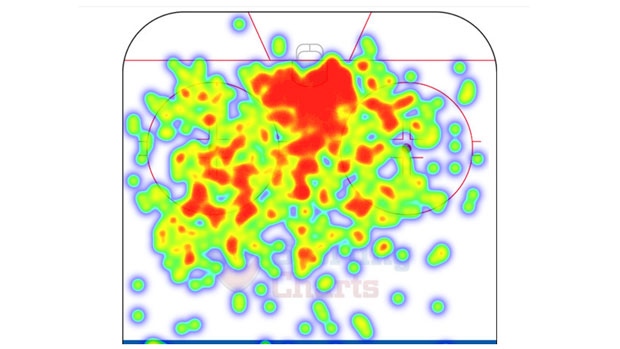 So Thornton's always going to look for Pavelski and company first, but he'll burn you if he has the opportunity.
But something's changed a bit this year. He's evolved from a pass-first, shoot-second type of player to a pass-first, pass-only type of player. And Thornton, to be clear, is probably one of the few guys good enough to play this way. He is, however, generating a suspiciously low number of shots and it's certainly putting a lot of the finishing burden on his teammates.
Take a look at the number of shots he's averaged since 2007-08, this data at 5-on-5 below. He's very clearly the furthest thing from a volume shooter. But this year, he's simply stopped shooting the puck.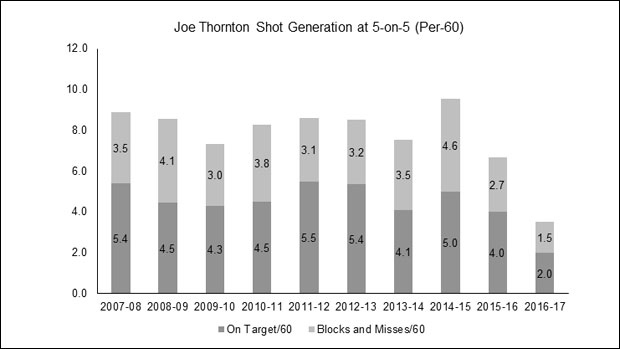 From 2007 to 2015, Thornton's shot volume numbers were two things: low relative to most productive goal-scorers and incredibly stable. This year, Thornton's averages have dropped by an order of magnitude from his historical averages. Not surprisingly, he's goalless at 5-on-5 and has just two goals in all situations this season.
You might be curious about what a 2.0 individual shots/60 number looks like compared to other forwards around the league. For starters, it's the lowest number we've seen this season. Other guys in his vicinity are Torrey Mitchell (2.4), Joseph Cramarossa (2.7), or guys who you've never associated with the phrases 'productive offence' and/or 'scoring role.'
It's also the lowest rate I could find since 2007. Below is a list of players who posted the lowest shot-rates in a given season (minimum 500-minutes played) at 5-on-5 and their associated goal production. It's not a great list if you are a Sharks fan: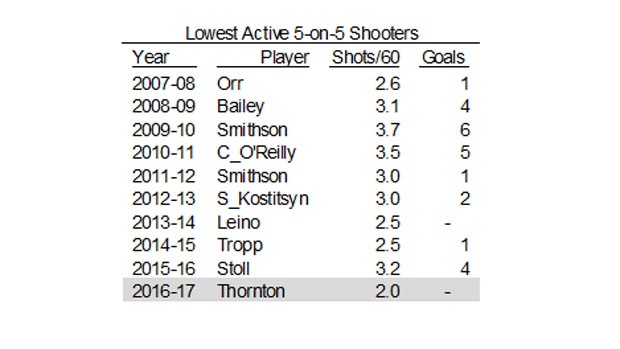 Now, Thornton's going to play an awful lot more minutes than some of these guys and has more talent. So it seems unlikely he'll end with as such low goal-scoring production as they did.
That said, what exactly is your best guess on his total goal volume by year's end? At his current shot rate, it can't be more than a handful. And that's concerning for a San Jose Sharks team that's goal-starved right now.
It's definitely something to keep an eye on out West, especially considering how tight the playoff race might be in the Pacific division. San Jose's more than talented enough to reach the post-season again, but they'll need their best Joe Thornton to get there.