Will heavy workload catch up to Jays bullpen in 2018?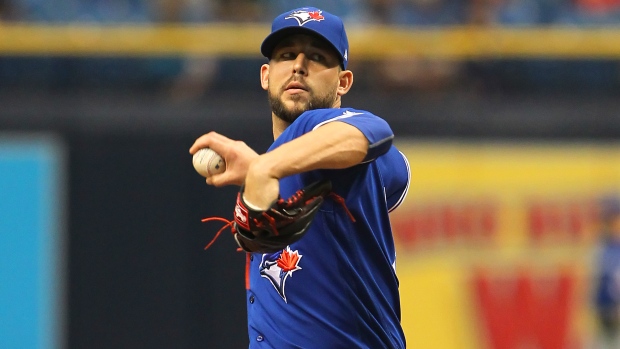 NEW YORK — If there's an area of the Blue Jays roster to feel good about heading into the off-season, it's the bullpen.
But there are also reasons to be nervous about a pen that was worked extremely hard this season, mainly thanks to injuries and poor performance in the rotation.
Coming into the final series of the season against the Yankees, the bullpen sat first in the American League and third in all of baseball in innings pitched, setting a new franchise record in the process.
All of that work has led to a 4.26 ERA, the ninth-best mark in the AL.
The heavy usage definitely has manager John Gibbons feeling a bit uneasy about 2018, despite having what looks like, on paper, a deep group of arms.
"You don't know what the after-effects are going to be the following year," Gibbons said Friday as the Jays opened up the three-game series against the postseason-bound Yankees.
Bullpen consistency is hard to find, which is why really good relievers are paid handsomely in free agency and are so attractive to contenders at the trade deadline.
"That's why the ones that are good every year, that's a pretty big accomplishment," Gibbons said. "It's a tough racket, a big-league bullpen. That's why so many guys come and go."
Calls to the bullpen have been frequent this season.
Ryan Tepera sits fourth in the AL in appearances at 72, and is fifth in innings thrown at 76.2.
Dominic Leone, a waiver claim revelation from last November, isn't far behind at 69.2 innings. Danny Barnes (64.1) and Roberto Osuna (63.0) also reside in the American League's top 25 in innings pitched.
Those numbers will represent new professional highs for Tepera and Leone, while Barnes is closing in on his mark if he throws another couple innings over the final weekend. He definitely would've surpassed it if not for a late July stint on the disabled list with a right shoulder impingement.
In total, the Jays have used 25 different arms out of the bullpen this season, in addition to 14 different starters, which is the root of the entire problem.
Barnes, who will turn 28 next month, is learning how to manage.
"I was talking about this with Joe Smith when he was here," Barnes said inside the visiting clubhouse at Yankee Stadium. "We were talking about a normal workload and what a big-league season is like and even he was saying it wasn't normal to be used that much for a bullpen. It happens, because things happen in baseball, but you just kind of learn from it and deal with it as best you can."
The theory that the effects of a heavy workload don't show up until the following season is tough to prove.
Of course, there have been cases that would seem to point to it, but there are many reasons why a pitcher could struggle from one year to the next.
"For some people it might, for others no," said Barnes, whose focus this off-season will be on the continued development of a slider to complement his changeup. "It's hard to tell until next year, but it's possible. But I think it's also really good experience because if it does happen again, you've been through it and you know how to handle it a little bit better."
After dealing with constant change and shuffling to the pitching staff, Blue Jays pitching coach Pete Walker cringes at the thought of problems arising next year.
"I don't like to think about that, to be honest with you," Walker said. "It can happen. There's volatility in the bullpen, but certainly there are guys who have done it year in and year out so we expect our guys to do it.
"There's no exact science to it and there's no exact track record of relievers, it's just a volatile business. But you hope they can string some years together."
The Jays will do their best to mitigate the issue of prior workloads on a case-by-case basis.
"You obviously hope guys prepare wisely in the off-season and you look to take care of guys following a year where there's a heavy workload in spring training to kind of ease them into another long season, but you really just treat every individual differently depending on what they did the previous year and you hope for the best and hope that good health will follow them," Walker said.
On a positive note, this year has given the relatively inexperienced trio of Barnes, Tepera and Leone a chance to pitch in high-leverage spots, and they've answered the call.
Add in Roberto Osuna at the back end of the pen, another solid season from lefty Aaron Loup, who has pitched to a 3.77 ERA with career-high strikeout numbers, and the intriguing live arm of Carlos Ramirez, and you have to like the pieces.
Signing a couple of veteran arms at a bargain would only further enhance the depth and spring training competition.
"We've got guys that kind of settled into some nice roles and we've got some young guys that have proven themselves and then you've got a couple guys like me that have kind of been around and you know what you're going to get out of them," Loup said. "I think, yeah, it shapes up nicely."
When it comes to bullpens, however, it's best to expect the unexpected.​