Playoff run puts Jets rabid fanbase in spotlight
The NHL is, indeed, back in "The 'Peg." And the Jets are better than ever in preparing for Game 7 of their second-round playoff series at Nashville on Thursday night. No matter the outcome, the Jets are already enjoying the deepest playoff run of any Winnipeg-based NHL team.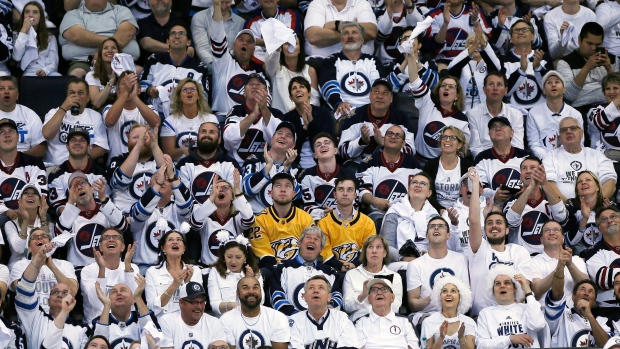 Ed Olczyk takes one look at the white-out-wearing crowds of Jets fans packing Winnipeg's arena and surrounding streets and is reassured about what he always knew of the Canadian prairie city, even during its bleakest days.
Winnipeg was a hockey-mad town deserving of an NHL team some 22 years ago, when Olczyk played in what became the franchise's final game before relocating to Arizona. Very little has changed with "Jets 2.0," launched when the Thrashers left Atlanta for the Manitoba capital in 2011.
"It made me nauseous to know what was going to happen," the NHLer-turned-broadcaster said, recalling the uncertainty after the Jets were eliminated following a 4-1 loss to Detroit in Game 6 of their first-round playoff series on April 26, 1996. Jets players and fans lingered long after the final horn sounded in the former Winnipeg Arena, where the oversized portrait of Queen Elizabeth II hung prominently from the rafters.
"But I always knew that Winnipeg was an NHL city even though they didn't have a team there," Olczyk added. "It's just incredible to see. The white outs bring back a lot of memories. And I couldn't be happier."
The NHL is, indeed, back in "The 'Peg." And the Jets are better than ever in preparing for Game 7 of their second-round playoff series at Nashville on Thursday night.
No matter the outcome, the Jets are already enjoying the deepest playoff run of any Winnipeg-based NHL team. This marks just the third time Winnipeg has advanced to the second round in 13 post-season appearances. The previous two times, the Jets were swept in four games by Edmonton in both 1985 and '87.
As for the current franchise's 18-year history, the team was swept in its two previous playoff appearances before opening this post-season with its first victory, a 3-2 decision over Minnesota.
The only real hockey success Winnipeg enjoyed was when the Jets won three Avco Cups as members of the defunct World Hockey Association before joining the NHL after the league folded in 1979.
Suddenly, these Jets have captured the imaginations of all Manitobans, and many Canadians as well. They stand as nation's last team with a shot to end Canada's Stanley Cup drought dating to 1993, when Montreal won the title.
The Jets are wowed by their fans' support.
"I don't know if they can yell any louder," coach Paul Maurice said.
Even Edmonton Oilers forward Ryan Nugent-Hopkins took notice from Denmark, where he's representing Canada at the world championships.
"It looks like a crazy atmosphere," Nugent-Hopkins said. "Even during the regular season it's pretty fun and loud and intense. So I can only imagine that right now in the playoffs."
The white out in Winnipeg first became a playoff staple in 1987, and has reached new levels this spring, with estimated crowds of 20,000 gathering to watch games outside the arena.
"I've never experienced this level of excitement for our team or confidence in our city," Winnipeg Mayor Brian Bowman said. "My 10-year-old son is sleeping with his hockey stick."
The excitement is evident in Bowman's Twitter account, which features the mayor wearing a Jets jersey, and pictures and videos of fans in makeup, putting on makeup and dancing in the streets.
This is as far removed as anyone expected after the Jets left in 1996 at a time when the Winnipeg's economy and population base were also dropping.
"It was a kick in the gut," Bowman said. "It was demoralizing and a lot of people were questioning the city's future because we were losing people to other cities."
The Jets' on-ice success mirrors the city's rebound. With a population of 750,000, Winnipeg now ranks as Canada's seventh-largest city and features one of the nation's fastest growing economies.
"I think that's one of the really nice parts about this playoff run. It's allowing Winnipeggers to take stock in where we were in the '90s and compare it to where we are now," Bowman said. "People are feeling good about the city, and their confidence and swagger is growing."
Despite the city's size and 145-year history, Winnipeg is often overlooked in the national media because of how far it's removed from major centres such as Toronto, Montreal and Vancouver.
To some, Winnipeg is best known for its black flies and mosquitoes in the spring and summer, and frigid winters, made notable in the Neil Young and Randy Bachman song, "Prairie Town," which includes the lyric "Portage and Main, 50 below," in reference to the city's main intersection.
Perhaps the Jets' success can begin changing perceptions.
"It's an opportunity for us to show North Americans what's going on in Winnipeg," Bowman said.
Even former Thrashers fans in Atlanta are on board. Bud Ellis overcame the frustration of losing the Thrashers by continuing to root for the Jets in Winnipeg. He couldn't begrudge Jets fans in knowing they once lost their team.
"I am so happy for the people there, the way they embrace that team," Ellis said. "In a way, they've kind of taken care of my team and they've let me stay along for the ride and welcomed me in."
He's even getting some nods of approval in Atlanta for wearing a combination of Thrashers and Jets gear.
"If you're tied to Atlanta and you somehow find some success, people will at least start paying attention," Ellis said. "Even if they're 1,850 miles away."