Sweden eases past Canada in Group A finale
Group A winners Sweden were too much for Canada as they closed out World Junior Hockey Championships round-robin play with a 5-2 victory. Hosts Finland await Canada in the quarterfinals on Saturday.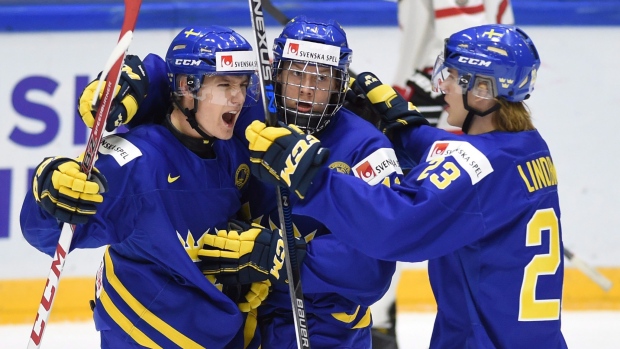 --
FINAL SCORE: Canada 2, Sweden 5
--
Third Period
GOAL - 5-2 SWEDEN - :11 - Rasmus Asplund finds the empty net as Sweden completes a perfect preliminary round.
1:36 - Blackwood pulled for the extra skater.
1:58 - Confusion surrounding Soderstrom's exit remains.
Felix Sandstrom relieves Soderstrom for the final few minutes. Soderstrom has headed to the dressing room with an unknown ailment.
3:49 - Soderstrom makes a pair of fine saves just as the second penalty expires.
GOAL - 4-2 SWEDEN - 5:51 - Mitch Marner with a bullet off the face-off makes it a two-goal game again.
5:55 - Canada gets a two-man advantage when Karlsson goes off for what was a pretty soft call.
7:04 - Grundstrom is sent to the sin bin for interference.
8:07 - Dermott and Hickey are both out, with Canada surrendering only a single shot on the two-man advantage.
10:17 - It's a five-on-three now as Hickey heads off for cross-checking.
10:24 - Travis Dermott heads to the box for a hook behind the Canadian net.
GOAL - 4-1 SWEDEN - 12:51 - Anton Karlsson pounces on a Blackwood rebound and backhands it past the Canada goalie whilst falling to make it a three-goal lead.
14:27- A fine save by Blackwood keeps Kempe from his second of the game.
16:53 - Blackwood makes a nice save on a streaking Jens Looke.
Relevant Leafs/Nylander news...
18:45 - As Mitch Marner is in alone in front of Soderstrom, Andreas Englund knocks Brayden Point into the net and the net comes off of its moorings.
20:00 - The final frame is a go from Helsinki with Sweden maintaining its two-goal edge.
--
Second Period
--
END OF THE 2nd PERIOD - CANADA 1, SWEDEN 3
5:24 - Marner crushes Carl Grundstrom with an open-ice hit in the neutral zone.
GOAL - 3-1 SWEDEN - 6:22 - The power play strikes again. After a nice feed from Axel Holmstrom, Adrian Kempe restores Sweden's two-goal lead.
7:00 - With Canada pressing in the Swedish zone, Perlini gets called for a slash.
7:55 - The power play ends as Olas Matson returns to the ice.
9:55 - After Konecny's drive is stopped by Soderstrom, Olas Matson takes out the Canadian and is penalized.
11:50 - Soderstrom is being kept busy. A tipped Brendan Perlini point shot is nicely stopped by his blocker.
13:39 - Marner drops a nice backhand pass to Thomas Chabot, but his wrister is handled by Soderstrom.
14:15 - Offsetting minors from a scrum following an icing mean two minutes of four-on-four hockey.
16:20 - Dmytro Timashov's pass out from behind the net is smacked out of the air by Rasmus Asplund, who hits the post.
18:52 - After Soderstrom makes a nice save on Mitch Marner, he's forced into another save by his own defenceman.
20:00 - We are back underway from Helsinki.
--
First Period
--
END OF 1st PERIOD - CANADA 1, SWEDEN 2
1:47 - Crouse heads back to the ice following a successful kill.
3:47 - Just after scoring, Canada - in the form of Lawson Crouse - heads back to the box.
GOAL - 2-1 SWEDEN - A couple of feisty shifts from Konecny are rewarded as Mitchell Stephens buries a big rebound behind Linus Soderstrom.
5:50 - A shot from a sharp angle by Adrian Kempe ignites a scramble in front of the Canadian goalmouth.
6:20 - The Swedes are outshooting Canada 10 to 1 as the first winds down.
8:42 - Canada registers no shots on goal as the PP expires.
10:42 - Canada heads to its first power play after William Lagesson slashes Dylan Strome.
Canada's game will be at 11am et/8am pt.
QUARTERFINALS ARE SET
GOAL - 2-0 SWEDEN - 12:52 - As the first penalty expires, Gustav Forsling beats a screened Blackwood to double the Swedish lead.
13:23 - The Swedes will have a two-man advantage for :26 as Anthony Beauvillier sends the puck over the glass for delay of game.
Elsewhere...
14:57 - Canada is going back to the penalty kill. Rourke Chartier is called for a pretty dubious high stick.
GOAL - 1-0 SWEDEN - 15:23 - That didn't take long. Alexander Nylander beats Mackenzie Blackwood :17 into the penalty to give Tre Kronor a 1-0 lead.
15:40 - Canada has a penalty to kill. After a skirmish following a whistle, Jake Virtanen gets the extra two minutes for roughing (on top of offsetting minors) and the Swedes head to the man advantage.
GOAL: Not this game, but...
17:00 - A nice backhanded effort from Travis Konecny goes wide.
And we are off - the Swedes have won their group for the ninth consecutive year.
--
Pre-Game Notes
Your lineups from Mark Masters:
Sweden:
--
Canada:
--
Canada will finish third in Group A, regardless of today's result. It is Canada's lowest finish in a round robin since the 2001 tournament. The Swedes have already won the group, while the US finishes second with their win earlier Thursday against Denmark.
Canada will play the winner of Group B's Finland-Czech Republic matchup in the quarterfinals. That game is ongoing, with the two teams tied 4-4 in the third period.
Canada last played Finland in 2015 in a 4-1 victory. Canada has won nine of their past 10 against Finland.
Canada last played the Czech Republic in 2014 and lost in a shootout. Canada had won eight straight against the Czechs prior to that loss.