Decision on injured Fabbro's status looming
Dante Fabbro, who has been plagued by a lower-body injury, was taking part in just his second practice since Dec. 15, but will the Boston University product be ready for Tuesday's opener against Finland?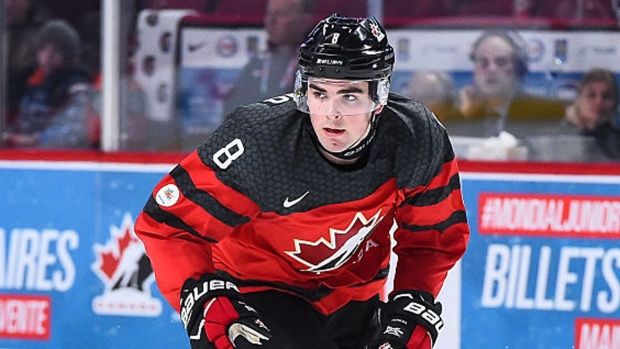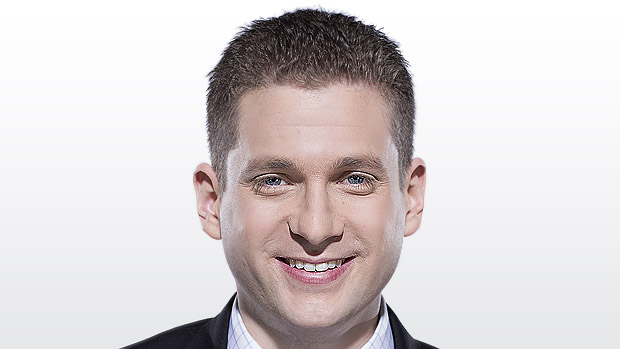 At the end of Monday's practice, Canadian head coach Dominique Ducharme and assistant Tim Hunter called Dante Fabbro over and had the defenceman go through some one-on-one battle drills, first with Jonah Gadjovich and then with Dillon Dube. Fabbro, who has been plagued by a lower-body injury, was taking part in just his second practice since Dec. 15.
Will the Boston University product be ready for Tuesday's opener against Finland?
"We'll see," Ducharme said. "We have to sit down with the doctors and Dante and look at the situation. We'll have a decision made by tonight and seven guys will be playing tomorrow."
Fabbro was not made available for an interview after the workout. Ducharme admits the Nashville Predators prospect is facing a challenge when it comes to conditioning. He hasn't played a full game since Dec. 9.
"It's a little bit of a challenge getting back into game shape and game execution," Ducharme said. "We can dress seven D so we can manage him coming into the tournament and his ice time to start so he can get back into the rhythm. But, we'll see if he can play first and then we'll manage that after."
Like on Saturday, Fabbro was paired with Josh Mahura at practice. After initially being cut, Mahura was recalled as an insurance policy in case Fabbro isn't able to play. Ducharme has been impressed with how the Regina Pat has carried himself.
"Great kid, great pro," Ducharme said. "He's doing well on the ice. I feel that he's comfortable. He knows what we want to do, the way we want to play so he didn't miss a beat with that. It's great to see him handling it the way he has."
----
After sitting out Saturday's practice, Carter Hart returned to the ice on Monday.
"I'm feeling a lot better," said Hart, who has a sparkling .961 save percentage in the WHL this season. "I was kind of stuffed up so they wanted me to take it easy. I went back to the hotel and slept a lot and I'm feeling much better now."
To the surprise of no one, Ducharme announced the Everett Silvertips goalie will start on Boxing Day. It's the second straight year that Hart will be between the pipes for the first game of the tournament, but he feels a lot more comfortable this time around.
"I feel really good. Now, I kind of know what to expect," he said. "With the group we got this year, we're pretty tight and that definitely helps with that chemistry and that sense of belonging with your team. It's a lot of fun right now in the locker room."
Canada will play four games in five nights to open the tournament, but Hart isn't worried about facing a heavy workload.
"We do that in the WHL all the time so it's nothing I'm not used to," he said.
Hart has played on consecutive days six times this season in Everett stopping 183 of 191 shots in the second half of those back-to-backs (.958 save percentage).
----
Victor Mete and Olli Juolevi hit it off during their time together with the London Knights.
"Probably one of my closest friends from London," said Juolevi with a smile. "We're kind of the same personality."
The pair haven't seen each other since their OHL days. Mete started this season with the Montreal Canadiens while Juolevi is playing in Finland with TPS Turku.
"We haven't spoken that much," said Mete, "but we message each other here and there and just talk once in a while to see how we're doing."
In London, the pair were together all the time. They lived near each other and always carpooled to the rink.
"He was my driver," Juolevi said with a grin. "There were a lot of battles, because he loved Country music and I didn't love it too much. But he could choose, because he was the driver."
"He didn't like the Country music," Mete recalled with a chuckle. "He and Janne Kuokkanen would play some Finnish music sometimes. It wasn't bad. It was kind of cool, actually. I drove (Olli) around for two years and we roomed together everywhere too. We have a pretty good relationship so it will be exciting to play him tomorrow."
Mete describes Juolevi as a "jokester" and said the pair pulled off their share of pranks together. Any examples?
"On road trips, we would put water in front of a guy's door so when they open their door it goes all over t​heir feet," Mete said with a smile. "Stuff like that."
So, is the Canadian alternate captain expecting his old friend to say anything tomorrow?
"He's a funny guy so I'm sure he'll do something tomorrow on the ice," Mete said.
"We'll see," said Juolevi. "Maybe not. It will be a battle tomorrow. We won't be close friends tomorrow."
----
It was during his first season with the Owen Sound Attack that Gadjovich was given the nickname: "The Man-Child."
"Our media relations guy came up with it and it just stuck," the Canucks prospect recalled. "The fans loved it, my teammates thought it was funny and I've had it ever since."
Gadjovich's new World Juniors teammates believe the moniker is quite appropriate for the six-foot-two, 201-pound teenager.
"He's a big dude," said Sarnia's Jordan Kyrou, who has had his fair share of battles with Gadjovich in the OHL. "Tough on the ice to play against. A fitting name. He's tough to play in the corners. Good thing he's on my team now."
"He's a big boy," said Mete. "I agree with the name. A really strong player and it's hard to get the puck off him so he'll use his size to his advantage."
What stands out to Hart?
"Other than he's a super hairy guy," the goalie said with a laugh. "He's a big, strong guy. I can definitely see why they call him 'The Man-Child.'"
Gadjovich's picture on EliteProspects.com certainly fits "The Man-Child" image. Usually the photo that accompanies the player biography is a normal headshot or action shot from a game. But Gadjovich's features him with blood all over his face and jersey.
"That was from a London game last year," he recalled, "a battle in front of the net and I ended up getting a stick to the face and it cut open my chin. As I was skating back to the bench someone snapped a picture. I think it's pretty funny."
Gadjovich has played with centre Michael McLeod for most of Canada's camp. The six-foot-two, 195-pound Mississauga Steelhead doesn't look out of place beside Gadjovich. Drake Batherson and Tyler Steenbergen have rotated in on right wing on the line, which plays a heavy game in the offensive end.
"We're going to have to be going hard on the forecheck," said Gadjovich. "We're physical so we'll have to be wearing the D down. We'll be a hard line to play against."
----
Lines at Monday's practice:
Dube-Steel-Kyrou
Katchouk-Thomas-Raddysh
Gadjovich-McLeod-Batherson/Steenbergen
Comtois-Howden-Formenton
Clague-Makar
Mete-Timmins
Bean-Foote
Mahura-Fabbro
Hart
Point