Yost: Buyer beware when it comes to veteran defencemen
In the months and days leading up to the NHL's trade deadline, we routinely see teams shuffle older defencemen out to playoff contenders, usually for some sort of future asset. Travis Yost explains why teams ought to be cautious when wading into that pool of players.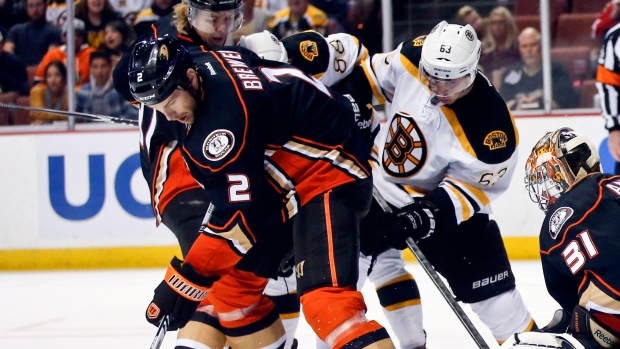 In the months and days leading up to the NHL's trade deadline, we routinely see teams shuffle older defencemen out to playoff contenders, usually for some sort of future asset. I always find these trades fascinating, because generally speaking, it seems that the player is rarely acquired because he's an effective blueliner. There's always talk about the laundry list of intangibles the veteran defender will bring to the table come playoff time; far less talk about how the player, more often than not, struggles to get the job done.
I think why these trades continue to occur is tied up into the front office and coaching staff's relative lack of trust in younger players to log bigger minutes when the games get meaningful. Sometimes, that lack of trust is warranted. But, ironically, to fix this issue, a team usually targets a defenceman who is years beyond his prime – alternatively, another defenceman who cannot get the job done. Only in this case, an asset – or multiple assets – will be required in order to acquire such a player.
I don't think the veteran defenceman acquisition is one that is going to die out in 2014-2015. There are a ton of 34+ age defencemen logging regular minutes this season; a good portion of these players are on short-term deals due to their age, and a good portion of these players currently play on teams who could be eyeballing a prospect or future draft-picks in lieu of a bid at a playoff berth. There's also the chance that a savvy playoff-bound hockey team will identify said veteran defenceman as a problem, and ship him off to create additional minutes and opportunity for a more competent player internally – the name Eric Brewer, recently traded to Anaheim for a third-round pick, certainly comes to mind here.
Make no mistake, most of these older defenders are a drag on their team's performance. Setting up some quick parameters (age 34+; at least 15-games played) can illustrate this. Below, I've charted the 22-regular veteran defenders by their per-60 scoring rate at 5-on-5, and their RelativeCorsi% -- or, the difference in a team's Corsi% with the player on the ice versus with the player off of the ice.
Defencemen, 34+
| PLAYER | TEAM | 2014-15 PTS/60 | 2014-15 Relative Corsi% |
| --- | --- | --- | --- |
| Brian Campbell | Florida | 0.15 | +5.17% |
| John-Michael Liles | Carolina | 0.71 | +4.81% |
| Jan Hejda | Colorado | 0.40 | +3.51% |
| Mark Streit | Philadelphia | 1.04 | +2.99% |
| Andrei Markov | Montreal | 0.96 | +2.88% |
| Jordan Leopold | Columbus | 0.56 | -0.37% |
| Marek Zidlicky | New Jersey | 0.69 | -0.38% |
| Francois Beauchemin | Anaheim | 0.58 | -0.55% |
| Willie Mitchell | Florida | 0.29 | -1.62% |
| Lubomir Visnovsky | N.Y. Islanders | 1.11 | -1.62% |
| Michal Rozsival | Chicago | 0.59 | -1.65% |
| Rob Scuderi | Pittsburgh | 0.37 | -2.46% |
| Andrew Ference | Edmonton | 0.31 | -2.53% |
| Stephane Robidas | Toronto | 0.54 | -2.76% |
| Brooks Orpik | Washington | 0.56 | -3.70% |
| Scott Hannan | San Jose | 0.00 | -4.20% |
| Mike Weaver | Montreal | 0.87 | -4.28% |
| Niklas Kronwall | Detroit | 0.74 | -5.20% |
| Chris Phillips | Ottawa | 0.18 | -5.97% |
| Eric Brewer | Anaheim | 0.61 | -6.96% |
| Bryce Salvador | New Jersey | 0.57 | -7.73% |
| Robyn Regehr | Los Angeles | 0.35 | -8.04% |
| Average | | 0.55 | -1.85% |
You should immediately notice that 17 of the 22 players are 'in the red' – their team controlling play more favorably with them off of the ice. Usage and deployment varies on an individual basis, but the mere fact that only five players have been able to do better than break-even by RelativeCorsi% is a major red flag.
The point-scoring is troublesome, too. The group averages about 0.55 points per 60 minutes at even-strength, which is well under the league average (0.71 points per 60 minutes) for regular defencemen.
The few names who populate the top of the list by RelativeCorsi% – specifically Brian Campbell, Mark Streit, and Andrei Markov – seem to make intuitive sense. Like most veteran defenders on this list, they have lost a step or two in the skating department. Unlike most of the same veteran defenders on this list, they are still excellent passers. This pays dividends in every area of the ice, and likely is driving their continued success despite a relative lack of mobility.
Let's further investigate the 'other 17' – the guys whose teams play better with them off of the ice than on the ice. We can compare this year's performance to the past few years (we'll use 2011-2014), mostly to see whether this is the norm over a larger sample, or if their play has further deteriorated.
First, we'll look at even-strength points/60.
This is far from encouraging. Of the 17 defenders with negative possession numbers this season, fourteen of them have seen a slide in point-scoring this year from the past three seasons.
Let's look at RelativeCorsi% next, again charting the differential from 2011-2014 to 2014-2015. Are we seeing stable negative performance, or is their slide growing increasingly negative?
This looks eerily similar to the last graph. 12 of the 17 negative-possession defenders have seen a drop in performance from years past. It's important to remember here that all seventeen are still negative possession players – so, even the few players who have posted slight improvements from years past are still getting caved in territorially.
In the next couple of months, I think you'll see a good number of these defenders be made available by their teams, whether it's to upgrade in the short-term internally, or whether it's to upgrade in the long-term by dangling the mysticism of player intangibles in front of other general managers for future picks and/or prospects.
If I'm looking to upgrade at the deadline and can only choose from this list, Brian Campbell's certainly a name that interests me. Taking a flyer on Marek Zidlicky's expiring deal is intriguing, too. Andrei Markov looks like he still can play, but I doubt Montreal's interested in sending him out. Beyond that, I can't imagine a scenario in which I'd give up even the most marginal of draft picks or prospects to acquire one of these defencemen.