You don't have to be Chara to be an effective NHL defenceman
The Bruins captain is a physical force, but the numbers show there's more than one way to protect a late lead, TSN's Travis Yost writes.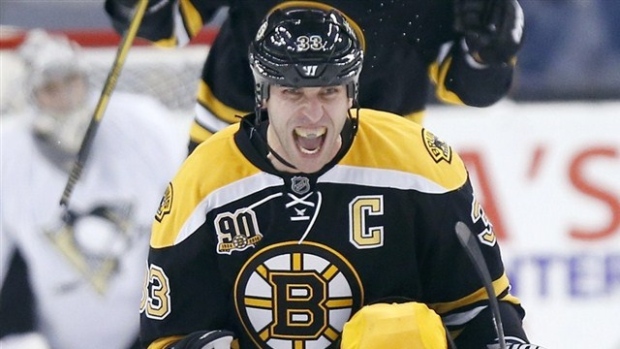 There are 30 seconds left in the game, and your team is up a goal. You need to ensure that the final wave of attacking forwards are kept off of the scoreboard, deterring them from those prime scoring areas where goals are frequently scored.
What kind of defenceman are you putting on the ice?
Zdeno Chara (especially in his heyday) makes an awful lot of sense. Very few can get by Chara successfully. He's a freakish combination of size, power, and mobility, and has a knack for forcing forwards into areas of the ice where they're less comfortable.
But, you don't have to possess Zdeno Chara's skill set and physical attributes to get the job done. There's more than one way to protect a lead late. Offensive defencemen, for example, may be able to deter attacking forwards from those sweet spots on the ice by simply preserving possession of the puck. If your team is in the offensive zone and in control of the play, it's impossible to concede a shot and goal.
Analyzing competency in this area is difficult for this very reason. We often observe the punishing hits dished out by guys like Chara, who has more than earned his reputation as one of the league's best defenders. But we often fail to observe the steady offensive-minded defenders' contributions in the same capacity. This type of player may not be mercilessly separating an attacking forward from the puck as he crosses into the neutral zone, but that's because he doesn't have to – his team has the puck, and they're in the attacking end.
So, which players succeed at keeping guys from getting into these premier scoring areas? Which players fail?
Thankfully, it's a relatively easy question to answer. The NHL has provided shot coordinate data for years, which is easily scrapable. War on Ice has already done the leg work for historical shooting percentages in the defensive zone (properly identifying "danger areas"), as well as league averages.
For the purposes of this analysis, we'll focus on two danger areas – in and around the crease (the horizontal axis, where '0' would indicate that the player gave up just as many shots as the league average), and the 'slot' (the vertical axis, where '0' again indicates that the player gave up just as many shots as the league average).
We'll pull each player's average shots/60 conceded from these areas and compare them to league norms. It'll give us a feel for what players have been the most successful in driving guys out of these areas, regardless of how they're accomplishing this feat. (The analysis will only include defenders with 1600+ minutes over the last two seasons and 120 GP).
Where does your preferred defender sit?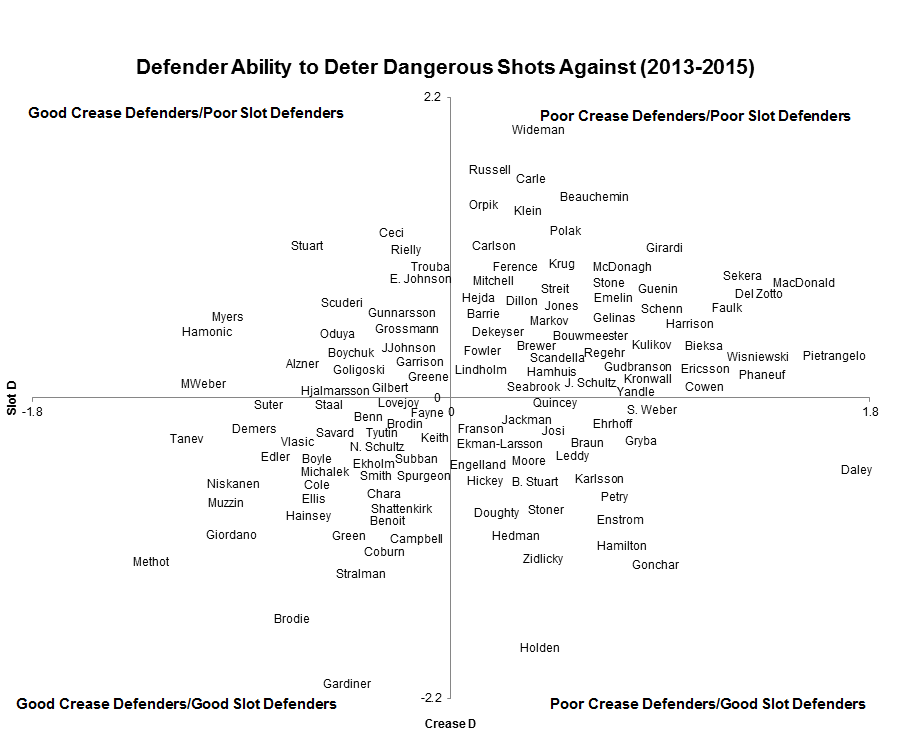 Click Image to Enlarge
The top-right and bottom-left quadrants are really the ones of interest here. The top-right quadrant contains the guys who have leaked more shots from near-the-crease area and slot area than the league average. The bottom-left quadrant contains the opposite – guys who have successfully deterred shots from near-the-crease and slot areas relative to the league averages.
Let's start with the top-right section. Quick sanity check: most of these names are guys you wouldn't in a million years want on the ice for a high -leverage shift. Andrew MacDonald and Dennis Wideman are two of the worst performers here, which I'd submit falls right in line with what we have qualitatively observed for years now. MacDonald gives up about 1.5 more shots per 60 near the crease than the league average. Wideman gives up about two shots per game more from the slot than the league average. If you're trying to figure out where it went south for these guys defensively over the years, you can probably start here. Forwards live in front of their goaltender.
One of the big surprises (to me anyway) in this "bad" group is New York Rangers captain Ryan McDonagh. Despite my objections (and double and triple checking to ensure the data is accurate), McDonagh has leaked quality shots against two years in a row – though, even over that stretch, he still pales in comparison to teammate Dan Girardi.
Oh, and Alex Pietrangelo. We have talked about his shaky underlying numbers before. Consider this another data point against him.
Lastly, it's impossible not to notice how many "defensive defencemen" – by reputation only – sit in this quadrant. Brooks Orpik, Girardi, Roman Polak, and Dion Phaneuf are just four of many names in this list who are oft-regarded as shutdown defenders. By the number of shots they concede from these dangerous scoring areas, the reputation appears undeserved.
Now let's look at the bottom-left quadrant, where our plus-plus defenders sit. It is no surprise to see the likes of Chara, Duncan Keith, P.K. Subban, and Mark Giordano in here. I asked at the beginning of this post what defender you'd have out on the ice in such a key situation. I'm guessing many of you responded with one of these names. If you did, pat yourself on the back!
Just as interesting are the three defenders who, at least in the last two years, have exceeded those three elite defenders in limiting forwards from shots near-the-crease or the slot.
Ottawa's Marc Methot is one of those guys. No defender has been better at preventing shots near the crease than Methot in the last two seasons (1.4 less than the league average, per 60), and he's been just as adept at keeping shots out of the also dangerous slot area. Erik Karlsson gets an awful lot of credit for the dominance of Ottawa's first pairing, but Methot is an instrumental complement. To the extent that Karlsson's firewagon brand of hockey temporarily fails, Methot's become the ultimate bailout package – the guy who can settle things down and cover for his partner.
The graph also shows what Bob Hartley already knows and Mike Babcock is going to quickly learn. They're in possession of monstrously underrated defenders in T.J. Brodie and Jake Gardiner, respectively. Again, I think this speaks to how defencemen can be effective in myriad ways. Brodie and Gardiner are giving up 40 pounds to a similarly-strong defender in Methot, and yet they're able to shut the door to these quality chance areas in the same manner.
The Takeaway
This analysis is just one look at how defenders of different sizes and skill sets can impact the game on the defensive end. In today's NHL, height and weight is just one of many components. Defenders without Zdeno Chara size may not be Zdeno Chara, but they can still develop into one hell of a defenceman.