19 names for the 2019 NHL Draft
TSN Director of Scouting Craig Button takes an early look at 19 players who are on course to be high selections at the 2019 NHL Draft.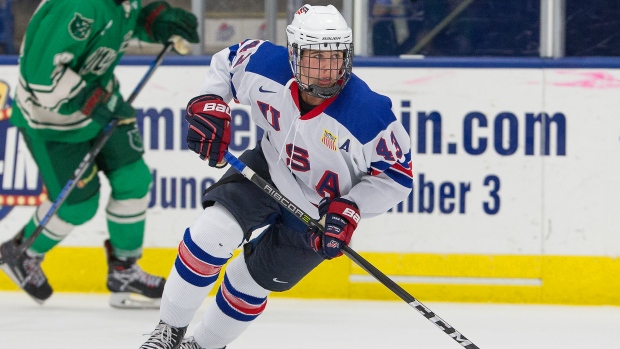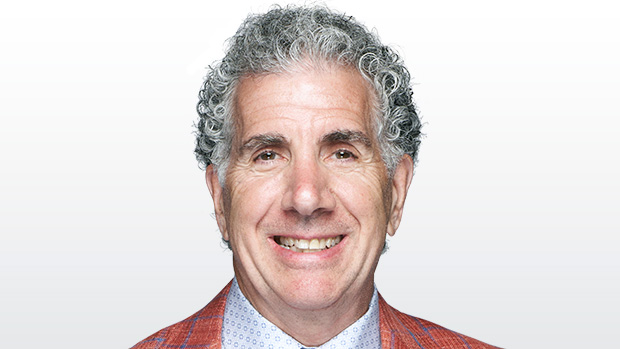 In the scouting game, it's never too early to look to the future.
This week we provide a list of 19 players who have shown immense promise and are on course to be high selections at the 2019 NHL Draft.
The World Under-17 Hockey Challenge in Dawson Creek and Fort St. John, B.C. wrapped up last Saturday night, giving scouts enough high-level competition to start providing a more complete picture of the players to keep in mind for 2019.
Jack Hughes has a rare combination of skill, competitiveness and excitement. He has what I like to call the Holy Trinity of Hockey Skills: great skating ability, fast hands and an exceptional hockey mind. When you add in the pure entertainment value of watching Hughes perform live, he's truly a player that does it all.
The U.S. National Team Development Program centre elevates the players he skates with, helps his team be successful and can bring fans out of their seats. I haven't seen a better player available for the 2019 NHL draft.
Bowen Byram played just about the entire last six minutes of the gold-medal game for Canada Red versus the U.S. He's a smooth-skating and calm defenceman who handles the puck with a confidence and certainty that makes the game look easy.
The Vancouver Giants blueliner's ability to contribute in every meaningful part of the game puts him in a position to be a top-two defenceman at the pro level who can carry the big minutes and make the important contributions.
Dylan Cozens from Whitehorse, Yukon, is a hard-driving, skilled winger who has a burning desire to leave his imprint on the game from both a physical and a skill standpoint. As he continues to develop, the Lethbridge Hurricanes centre is going to be a nightmare for opposing defencemen.
Kaapo Kakko is an emerging Finnish sniper on the horizon. His offensive abilities are excellent and his ability to find the back of the net could see him follow the path of great Finnish scorers like Teemu Selanne and Patrik Laine.
Speaking of scorers, Cole Caufield is a good reminder that offence can come in all shapes and sizes.
Caufield is just 5-foot-6 and 146 pounds, but he lets his actions speak loudly.
The U.S. National Team Development Program forward has the great ability to arrive at the right spots at the right times, which makes him very difficult to mark. He has a quick release and is elusive. When you score like he does, height doesn't matter.
Also included on this list is Kelowna Rockets left wing Nolan Foote, son of former NHLer Adam Foote, who played in the World U17 Tourney in 2016 in Sault Ste. Marie but has a birthdate that makes him eligible in 2019.
The 19 For '19
| Name | Pos | Ht | Wt | Team | GP | G | P |
| --- | --- | --- | --- | --- | --- | --- | --- |
| 1. Jack Hughes | C | 5'9 ½ | 157 | USA NTDP (USHL) | 16 | 11 | 37 |
| 2. Bowen Byram | D | 6'0 | 179 | Vancouver (WHL) | 16 | 1 | 10 |
| 3. Dylan Cozens | RW | 6'2 ½ | 174 | Lethbridge (WHL) | 13 | 7 | 13 |
| 4. Kaapo Kakko | RW | 6'1 ¼ | 187 | TPS Jr. (Fin Jr. U20) | 19 | 13 | 26 |
| 5. Tobias Bjornfot | D | 6'0 | 187 | Djurgardens (SHL) | 16 | 2 | 13 |
| 6. Vasily Podkolzin | RW | 6'0 | 183 | Podolsk (MHL) | - | - | - |
| 7. Kirby Dach | C | 6'0 ¾ | 195 | Saskatoon (WHL) | 11 | 1 | 4 |
| 8. Cole Caufield | RW | 5'6 | 150 | USA NTDP (USHL) | 16 | 23 | 31 |
| 9. Ilia Mironov | D | 6'3 | 201 | Yaroslavl (MHL) | 10 | 1 | 7 |
| 10. Matthew Robertson | D | 6'2 ¾ | 196 | Edmonton (WHL) | 16 | 3 | 4 |
| 11. Albin Grewe | RW | 6'0 | 176 | Djurgardens (SHL) | 12 | 2 | 11 |
| 12. Alex Vlasic | D | 6'5 | 193 | USA NTDP (USHL) | 16 | 4 | 12 |
| 13. Matthew Boldy | LW | 6'0 ¾ | 175 | USA NTDP (USHL) | 16 | 9 | 25 |
| 14. Tag Bertuzzi | LW | 5'11 ½ | 195 | Guelph (OHL) | 7 | 0 | 2 |
| 15. Peyton Krebs | C | 5'10 ¾ | 173 | Kootenay (WHL) | 16 | 3 | 13 |
| 16. Daniil Gutik | LW | 6'3 | 179 | Yaroslavl (MHL) | 3 | 1 | 5 |
| 17. Sasha Mutala | RW | 6'0 ¼ | 188 | Tri-City (WHL) | 15 | 2 | 3 |
| 18. Ryan Suzuki | C | 5'11 ¾ | 173 | Barrie (OHL) | 15 | 1 | 11 |
| 19. Nolan Foote | LW | 6'3 | 187 | Kelowna (WHL) | 20 | 5 | 12 |