A look at hockey's analytical darlings and duds
Travis Yost presents his annual advanced statistics-based list of the most underrated and overrated players in the NHL.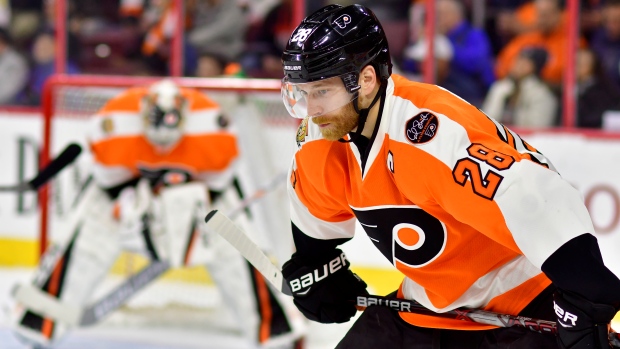 As an annual exercise just before the start of the NHL regular season, I like to produce a list of 10 NHL players who exist in a space where there is significant disparity between their perceived and actual value.
On one side we have a group of players who I argue are generally underrated by the hockey community. We'll call them our analytical darlings.
Naturally, there has to be an opposing group – players whose value is generally overrated by the hockey community. This group of five is known as our analytical duds.
Before we get into the unveiling of our 2017-18 teams, let's be clear that these lists are subject to change every single year. Everything is based on current perception, and so what the hockey community values in specific players in September 2017 may not be true by the time September of 2018 or 2019 rolls around. It's just something to keep in mind.
With that, let's unveil our team of analytical darlings. Five players who I think are, by and large, tremendously underrated across the league:
The Darlings
F: Brandon Saad (CHI) – Andrew Cogliano (ANA) – Nino Niederreiter (MIN)
D: Jaccob Slavin (CAR) – Hampus Lindholm (ANA)
Brandon Saad is my first pick, and I think an excellent starting point for this team. There were questions about how much Saad benefited from starting his career in Chicago and playing extensive minutes with names like Jonathan Toews, Patrick Kane, Marian Hossa, and so on. Then he went to Columbus, anchored his own line, and still put together a 24-goal, 53-point season.
Saad has emerged as one of the league's premier 5-on-5 weapons – one of the biggest reasons why Chicago reacquired him this summer. He's ninth in 5-on-5 goal-scoring since the 2014-15 season with 69 markers, sandwiching him between weapons like Nikita Kucherov in Tampa Bay and Tyler Seguin in Dallas.
The other winger on the team, Minnesota's Nino Niederreiter, is a player I wrote about during the summer. His career arc – from potential draft pick bust to perennial 20+ goal scorer – has been remarkable to watch. But one point I harped on (and it's worth revisiting) is just how materially better the Wild are with Niederreiter on the ice. Every single one of his teammates sees a decisive increment in shot advantage when playing with him. These splits from the 2016-17 season are remarkable: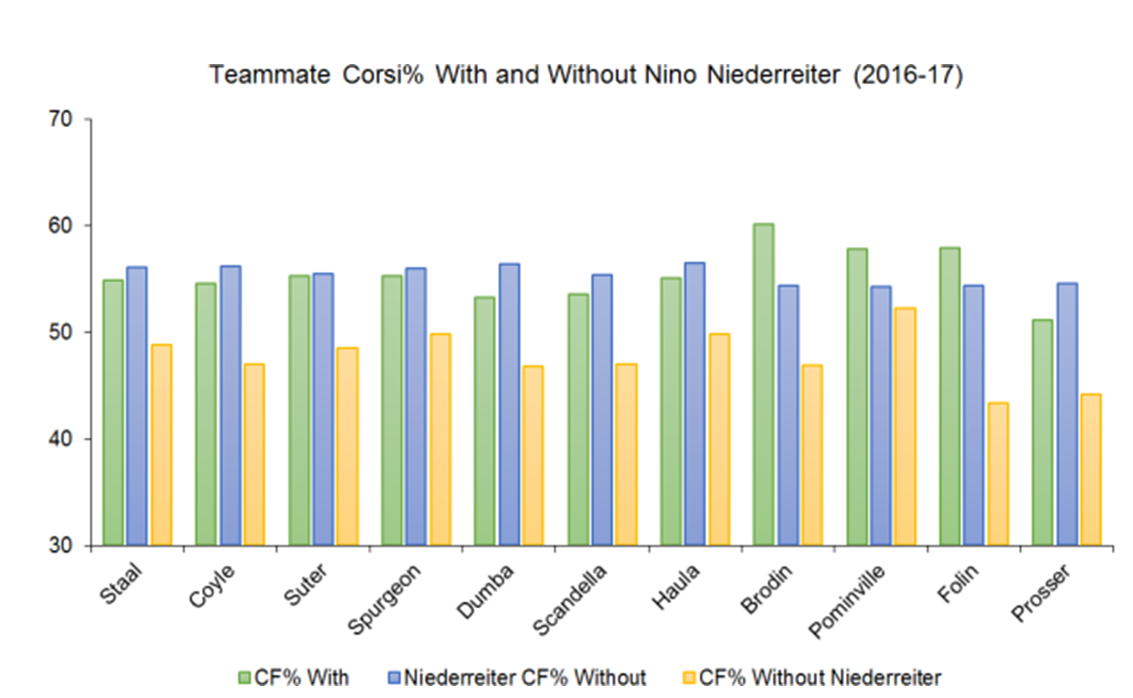 Niederreiter was near the top of the league in RelativeCorsi% last season – Minnesota was a 47 per cent shot team with him on the bench and 55 per cent with him on the ice. For a point of reference, Patrice Bergeron – consistently regarded as a dominant driving force – gave the Boston Bruins about nine points in shot advantage. Anytime you are in the vicinity of the Boston centre, it's a huge compliment.
My centre is the ironman himself, Andrew Cogliano. Cogliano's best years are probably behind him, but at the age of 30, he's still two things – incredibly durable and impeccably versatile. He hasn't missed a regular-season game in four years, and in that stretch has averaged about 35 points a season with one of the league's last checking lines – a group created to slow down the opposition's best on every single night.
Not only has Cogliano mastered that skill, he's also remained a fantastic penalty killer. The name Ryan Kesler gets a lot of the pop in Anaheim, but I think there's a good argument to be made that Cogliano's the one who really stirs the drink when the Ducks are down a man.

These are absolutely crazy numbers. Think about it like this: NHLers will score nearly twice as many goals per-60 minutes against an average penalty killer than he would against Cogliano. Better yet: power-play units get about 91 per cent of the goals when up a man. When they're facing Cogliano that number drops to about 77 per cent.
Now, the best penalty-kill unit remains the one that doesn't have to play – discipline is always better than the alternative. But in the instances where the Ducks do have to play two minutes or more down a man, they have the league's preeminent weapon in Cogliano.
On the defensive side, I had two easy choices. The minute the Carolina Hurricanes become a legitimate playoff threat – which, I suspect, is this season – will be the minute we start hearing an awful lot more about Jaccob Slavin. He's entering his third season and has flown under the radar thanks to middling Carolina performance. His numbers are anything but middling.
In fact, they look just as good as another great young defender – Anaheim's Hampus Lindholm. Lindholm is, perhaps after the aforementioned Patrice Bergeron, the player analytics folks drool over. I'd ague he's still underrated. I know this because one media outlet just this summer identified him as just the 21st best player under the age of 25. Another didn't even name him as a top-50 player, despite placing 13 defenders on the list.
Consider the below table which looks at six key performance indicators – the way shots fall, the way expected goals fall, and the way goals actually fall with either of these defenders on the ice. Each player is compared to every other defender in the league. Thus, a defender grading out in the 100th percentile would signal as being better than every single one of his peers in that category.
Slavin's numbers are definitively first-pairing quality – pretty nice for a former fourth-round pick. But I think the Lindholm story is an even bigger one, and more evidence that great players can still be tremendously underrated. Lindholm grades out as being better than 95 per cent of his peers in every major on-ice statistical category. That's better than Erik Karlsson, Brent Burns, Drew Doughty or any other defender you can name.
Is Lindholm the NHL's best defender? Probably not. But I think it's time we start at least having that conversation. Anaheim owns the puck like no other team when he's out there, and for the Ducks last season that was almost 40 per cent of the game.
The Duds
F: Justin Abdelkader (DET) – Claude Giroux (PHI) ­– Ryan Strome (EDM)
D: Cody Ceci (OTT) – Rasmus Ristolainen (BUF)
Justin Abdelkader is one of those classic players where the eye test seems much more encouraging than the statistical measures. Abdelkader, to briefly review, is on a seven-year contract and made an appearance with the United States men's hockey team at last year's World Cup of Hockey. Whichever way you slice it, it appears that the executive groups within hockey see Abdelkader as some type of cornerstone.
The argument against Abdelkader is multi-faceted, but is by and large predicated on the fact that he's being paid and played like a top-six option. Offensively, (and it's worth pointing out, the value in Abdelkader's game – if it exists – is that he's a stronger defensive option than an offensive one), his production is infrequent. His 1.2 points per-60 minutes are bottom 25th percentile in the league over the last three seasons, trailing names like Matt Calvert, Brian Boyle, and Ryan White. Although it's worth mentioning that he doesn't exactly get to play with snipers, it's also worth pointing out he's individually a career 8 per cent shooter.
Defensively, he doesn't add nearly enough to offset the offensive zone struggles. The Red Wings, despite being about a 49 per cent Goal% team at 5-on-5 in the last few years, score just 45 per cent of the goals with Abdelkader on the ice. That's largely because Abdelkader and company give up about 2.3 goals against per-60 minutes, which is actually higher than the median goals against rate in the league.
Philadelphia's Giroux is my pick at centre. Giroux's strengths are obvious – he's still a great distributor when he has time and space, and that's patently obvious on the power play. Giroux's anchored a strong Philadelphia power-play unit for years and, generally speaking, has been one of the big reasons why their first unit has had success.
But everywhere else, his drop-off is alarming – particularly at even strength. Giroux scored just 0.9 points per-60 minutes last year, which was better than only 21 of the league's regular forwards. A large part of this is the fact that Giroux's individual shooting went completely in the tank, and his evolution into a pure playmaker hasn't happened. Just look at how his conversion rates and shot generation rates have trended over time:
The other winger on the list is Ryan Strome, acquired by Edmonton from the Islanders in June for Jordan Eberle. There was some contractual stuff in play as part of this swap, but the Oilers – thanks to the presence of Connor McDavid – are a legitimate contender in win-now status. The general consensus is that Strome can come in and reasonably replace Eberle's production, and the Oilers will be no worse off for it.
Unfortunately, I'm not sure if it will shake out that way. For starters, Strome – despite being billed as an elite playmaker since his time with OHL's Niagara IceDogs – hasn't really produced at the NHL level. His power-play numbers amongst regular forwards in that environment are some of the lowest scoring rates the NHL has had to offer, with him getting credited for 2.5 points per-60 minutes of 5-on-4 time. (As a frame of reference, 10 NHLers beat that number at 5-on-5; 95 per cent of forwards on the power-play were better.)
So, what exactly is Strome, and how do the Oilers use him? He's not a power-play weapon. And his scoring rates in general (despite some encouraging signs in 2014-15) haven't played out the way you'd think for a guy seeing substantial ice time with John Tavares and Brock Nelson. For Strome and Edmonton, the bet is that a change in scenery will pay dividends. But right now, Strome looks like a low-end top-six option – a reasonably far cry from what Eberle has been for most of his career.
For my choices on the blueline, we have two players with (a) a ton of draft pedigree as former first-round picks; and (b) a bunch of ice-time on generally underwhelming defence groups. There's no doubt that both Cody Ceci and Rasmus Ristolainen have played some pretty tough minutes for their respective teams – Ceci in a shutdown role behind the Karlsson pairing in Ottawa, and Ristolainen trying to carry a series of underwhelming partners to decency.
The biggest objection that you can levy with both of these players is that neither is showing any sign that they'll be the first-pairing talents they were once projected to be. I've made this argument before, but one of the easiest ways to spot a first pairing defender is to see how on-ice numbers move when they're on the ice. This is true for Corsi% but it's also true for things like Expected Goals% – which is essentially just Corsi% adjusted for shot quality and location – and, in longer-term, goals.
Below is a table – the same table from the Slavin and Lindholm series – showing the percentiles Ceci and Ristolainen compare against other defenders across the league. Again, keep in mind that most 'first pairing' guys by minutes played are consistently out-performing 75 per cent or more of their peers at each level.

The question I continue to ask: If you want to chalk up some of the above to tough matchups, less-than-stellar partners or inconsistent quality of teams, fine. But I can't think of another defender in the modern era who has put consistent third-pairing numbers up for three years (or more) pivoting and becoming a truly talented two-way player. The odds are with neither right now.
Data via Corsica and Hockey Reference