After slow start, Byfield finding his World Junior rhythm
Quinton Byfield arrived at Canada's World Junior selection camp as one of the most hyped players. The Sudbury Wolves centre, a tantalizing mix of size, speed and skill, had just gone second overall to the Los Angeles Kings in the National Hockey League draft making him the highest pick on a Canadian roster overflowing with talent, Mark Masters writes.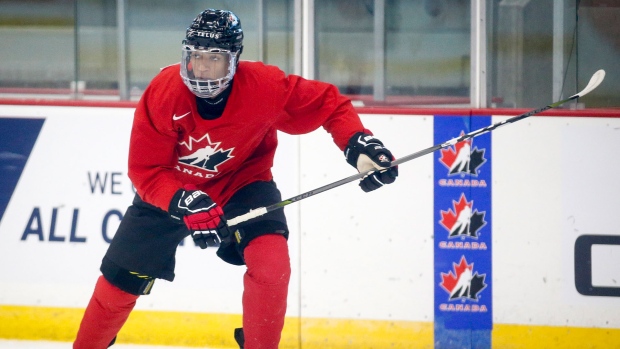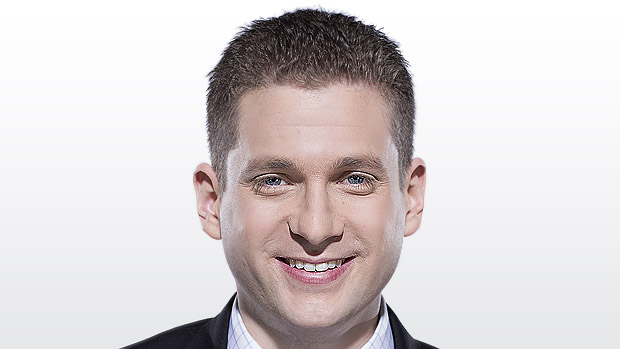 Team Canada practised on Monday inside the Edmonton bubble.
---
Quinton Byfield arrived at Canada's World Junior selection camp as one of the most hyped players. The Sudbury Wolves centre, a tantalizing mix of size, speed and skill, had just gone second overall to the Los Angeles Kings in the National Hockey League draft making him the highest pick on a Canadian roster overflowing with talent.
But Byfield struggled to get up to speed early on.
"Going through nine months of not being on the ice too much and not getting to go through team practices was definitely challenging," he admitted. "Getting back in the flow of things definitely took me a little bit, but I'm starting to find my rhythm and getting used to all the hard practices that we're putting in here."
Byfield produced just one assist in the four intra-squad scrimmages. He played the first two on a line with Samuel Poulin, who was eventually cut, and Peyton Krebs. In the third scrimmage Jack Quinn slotted in on left wing with Byfield and Krebs. In the fourth scrimmage Byfield skated between Connor Zary and Phil Tomasino.
"It's no secret that he had a little bit of a slow start, but since then he's made a big stride," said head coach Andre Tourigny. "What I like about Quinton is he's very coachable. Every time we asked him to make some adjustments, he did it with a smile, no problem, no body language. He tries to be better every day and he competes extremely hard."
After the final cuts, Byfield continued to skate with Zary and Tomasino with Ryan Suzuki also getting some looks on the right side. That group projects to be Canada's fourth line although Tourigny made it clear there is an opportunity for players to move up with a strong effort in Wednesday's pre-tournament game against Russia.
So, what does Byfield need to show?
"The one thing they're really [stressing] now is puck management and really trying to control the game like that," Byfield revealed. "I have to work on that a little bit, but when the games come I think I'm going to be there and ready to make a difference."
"Sometimes with the puck he tries to do a little bit too much," Tourigny noted, "but it's not because he doesn't care. It's not because he's sloppy. It's just habits he has to change a little bit."
Byfield is the youngest player on Team Canada and while he dominated the Ontario Hockey League to the tune of 82 points in 45 games last season, the World Juniors are a different animal. Byfield learned that last year when he started in a top-six role in Ostrava before ending up as the 13th forward in the gold-medal game.
"In the OHL you're not playing against all the top prospects in the world and here you are," he noted. "You're playing guys from overseas and they play different systems than the CHL teams so adjusting to how they play and what you can do to beat that is a little bit of an adjustment."
When questions about Byfield's play surfaced in the media during the selection camp, agent Jeff Jackson took to Twitter to defend the 18-year-old.
This is what it's come to? 4 scrimmages for these kids after 8 months of no competitive hockey and we are going to start judging kids and rating the lines as 1st, 2nd etc. etc. It's ridiculous and unnecessary. Give me a break @jimmathesonnhl. https://t.co/trHruAOBhW

— Jeff Jackson (@JLJax12) December 11, 2020
For his part, Byfield insists he's not too worried about his standing on Canada's deep roster. His Instagram bio includes a smile emoji and a link to the definition of the word smile. He takes pride in being a positive person.
"There's a lot of guys on the team, I think it's 20 guys or something, that are first rounders so a lot of guys can play anywhere. I'm just happy to be on the team. If you get moved up in the lineup good for you, but wherever you are just take your opportunity. You're playing for your country so you're just happy to be here, honestly ... one of our mottos is, 'Check your ego at the door,' and that's very important to us."
Byfield is also quick to point out that Tomasino racked up 100 points last season in the OHL while Zary had 86 in the Western Hockey League. He believes his line can do some serious damage even in a limited role.
The last two times Canada won the gold medal, in Buffalo in 2018 and last year in the Czech Republic, the clinching goal came off the stick of a fourth liner. And there's a sense that Byfield will be ready for a big moment despite the early hiccups.
"I'm not worried," said Tourigny. "With all the talent he has and all the skill he has good things will happen. What's important for him is to be a reliable player and improving his puck management and if he does I have no doubt he will be a big key for us."
---
Players will often talk about how getting cut motivated them to prove the team wrong. Saginaw forward Cole Perfetti spoke on Sunday after how missing out on Team Canada last year fired him up and served as springboard to a strong second half of the season.
Braden Schneider had a different reaction. Getting cut by Team Canada didn't make him angry, it got him thinking.
"Last year was a big learning thing for me," the Brandon Wheat Kings defenceman said. "I think I grew more than I ever would have if I made the team."
So, getting cut was actually a blessing in disguise. It served as a much- needed wake-up call.
"I learned a lot more about what it takes," the New York Rangers first rounder said. "I'd never really been cut from a team so you learn a lot more from your failures. For me, personally, I knew I had a lot more work to do and a lot more growth as a player and a person and I took full advantage of that."
Schneider made the team this year, which is a thrill for him and his family. Shortly after his spot in the bubble was confirmed his father, Kelly, changed the Christmas lights at their Prince Albert, Sask. home from white to red and white.
"After what happened last year and them seeing the disappointment, but also the amount of growth I made, I know they wish they could be here to support me," Schneider said with a smile. "They're trying everything they can to show they're still there."
The Schneider family celebrating their son making the World Juniors is so wholesome 🥺

MORE: https://t.co/Yglys39UCF pic.twitter.com/2qzgo70W0J

— BarDown (@BarDown) December 12, 2020
Schneider's parents aren't the only family members getting caught up in the excitement.
During the team's two-week quarantine during the selection camp the players took part in a painting competition inspired by Bob Ross videos. Those paintings are now being auctioned off for charity by Tourism Red Deer. Most of the paintings only have one or two bids so far, but Schneider's leads the way with 11. He said his aunt is engaged in a bidding war with someone else. The auction for Schneider's painting was up to $150 on Monday night, which is $100 higher than anyone else.
Bidding closes on New Year's Eve.
Place your bid to own one of @HC_WJC Bob Ross inspired paintings created during their quarantine in Red Deer! @TourismRedDeer @RedDeerChamber have just launched the online auction https://t.co/qC1JpltmVY, all proceeds go to charity! Share, support, place your bid!#WorldJuniors pic.twitter.com/GARMdyK8rA

— Tourism Red Deer (@TourismRedDeer) December 17, 2020
---
After being listed as an extra forward in the initial practices after the final cuts were made, Suzuki has taken the first reps as the fourth line right winger in the last two practices. He even saw some action with Canada's top power-play unit on Monday.
"We really like what Suze brings," said Tourigny. "He's good on special teams, both of them, he's good on face-offs and he's a super smart player and super reliable defensively. Everybody talks about his skill and his speed, but I think every player on our team has those. The difference? Suze is super smart. He reads the play. He reads off his teammate. He's always one play ahead. He has that next-play mentality we really like."
---
Team Sweden is out of quarantine and back on the ice inside the World Junior bubble. How'd Monday's practice feel?
"Fantastic," said winger Alexander Holtz with a big smile. "You wait so long to be on the ice. It was like Christmas for a child."
The Swedes had their initial four-day quarantine extended by three days after two staff members tested positive for COVID-19.
"The last couple days I've been stick handling with an orange," Holtz said. "I didn't have a tennis ball. It was the only thing I had in my hotel room so it was different, but it feels almost like a tennis ball."
The New Jersey Devils first rounder said the other option was a muffin, but he didn't think it would hold up as well.
Sweden has already faced its fair share of adversity on the road to the World Juniors with four players and four members of the coaching staff being ruled out of the tournament due to positive COVID tests at the training camp back home. They only had two coaches overseeing practice on Monday with new head coach Joel Ronnmark being assisted by Anders Eriksen.
The players don't seem to mind.
"It's not that much negative feedback," Holtz noted with a chuckle. "They don't see as much as they usually do."
Holtz, who skated on a line with Albin Sundsvik and Lucas Raymond, is expecting big things from himself at this year's World Juniors.
"We had a tough end last year losing in the semis against Russia. I've been looking forward to this for one year so, yeah, I'm really pumped up," he said. "I'm much better. I'm stronger. I'm faster. My overall game has been so much better. I've grown a lot this season."
Holtz has 13 points in 19 games with Djurgardens in the Swedish Hockey League.
---
Due to the latest positive tests, Sweden had its pre-tournament games cancelled, which will make it harder for the team to start the tournament strong. That means the country's ridiculous preliminary round win streak at the World Juniors – 52 games dating back to Dec. 31, 2006 – is in serious jeopardy.
"I don't care about it," said Holtz. "You can lose a game in the group stage. We lost our first game to the US at the U18 [World Championship] at home, I think it was 6-1, so you can lose a game and still win a tournament."
The last three gold medalists at the World Juniors all lost a game en route to the title. Canada lost to the United States outdoors in Buffalo at the 2018 event. The Finns actually lost two games in Vancouver before turning things on in the knockout stage in 2019. And last year Canada was humbled 6-0 by Russia before getting revenge in the final.
"The tournament really starts in the playoffs," said Raymond. "We want to win the gold and not focus that much on a streak."
---
Despite being Team USA's youngest player, Michigan centre Matthew Beniers is poised to play a big role in Edmonton.
"He's a driver," said head coach Nate Leaman. "He can drive a line. He's come in and he hasn't changed his game at all. I don't think he's intimidated by anything. He's been a big boost for us ever since the summer camp. I expect him to bring us a good energy and good momentum in a lot of different situations."
The 18-year-old isn't setting any big goals ahead of his World Junior debut.
"I'm trying to not come into the tournament with any expectations," Beniers said. "I'm just kind of a calm person. When I get on these big stages I try not to think about that and just think about having fun ... winning's fun so that's what I try to do every game."
Beniers ranked No. 4 on TSN's list of top 2021 draft prospects compiled by Bob McKenzie. When he's at the top of his game, what's he doing?
"I have the puck on my stick a lot," he said. "I'm a very good distributor so when I have the puck and I'm able to create time and space for myself I can find guys in good spots for them to get shots or I can create space for myself to shoot. Being from Boston I'm a big Bruins fan so I've always watched [Patrice] Bergeron and [Brad] Marchand and [David] Pastrnak and always been a player like Bergeron, a 200-foot guy who plays both sides of the puck."
After getting voted the best game show host on Team USA by his teammates, Beniers was given the job of hosting a 'Quarantine Quick Shifts' segment during the team's isolation period upon arriving in the bubble.
Tigers and bears and... goldfish? Oh my! @Matty_Beniers10 and special guest host @tzegras11 go in-depth with @colecaufield and Matt Boldy in the final episode of Quarantine Quick Shifts. #USAWJC

Today's #WorldJuniors notebook ➡️ https://t.co/o4nl8Yf3b3 pic.twitter.com/QqncBEdasL

— USA Hockey (@usahockey) December 17, 2020
Beniers certainly isn't camera shy and he graciously agreed to play a little word-association game with TSN after a recent practice.
What's the first thing that pops into his head when he thinks of ...
Cole Caufield? "Scoring."
Matt Boldy? "Strong."
Spencer Knight? "Brick wall."
Arthur Kaliyev? "Goal scorer."
Trevor Zegras? "Silky."
World Juniors? "Awesome."
Matty Beniers? "Happy."
---
Lines at Team Canada's practice on Monday:
Quinn - Cozens - Dach
Holloway - Newhook - Pelletier
Perfetti - McMichael - Krebs
Zary - Byfield - Suzuki
Tomasino, Mercer
Byram - Drysdale
Harley - Schneider
Guhle - Barron
Korczak (R) - Spence
Garand, Gauthier, Levi