Agent: Market heating up for Vanek, Stafford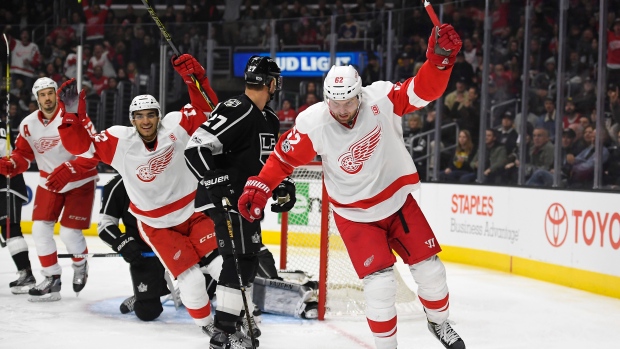 With less than a month remaining before NHL training camps open, Thomas Vanek and Drew Stafford are among the veteran players still searching for jobs.
However, according to their agent Steve Bartlett, interest has picked up and contracts could soon follow.
"I do feel optimistic that something will come through for both of these guys in the next week or two," Bartlett told Buffalo's WGR 550. "And I think definitely the temperature has risen from teams around the league on both players."
Helene St. James of the Detroit Free Press reported earlier this off-season the Red Wings were staying in touch with Vanek, but with the team facing a cap crunch already, a deal seems unlikely.
Vanek scored 17 goals – the most among remaining unrestricted free agents - and tallied 31 assists in 68 games split between the Red Wings and Florida Panthers last season. The 33-year-old is coming off a one-year, $2.6 million contract.
The fifth overall pick of the 2005 Draft, Vanek has 333 goals and 364 assists in 885 career games with the Panthers, Red Wings, Minnesota Wild, Montreal Canadiens, New York Islanders, and Buffalo Sabres.
Stafford has reportedly been staying in touch with the Boston Bruins, who acquired him at last season's trade deadline, but he may have to settle for a professional tryout.
Stafford scored four goals and added four assists in 18 games with the Bruins after being acquired for a conditional sixth-round draft pick. He added two goals in six playoff games as the Bruins were eliminated in the first round by the Ottawa Senators.
The 31-year-old scored eight goals and posted 13 points in 58 games with the Bruins and Winnipeg Jets.
Stafford, a first-round pick of the Buffalo Sabres in 2004, scored 21 goals with the Jets in 2015-16. He scored a career-high 31 goals in 62 games with the Sabres during the 2010-11 season.