An analysis of how the league's best forwards score goals
Alex Ovechkin fires blistering slap shots past goalies while Patrik Laine scores a high percentage of his goals with quick snap shots. Other top forwards favour backhands or deflections, proving that there are many ways to be a lethal weapon in front of the net, Travis Yost writes.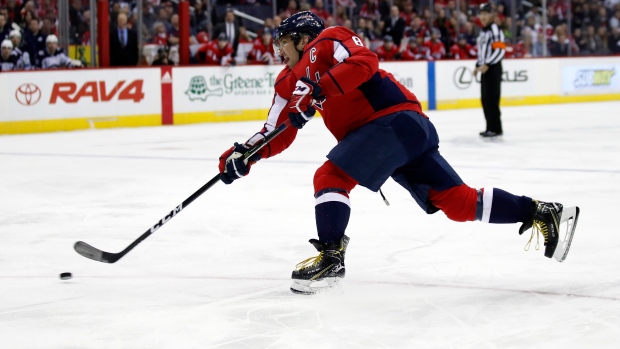 One thing that always fascinates me about the NHL's modern day goal scorer is that there are an awful lot of ways to be successful.
Look at last year as just one example. Alexander Ovechkin – surprise! – was the league's most successful goal scorer. Ovechkin is incredibly predictable in the offensive zone. He tends to sit in or around the left circle and fire blistering slap shots and one-timers past goaltenders. He can be a bit reliant on his playmaking linemates to set him up, but they are equally reliant on him to put the puck in the back of the net. To this day, no one has really figured out a way to slow down Ovechkin or his patented slapper.
Not everyone fits the Ovechkin mould, though Patrik Laine is probably the closest thing we have. He likes to manoeuvre around the circles as well, but a much higher percentage of his goals are considered snap shots. The mechanics of the snap shot are much quicker than something like the Ovechkin wind up, and are deadly when a goaltender is trying to recover his position. Minnesota's
Eric Staal doesn't possess the same type of shooting talent as an Ovechkin or Laine, but he still managed to add 42 goals to his name last season – his best number since 2005-06. And he had his lightning-quick wrist shot to thank for it.
Out of curiosity, I wanted to see just how variant the league's preeminent goal scorers were by shot classification. (We already know that shot locations, as another example, are quite different from player to player.) The table below shows every player who totalled 30 or more goals last season, and the percentage of those goals by shot type. The table is sorted alphabetically by team for quick reference: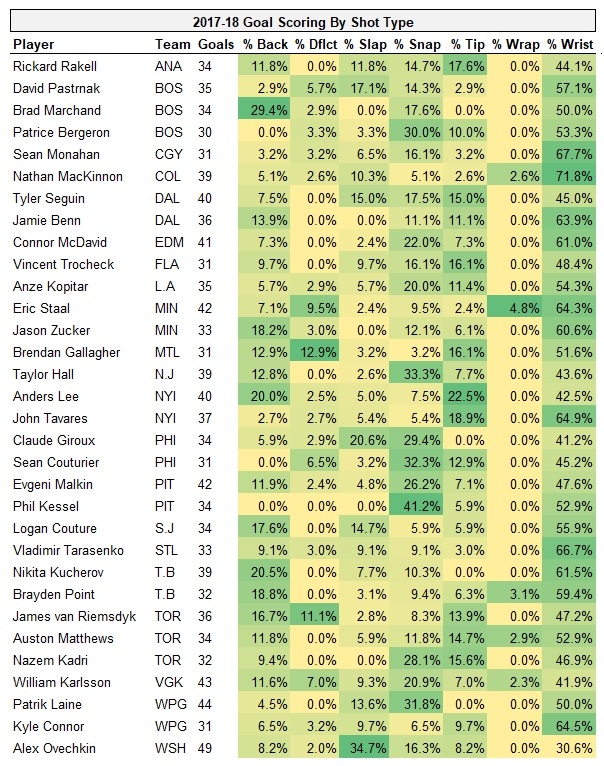 A few thoughts by grouping:
- No skater has been more lethal with his backhand than Brad Marchand. Ten of his goals last year (29.4 per cent) came by way of the backhand, which is the second year in a row he has done that. In fact, in the modern era of the NHL (2007-18), only six players have scored nine or more goals in a single season by way of the backhand. Marchand (in 2011-12, 2015-6, 2016-17, and 2017-18) accounted for four of those. The other two were Corey Perry and Jamie Benn, both in 2010-11.
- One interesting backhand duo to watch – Nikita Kucherov and Brayden Point, who combined for 14 goals of this variety last season.
- Goals by deflection are often a pretty strong proxy of guys who can establish frequent and effective net-front presence – usually a combination of leveraging size and positioning, consistent screens of opposing goaltenders and, obviously, the requisite hand-eye coordination needed to redirect a puck. The players who usually grade out well by deflection also tend to grade out well by tips – a measure further off to the right. Thus, it's not particularly surprising to see Montreal's Brendan Gallagher (13 per cent by deflection; 16 per cent by tip) and Leaf turned Flyer James van Riemsdyk (11 per cent by deflection; 13 per cent by tip) at the top of these lists. Gallagher is, in my mind, a textbook example of why sheer size doesn't necessarily indicate a player will be effective in the home plate area. Gallagher's 5-foot-9, 180 pound frame hasn't meant anything as it pertains to effectiveness in tight. He's one of the hardest players to leverage out of position in the league - not dissimilar to the much larger van Riemsdyk.
- New York's Anders Lee scored a disproportionately high number of his goals by way of tip (23 per cent), and that's been pretty consistent with his track record as an attacker since entering the league. One other player who deserves a mention here though is Florida's Jonathan Huberdeau. His 27-goal total left him just off of the list, but nine of those goals (33 per cent) came by way of tip. Along with New York's Chris Kreider, these are probably the top three most skilled players in the league at tipping teammate shots (generally from in or around the blueline) into the net.
- The average elite scorer has about seven per cent of his goals come by way of the slap shot. That's what makes the aforementioned Ovechkin number (35 per cent of his 49 goals) so ridiculous. But one other player grades out as an even larger outlier – Tampa Bay's Steven Stamkos, who scored a whopping 45 per cent of his goals by slap shot last season.
- Most goals in the NHL still come by way of the wrist shot – more than half for a high-end forward. Nashville's Filip Forsberg (88 per cent) sat on the high end, with only three of his goals classified as a shot other than a wrister. The aforementioned Stamkos and Ovechkin, who have very established spots on the ice and prefer to play the role of finishers a bit further out from the net, sat on the low side (29 per cent).