Andreescu captures US Open for historic Grand Slam title
Bianca Andreescu is the U.S. Open champion. The Mississauga, Ont., native downed tennis great Serena Williams 6-3, 7-5 on Saturday to become the first Canadian to ever win a Grand Slam singles title.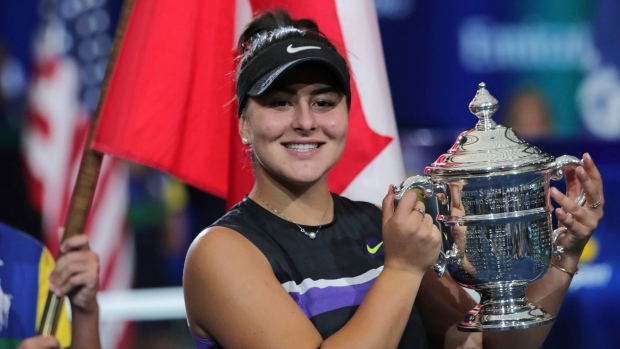 NEW YORK — Bianca Andreescu was posing for photos with coach Sylvain Bruneau after her U.S. Open championship victory when someone pointed out that Bruneau was holding his coach's trophy backwards.
"I'm not used to this," he said sheepishly.
"Get used to it," Andreescu replied with a smile.
The 19-year-old from Mississauga, Ont., played a statement match Saturday, downing tennis great Serena Williams 6-3, 7-5 to become the first Canadian to win a Grand Slam singles title.
She the North is here to stay.
And now that she's tasted success at a major, she's hungry for more.
"My goals have been just to win as many Grand Slams as possible, become No. 1 in the world," Andreescu said. "The idea of fame never really crossed my mind — I'm not complaining though — It's been a crazy ride this year.
"I can definitely get used to this feeling."
Andreescu used her powerful forehand — and was helped by a slew of uncharacteristically bad serves from the veteran Williams — to win the U.S. Open in her first main draw appearance at Flushing Meadows.
The Canadian sprawled belly-up on the court after breaking Williams with a forehand return on championship point. Then she got up, climbed a ladder to get to her players' box and embraced Bruneau and her mom and dad.
Seeded No. 15 at the major, Andreescu will reach a career high No. 5 when the new WTA rankings are released Monday. She also earned US$3.85 million for the victory and improved to 8-0 against top 10 opponents — all this year.
"I've been dreaming of this moment for the longest time," Andreescu said, pausing to cover her face as tears began to well in her eyes.
"For it to become a reality is just so crazy."
It wasn't a pretty match for Williams, who struggled on her serve throughout.
But the 23-time Grand Slam champion showed fight late, staving off two championship points and breaking Andreescu on back-to-back service games to tie the set 5-5 and send the crowd of 26,191 at Arthur Ashe Stadium into a frenzy.
Williams, who had dominated throughout the last two weeks in New York, called Saturday's match her worst performance of the Grand Slam.
"I love Bianca, I think she's a great girl, but I think this is the worst match I've played all tournament," she said. "It's hard to know that you could do better. ... I don't even know what to say."
The No. 8-seeded Williams won her first U.S. Open title here 20 years ago — before Andreescu was born — and the New York crowd was hoping the 37-year-old could add another championship to her lengthy list of accomplishments.
While there was a loud applause when Andreescu was introduced before the match, the ovation for Williams was deafening.
Andreescu said she had to fight off the crowd noise at times, especially when she saw her 5-1 lead evaporate in the second set.
"I could barely hear myself think, it was really, really loud," Andreescu said. "But I guess that's what makes this tournament so special."
Saturday's match lasted 1 hour 40 minutes, about 80 minutes longer than their last meeting, at the Rogers Cup final in Toronto last month.
Andreescu, competing in Toronto after missing two months of the season with a shoulder injury, won that title when Williams retired with back spasms. The Canadian was leading 3-1.
Andreescu began 2019 ranked No. 152 and reached a career high No. 15 heading into the U.S. Open after a stellar season that included her first two titles.
She has been one of the best Canadian sports stories of the year, garnering praise from the likes of Wayne Gretzky, Sidney Crosby, Steve Nash, and Kia Nurse. Even Billie Jean King, whose name adorns the tennis centre where the U.S. Open is played, has tweeted about Andreescu multiple times.
She's been lauded for the way she plays — whether its clawing her way back from deficits, keeping opponents off-balance with her versatility, or hitting the cover off balls with her nasty forehand.
Kind of like Williams, in many ways. But Andreescu is wary of that comparison.
"I think there are some similarities," she said. "We like to keep the points short with our aggressive game style, we like to use our serve to our advantage, I think we fight really, really hard.
"But at the same time I want to make a name for myself. I know I have a different game style than many players on tour right now."
Andreescu showed her aggressive style throughout the last two weeks in New York, downing four seeded players (No. 19 Caroline Wozniacki, No. 25 Elise Merten, No. 13 Belinda Bencic and Williams) to become the first teenager to win the U.S. Open since Maria Sharapova in 2006.
And she attacked Williams's serve from the beginning, breaking twice in the first set. Williams did herself no favours by double-faulting eight times throughout the match.
Williams, whose disappointment was etched on her face during parts of the match, remains one major victory short of tying Margaret Court's record 24 titles.
She is also still looking for her first championship — major or otherwise — after returning from the birth of her daughter. Williams had won the 2017 Australian Open while pregnant and returned to the WTA tour at Indian Wells in March of 2018.
"I'm not necessarily chasing a record, I'm just trying to win Grand Slams," Williams said. "It's definitely frustrating, but for the most part I am still here. I'm still doing what I can do."
Andreescu was the first Canadian woman to play in a Grand Slam final since Eugenie Bouchard competed for the Wimbledon title in 2014.
#SheTheNorth was trending on Twitter during and after the match and Andreescu's achievement was recognized by many on Twitter, including Prime Minister Justin Trudeau.
The 2019 NBA Champion Toronto Raptors, who use 'We The North' as their team hashtag, also congratulated Andreescu with a tweet that read 'She The Champ' accompanied by a photo of an Andreescu Raptors jersey laying next to the Larry O'Brien trophy.
Andreescu said she hopes her U.S. Open win can help inspire other Canadian athletes.
"So many Canadian athletes have paved the way for me when I was young," she said. "Hopefully I can be that person to them."