Are Blackhawks still legit Cup contenders?
For the first time in a long time, Travis Yost is a bit worried about the Chicago Blackhawks, a team with Stanley Cup aspirations year after year.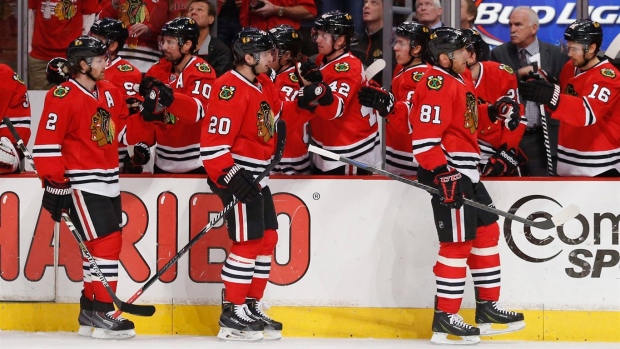 For the first time in a long time, I'm a bit worried about the Chicago Blackhawks.
Worry is, of course, a relative term. The Chicago Blackhawks are a team with Stanley Cup aspirations year after year. Making the playoffs is a real accomplishment in most cities. For Joel Quenneville's club, it's the equivalent of satisfying an expected quota.
It's hard to really pin down what's went wrong this season, especially so since the Blackhawks are cruising to another postseason berth. Depending on how things shake out, they're likely going to finish 2nd or 3rd in the Central division, though falling behind Minnesota isn't out of the picture just yet.
But, again, success for this team is really defined by how they push through the postseason. Unfortunately for the Blackhawks, the road isn't nearly as maneuverable as it once was. Part of that is the improvement of the division altogether, and part of that is the reality that this Blackhawks team isn't the one we've grown accustomed to in recent years.
First, let's look at the division, and how things have changed in just one season. This is particularly critical analysis since, by way of the new playoff format, a team has to 'emerge' from their division in order to reach the Conference Final and Stanley Cup Final. For the sake of this post, we'll focus on even-strength performance over the last 40-games each team has played – it'll give us a bit of a better feel for how the teams were truly playing as they entered the postseason.
2013-2014 below:
The blue bars are the really notable ones here – the way we can examine how well a team is carrying the play at 5-on-5. Chicago was above 55%, which is territory marked for the league's elite, and yet par for the course for Joel Quenneville's teams in the Toews/Kane era. The opposition was a mixed-bag – St. Louis looked an awful lot like a poor man's Chicago, Minnesota never posed as a serious threat, and Colorado just wasn't a very good hockey team. Perhaps the only team that could have beaten Chicago – Los Angeles – was the team they wound up facing in the Western Conference Final. Such is hockey.
Let's bring it back to this year, and focus on the five Central teams currently in the running. Again, we'll grab even-strength data, sorted by the team's ability to drive play at 5-on-5.
This is the part that is really troubling if you're a Blackhawks fan. Over the last 40-games, the Blackhawks – a team who have historically obliterated the opposition in the shot department – are now the fourth-best team from a possession standpoint. In their own division.
The reasonable question then becomes: what's contributing to Chicago's sudden lack of ability to out-shoot their opposition on a nightly basis? Is there a particular line that's troubling? Is it a team-wide issue? Is Patrick Kane's absence that crippling?
To try and answer this question, I grabbed the Corsi% of each Chicago skater from last year, and graphed it against the respective skater's Corsi% this season. Who has experienced the biggest fall from last season?
The most fascinating part of this graph is the realization that last year's team had an unbelievable ten skaters posting a 55% Corsi% or better. Only four players are above that 55% cut-line in 2014-2015, and not one regular has seen his number improve from last year's output.
I do find it interesting that some of the biggest drop-offs have come from the blue-line – particularly in veterans Michal Rozsival and Brent Seabrook. These players are fascinating in the one commonality they share. Recall last season, Michal Rozsival played 78% of his minutes with the excellent (and since-departed) Nick Leddy. Also recall last season, Brent Seabrook played 87% of his minutes with former Norris Trophy winner Duncan Keith.
Perhaps Rozsival's drop-off can be explained through Occam's Razor – he's 36-years old, he's been playing through a bunch of injuries, and he's logging a career low in minutes per game. Seabrook might be even easier to explain – his 87% of his 2013-2014 minutes with Duncan Keith have dropped to just 54%. And in the 46% of minutes he's played away from Duncan Keith, he's posted just a 48.6% Corsi%.
The reality of Chicago's situation is that this year's run through the postseason may be tougher than ever before. Part of this is because so many teams in the Western Conference, particularly in the Central division, have taken a giant step forward. But part of this is because Chicago has taken a decent step back.
On the positive side, it presents a unique challenge for Joel Quenneville's team – they're not exactly the odds-on favorite to emerge from their group for the first time in seemingly forever, and a weird underdog role might very well suit them. On the negative side, the numbers are what they are.
We'll see what happens with Chicago as the rest of the year shakes out but, historically, these teams don't push to and through the Stanley Cup Final.