Assessing Corey Perry's trade value
Veteran Anaheim winger can clearly still produce at the NHL level, but the degree to which he impacts his team's performance and any individual game has lessened, Travis Yost writes.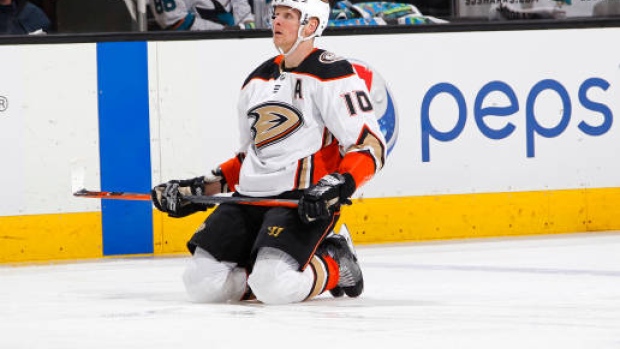 Corey Perry has been a staple of production for the Anaheim Ducks for the last 13 years.
And now, he may be moving on.
A member of the "Triple Gold Club" and one of the most lethal scoring wingers of his generation, Perry's resume speaks for itself. But there's no doubt that the franchise that drafted him 28th overall in the 2003 NHL Draft is at a bit of a crossroads, and it's becoming increasingly possible that a face of the franchise could be on the move this summer.
Perry made an appearance Wednesday on TSN's Summer Trade Bait list, coming in as the 25th ranked player. His actual ranking on the trade board may be more interesting than the fact he's available – Perry is 33 years old on a team that's toying with the idea of a retool and he's still owed $18.5 million on an $8.6 million AAV contract for the next three seasons. That's a lot of money to dole out for any player, but doubly so for a guy heading into the twilight of his playing career.
The contract makes him a tricky acquisition, no question. But what I was more curious about was Perry's on-ice resume as a prospective trade target. Teams are getting increasingly gun-shy about acquiring older players with a lot of mileage in a league that's emphatically shifted toward a youth movement – one collinear with speed, pace of play, and more cost-friendly contracts. Perry is a big enough name for any team to consider, but with aging curves as cruel as they are there's plenty of potential for buyer remorse.
For attackers like Perry, you can spot degradation in performance pretty quickly. In Perry's case, part of why he's even being considered as a plausible trade piece for Anaheim is because of a drop-off in scoring. Perry managed just 17 goals and 49 points in 71 games last year – both numbers were the lowest recorded since his sophomore season in 2006. (It's perhaps worth noting he was blanked in that ugly four-game, first-round series loss against San Jose, too.)
But scoring rates drop all of the time, even for great players. The important thing to understand is if there are any periphery or underlying measures that would indicate Perry's scoring drop-off wasn't a fluke – measures that might suggest that he was legitimately less threatening last year than he had ever been.
Let's start with a confirmation of the above on scoring rates. There's no doubt Perry's have slipped and it's in large part because of a decrease in goal-scoring at 5-on-5 – the second year in a row this has manifested. He now sits right around median performance (on a per-60 minute basis) league-wide. (Data via Corsica.)
The first thing worth checking is the rate at which he generates shots. If he's still generating high volumes of opportunities and just not getting the bounces, that's one thing. But his decline in shot rate is pretty collinear with his decline in goal-scoring rates. And in 2017-18, his shot generation rate was indiscernible from your everyday forward around the league: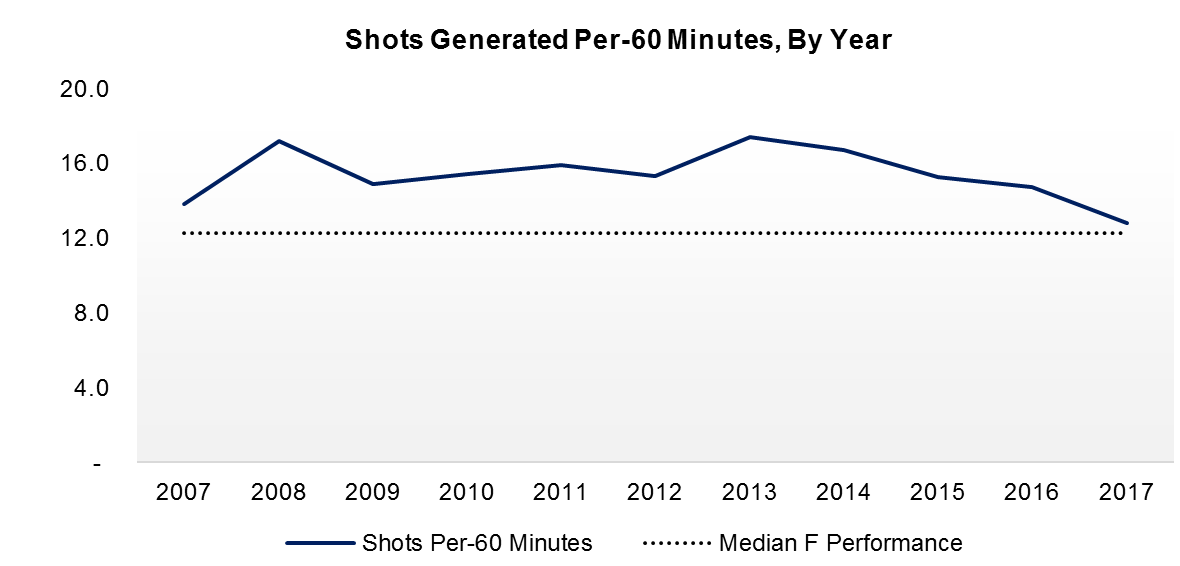 That's the lowest shot rate of Perry's career, too. For a frame of reference, 158 regular forwards – about five per team – generated shots at higher rates than Perry did last season.
Now we know goals are down and shots are down. But what about dangerous shots? Is it possible that Perry was trading in volume for quality, trading clusters of perimeter opportunities for a lower quantity of attempts closer to the net? That data is readily available as well and as you might suspect at this point, Perry observed career lows: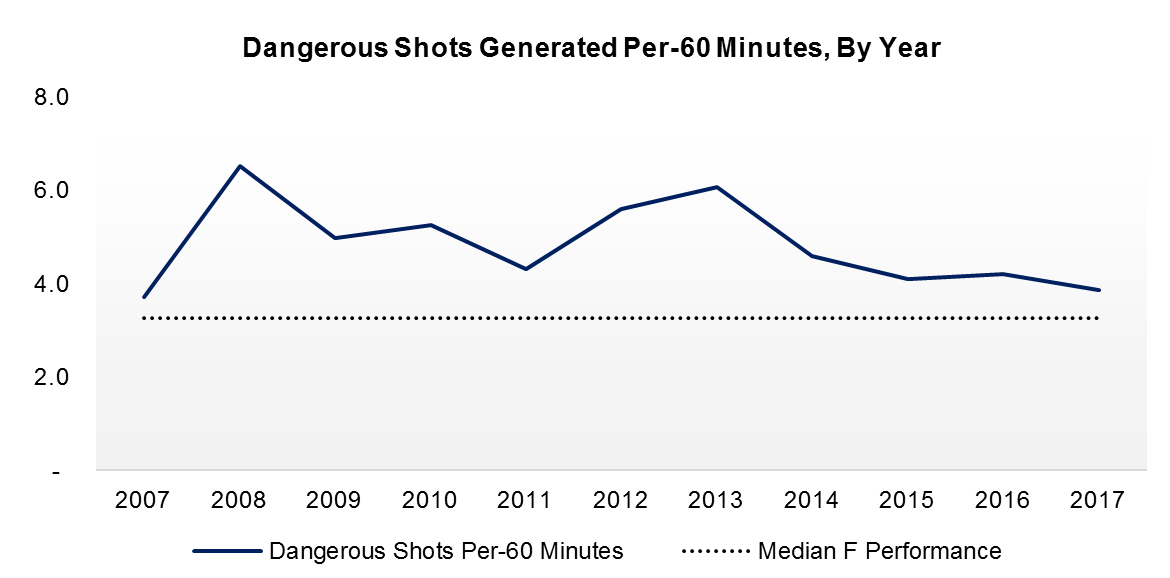 Perry is still more dangerous than your typical forward and the goal and assist rates surely capture this. But, again, you have noted degradation in performance over the last few seasons.
At his peak in 2012 and 2013, Perry was generating nearly double the dangerous shots than your average league forward. And now for three consecutive years, Perry is worth only about one additional dangerous shot for every 60 minutes of hockey. That's still tremendously valuable and would justify a top-six role with just about any team, but justifying such a role at his salary gets tricky for an interested suitor.
These are all rudimentary measures of performance but they all suggest that Perry isn't nearly the player he once was, though he's still a player that surely has some value around the league. The last question that I think is material is what his current coaching staff thinks about his game.
There's no easy way to find out how Randy Carlyle (or Bruce Boudreau before him, or Carlyle, again, before him), but deployment and ice-time are pretty quality proxies. Coaches are incentivized to play their better skaters more, and in Perry's case we have a particularly interesting wrinkle – the coach who had him in his playing prime is the same coach who has him towards the end of his career.
The ice-time shift happened a few years ago, but it's notably steadied at around 17:45 per-game. In his playing prime, Perry was seeing well over 20 minutes a night: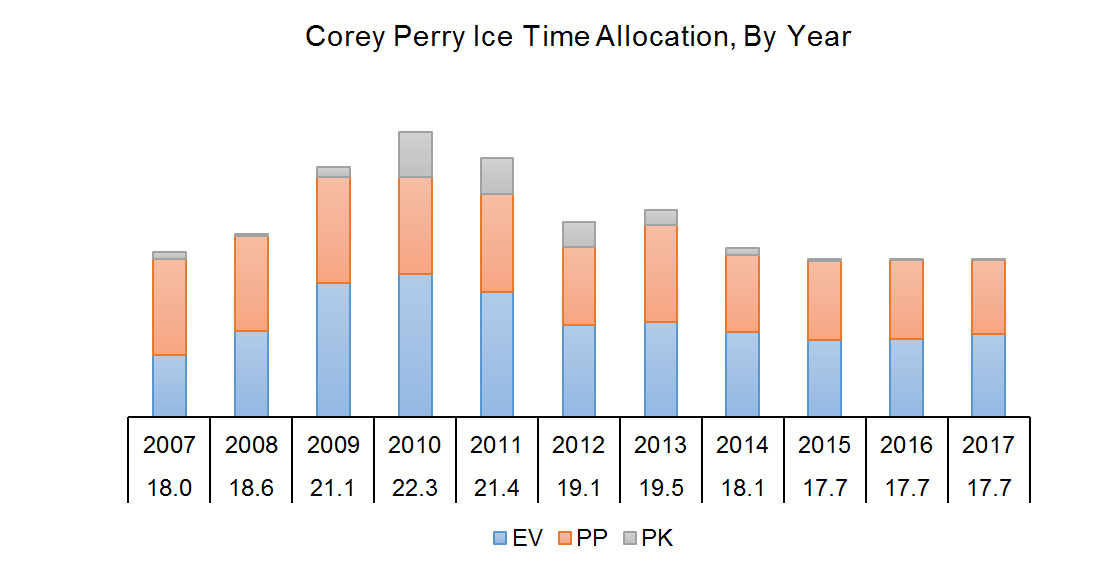 Perry's lost a couple of shifts at 5-on-5 and a couple more on the power play. I think most of that is to be expected for a guy with more than 1,000 games played, but it's still something you have to take into consideration. Ryan Getzlaf, Rickard Rakell, Ryan Kesler, and Jakob Silfverberg all saw more ice-time per-game than Corey Perry. Some of these guys can obviously soak up a bunch of additional minutes in places like the penalty kill – a place Perry is scarcely used these days. But again, not exactly the case just a few years ago.
All this to say: Perry can clearly still produce at the NHL level, but the degree to which he impacts his team's performance and any individual game has surely lessened. A contending team with cap room and an asset or two will undoubtedly take a look at adding the power forward, but those teams should take caution with how much they are willing to pay.
Perry looks much more like your run-of-the-mill forward than an impact scorer these days, and the trade price should reflect as much.